It was a clear day when Kham set out from his home in northwestern Laos for what he thought was a chance to make money in the gilded gambling towns of the Golden Triangle, the border region his country shares with Thailand and Myanmar.
On that day – a Friday, as he recalled – the teenager had gotten a Facebook note from a stranger: a young woman asking what he was doing and if he wanted to make some cash. He agreed to meet that afternoon.
She picked up Kham, 16, along with a friend, and off they went, their parents none the wiser.
"I thought to myself I'd work for a month or two then I'd go home," Kham later said. (RFA has changed the real names of the victims in this story to protect them from possible reprisals.)
But instead of a job, Kham ended up trafficked and held captive in a nondescript building on the Burmese-Thai border, some 200 miles south of the Golden Triangle and 400 miles from his home – isolated from the outside world, tortured and forced into a particular kind of labor: to work as a cyber-scammer.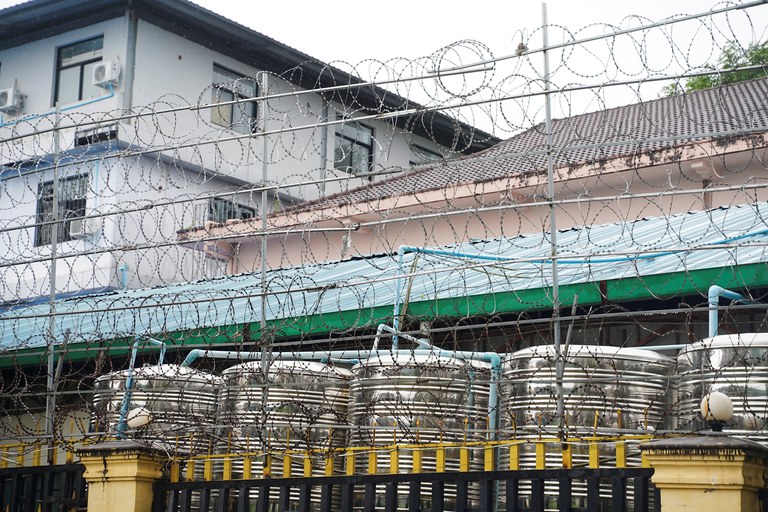 In recent years, secret sites like the one where Kham was detained have proliferated throughout the region as the COVID-19 pandemic forced criminal networks to shift their strategies for making money.
One popular scheme today involves scammers starting fake romantic online relationships that eventually lead to stealing as-large-as-possible sums of money from targets. 
The scammers said that if they fail to do so, they are tortured.
Teen victims from Luang Namtha province in Laos who were trafficked to a place they called the "Casino Kosai," in an isolated development near the city of Myawaddy on Myanmar's eastern border with Thailand, have described their ordeal to RFA. 
Chillingly, dozens of teenagers and young people from Luang Namtha are still believed to be trapped at the site, along with victims from other parts of Asia.
The case is but the tip of the iceberg in the vast networks of human trafficking that claim over 150,000 victims a year in Southeast Asia. 
Yet it encapsulates how greed and political chaos mix to allow crime to operate unchecked, with teenagers like Kham paying the price.
The promise of cash
Typically, it starts with the lure of a job.
In the case of Lao teenagers RFA spoke to, the bait can be as simple as a message over Facebook or a messaging app. 
Other scams have involved more elaborate cons, with postings for seemingly legitimate jobs that have ensnared everyone from professionals to laborers to ambitious youths.
What they have in common is the promise of high pay in glitzy, if sketchy, casino towns around Southeast Asia – many built with the backing of Chinese criminal syndicates that operate in poorly policed borderlands difficult to reach. 
Before 2020, "a lot of these places were involved in two things: gambling, where groups of Thais and Chinese were going for a weekend casino holiday, or online betting," said Phil Robertson, deputy director for Asia at Human Rights Watch. 
"Then, all of a sudden COVID hits, and these syndicates [that ran the casinos] decided to change their business model. What they came up with was scamming." 
Today, gambling towns like Sihanoukville, in Cambodia, and the outskirts of Tonpheung, on the Laos side of the Golden Triangle, have become notorious for trapping people looking for work into trafficking. 
But besides these places, there are also numerous unregulated developments where scamming "casinos" operate with little outside scrutiny, including on the Thai-Burmese border.
Keo, 18, had a legitimate job at a casino in Laos when he was contacted via WhatsApp by a man who said he could make much more – 13 million kip ($766) a month, plus bonuses – by working in Thailand. He could leave whenever he wanted, the person claimed.
"I thought about the new job offer for two days, then I said yes on the third day because the offer would pay more salary, plus commission and I can go home anytime," Keo said. 
He quit his job by lying to his boss, saying he was going to visit his family. A few days later, a black Toyota Vigo pick-up truck fetched him, along with two friends, and they took a boat across the Mekong to Thailand.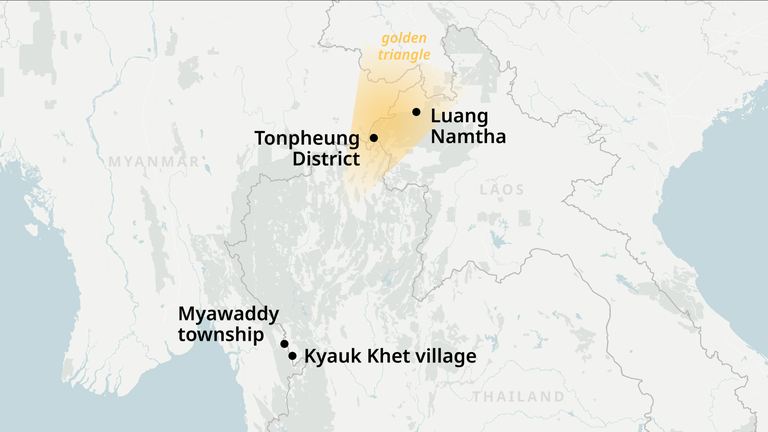 Scams
By that time, Keo realized he was being trafficked – the two men who escorted him and his friends were armed.
"While on the boat, one of us … suggested that we return to Laos, but we were afraid to ask," as the men carried guns and knives. He dared not jump.
"Later, one of us suggested we call our parents – but the men said, 'On the boat, we don't use the telephone.' We dared not call our parents because we were afraid of being harmed," he said. "So, we kept quiet until we reached the Thai side."
Both Keo and Kham told RFA that they were eventually trafficked to Myawaddy Township, an area some 300 miles south of the Golden Triangle. 
Kham only remembered parts of the journey, when he was made to walk for miles. 
Keo told RFA Laos he was transported by a series of SUVs that drove for so many days and nights that he couldn't remember how long it really took.
"During the trip, we suspected that we weren't in Thailand anymore – we might've been in Myanmar. We asked the Thai driver, who said that he didn't know either, he was only the driver," he said. "At that point, we wanted to go back home, but we couldn't, because the two men were watching us."
Things were not so bad at first. For three days, Kham said, those who arrived were given freedom to roam the site. They were taught how to use the messaging apps they would rely on to find people to scam and given scripts on what to say. 
The scheme involved pretending to be a lonely heart in Thailand looking for love, striking up a conversation and establishing a phony online relationship. 
Very quickly, they were to move on to invite the target to put money in a fake investment account and instead take the money. 
Kham believes he arrived in August; Keo around September – the two crossed paths at Casino Kosai. 
"During the first month, we were okay, as we were allowed to use our phones," Keo said. "But in the subsequent months, when we couldn't get customers, we were beaten up."
The scammers were forced to work 16 hours a day, sitting in a room from early in the morning until midnight looking for people to swindle.
Fifty people were put around a table in a large room, working in groups of 10 or 12 on devices they were given, with their captors monitoring their work on computer screens. 
"We were given three days to get one customer," Keo recalled. "If not, we could be beaten up on the fourth day."
Cyber scamming centers throughout Southeast Asia target victims all over the world.
Half a dozen teens who spoke to RFA said they were made to seek out Thai victims, but others have targeted speakers of other Asian languages as well as English speakers and Europeans. 
To implement such wide-ranging scams, traffickers smuggle in people from China, the Philippines, Malaysia and as far away as Africa.
The Thai-Burmese border is an attractive place for syndicates to hide their victims as internal turmoil makes the region hard to police.
Power in Myawaddy Township – an administrative area of some 1,200 square miles in Kayin state, on the banks of the Moei river that skirts the border – has long been contested by the Burmese military and rival ethnic Karen militias. 
Following the 2021 coup, civil law enforcement in Myanmar generally has collapsed as the junta and police forces "really become completely focused on combating resistance groups and ethnic armed organizations involved in the civil war," said Vanda Felbab-Brown of the Brookings Institution in Washington.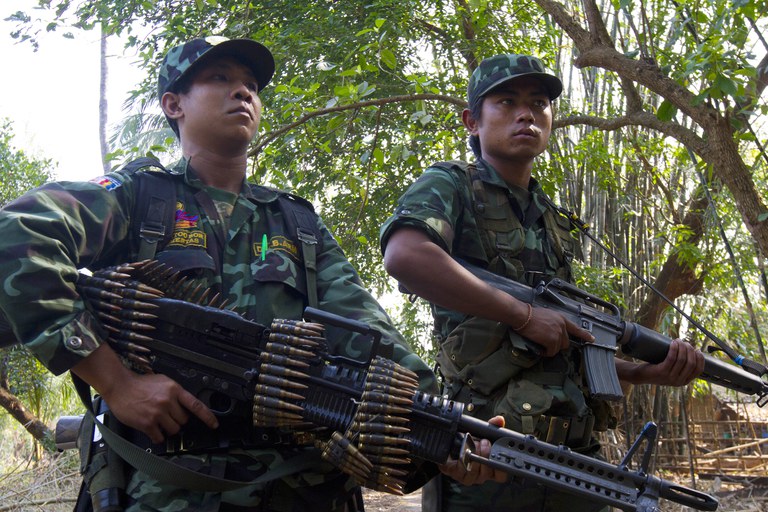 At the same time, many of the local militias that are on the military's side have been given tacit permission by the junta to engage in illegal economies that bring in money.
"So, you have both a withdrawal of the role of law enforcement because of the local capacity, but also deepening of law enforcement complicity because this is the mechanism of paying all the junta's allies," Felbab-Brown explained.
These dynamics made the border all the more attractive for cyber scamming centers to develop. 
"There are reportedly as many as 20 or 30 of these [casino trafficking] enclaves along the border," said Robertson of HRW. 
"They're basically being allowed to do what they want because they [authorities in the region] are part of the alliance with the military, so they are willing to turn a blind eye to all of this, and probably getting some kickbacks."
According to a geolocation pin sent to RFA by several parents of Lao teens currently trapped at the Casino Kosai, the site appears to be a warehouse some 20 miles south of Myawaddy city, across the border from a Thai town.
Local sources told RFA Burmese that the area is controlled by a splinter Karen militia known as the Democratic Karen Benevolent Army (DKBA) under the command of a brigadier general, Sai Kyaw Hla.
The Lao teens likely knew their place of captivity as "Casino Kosai" as a portmanteau of the word "Ko," meaning "mister" in Burmese, and "Sai," the Shan/Thai honorific in Sai Kyaw Hla.
However, regional dynamics are complex and difficult to establish with certainty. Asked about these issues by RFA Burmese, the DKBA denied knowledge of the situation and said they did not control the region. 
The DKBA spokesman, Col. Saw Sein Win, said of the trafficking casinos: "We do not allow such things in our region."
Held hostage
Those held at the Casino Kosai were mostly Lao teens, but there were also at least a dozen Chinese who seemed a bit older, former detainees said. 
At first Keo did manage to scam a few people – he didn't think much about it, he said, as he was just trying to get paid, and later, to avoid punishment. But it quickly became harder to find new people to con. 
"While being beaten up, I thought about going back home, but an employee said that nobody can go home," he said.
After about three months, he was told he would be sold.
One of his captors allowed him to call his parents and asked them to pay 500,000 baht ($14,625)  for his release. "If not, I'd be sold dead or alive," he was told.
His parents negotiated the ransom down to 200,000 baht ($5,800).
Kham, on the other hand, was unsuccessful at the con because his Thai was poor, and for that he was repeatedly punished. He shared images of his torture  with RFA, including marks on his body that he said were from a cattle prod. 
Violence is a common theme in videos seen by RFA that were taken from other secret scamming sites from across Asia, and gruesome treatment of victims at sites have been reported by other media.
After a while, the captors also gave Kham the chance to leave. His employers "asked many Lao workers, including me, whether we wanted to go home," he said. "A group of about ten of us said yes because we couldn't do the work – we couldn't read Thai." 
They were told to call their parents and tell them that they would be released for 500,000 baht. Some, including Kham's family, were able to negotiate the price down to secure release.
Kham and Keo, as well as a handful of others, returned home earlier this year. 
Nowhere to turn for help
In interviews with RFA, Lao and Burmese officials acknowledged that trafficking was a problem but said that regional instability deters action.
"The terrorist military junta lets these lawless activities prevail rather than taking action against them," Tin Tun Naing, a top official with the opposition National Unity Government, told RFA. 
Lao government officials said they had met with Myanmar's junta and forwarded information on the location of Casino Kosai. 
But authorities "can't access the area because there is intense fighting going on between ethnic groups and the authorities of Kayin state," a Lao embassy official in Myanmar told RFA Lao Service. 
"We can't tell you when we'll be able to go there. We've asked the local authorities who said that it was difficult to track the Lao workers down because they entered Myanmar illegally, without passports." 
However, two other teens who spoke to RFA said their releases were facilitated by Burmese soldiers – though it is unknown which military or militia faction they worked under.
Both victims and human rights experts say the trafficking is being aided and abetted by authorities on all sides. 
"Sadly across Southeast Asia, there is both enormous corruption of law enforcement forces linked to their weakness, but also indifference," said Felbab-Brown of Brookings. "There is [also] a lot of complacency of enforcement forces in Southeast Asian countries. … The pattern is, tragically and egregiously, really not at all surprising."
Several dozen teens remain trapped, including one as young as 14 whose mother has contacted RFA Lao service, along with other parents of teens still believed to be at Casino Kosai.
Another victim still held there contacted RFA earlier this month. Lao police and soldiers were present at his capture and as he was moved to the casino, he wrote in a text message to RFA. 
Thai police, meanwhile, looked the other way, given bribes by what he said were his Chinese traffickers.
"The police know where we are," he wrote. "I don't know why they're not helping us."