The Taiwanese military kicked off a five-day annual live-fire exercise on Monday aimed at bolstering the island's defense capabilities and combat readiness at a time when China and Taiwan's allies have been facing off in the airspace and seas around the island.
The Han Kuang drills will be taking place at a number of locations in Taiwan, with President Tsai Ing-wen observing a large-scale naval exercise from a warship off Yilan County in northeastern Taiwan on Tuesday, according to the Taiwan Ministry of National Defense.
More than 20 military aircraft and warships will be taking part in the Yilan exercise, including some of Taiwan's indigenous fighters and frigates. The two Chien Lung class submarines, manufactured in the Netherlands for Taiwan, will also be deployed. 
Taiwan is developing its own submarines with 2025 earmarked for the first one to enter service.
'Inconvenient but necessary' 
During the first day, Taiwanese fighter jets were dispatched to counter a simulated enemy air attack while local anti-air artillery units watched over the airspace. Military transport aircraft also evacuated fighter jet spare parts away from the combat zone as the focus was on "testing the military's preservation and maintenance of combat capabilities."
The defense ministry said in a press release that during the week mobile military radar vehicles and warships will be deployed and forces on Taiwan's outlying islands will also perform a variety of exercises including counter attacks to beach landings.
Han Kuang, now in its 38th year, is Taiwan's largest war games exercise involving all military branches and designed to test the army's combat readiness in the event of a Chinese invasion.
This year's drills will also test the population's preparedness and contribution, the military said.
Most Taiwanese consider the island an independent, democratically-run country but Beijing calls it a province of China and has repeatedly vowed to reunite with the mainland, with force if needed.
In recent months, Chinese aircraft have been crossing into Taiwan's air defense identification zone (ADIZ) almost daily and Chinese warships have patrolled the waters near Taiwan.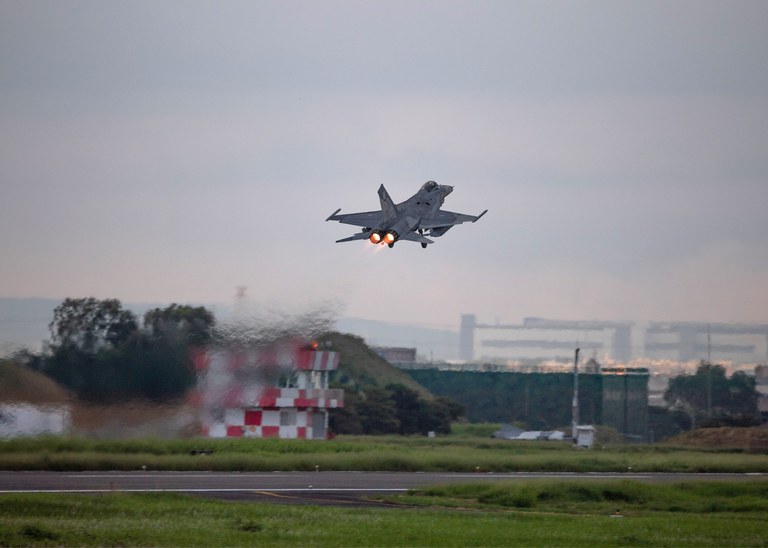 The Taiwanese people have been training to deal with imminent threats of war. A four-day air raid exercise simulating Chinese air attacks began on Monday with air raid sirens going off in the capital, Taipei and some other locations in northern Taiwan. It will move to central and southern parts of the island during the week.
The 45th Wan An drill aims at boosting citizens' awareness and preparedness. For half an hour, residents are required to evacuate stress and remain indoors to allow for an emergency response. MRT (mass rapid transport) underground stations are open but passengers will have to stay inside until the end of the drill. 
Suzy Tsang, an office worker who got stuck in the Taipei metro during the exercise, said she and her friends take part in the event every year.
"It is quite inconvenient because you can't move for 30 minutes but I think it is necessary," she said.
"Who knows when we will need it for real," Tsang added.