Taiwan's military is bolstering its preparation for a possible future war with China by planning an unprecedented military drill at a civilian airport this coming July, the official Central News Agency (CNA) reported.
The military aircraft emergency landing and takeoff drill will be staged at Taitung Fengnian Airport on the southeast coast of Taiwan.
The scenario is that Taiwan's military airports and airstrips would be severely damaged in attacks by mainland China, forcing fighter-jets to land at civilian airports or on highways, the CNA quoted an unnamed military source as saying.
The military is looking to turn a section of Highway 9 "into an emergency landing strip" and a section of a road in Taitung County into an emergency runway, the same source said.
Taiwan's Ministry of National Defense has not commented on the details because of the sensitivity of the issue.
The drill at Taitung Fengnian Airport will be carried out as part of the annual Han Kuang military exercise, held in July.
Han Kuang, Taiwan's major war games, tests the island's combat capabilities against a possible Chinese invasion.
China considers the democratic island of Taiwan one of its provinces and intends to reunite with the mainland, by force if necessary.
In response to any major political events or to any support given to Taiwan by its allies, China regularly holds live-fire exercises in the Taiwan Strait or intensifies the flyovers by its military aircraft.
When Nancy Pelosi, the first U.S. House Speaker to visit Taiwan in 25 years, arrived in Taipei last August, Beijing announced a week-long military exercise around the island.
'No unusual military movements'
Taiwan President Tsai Ing-wen is en route to Central America via the United States, and is to make a stopover in California on her way back to Taiwan from a visit to Guatemala and Belize.
While in California, she is expected to meet with the incumbent U.S. House Speaker Kevin McCarthy. 
Beijing has threatened retaliation, with China's Taiwan Affairs Office spokesperson, Zhu Fenglian, saying that if the meeting took place, China would "definitely take measures to resolutely fight back." 
Yet on Thursday, Taiwan National Security Bureau Director General Tsai Ming-yen told the parliament that "the government expected a less severe reaction" from Beijing than when Pelosi visited Taiwan.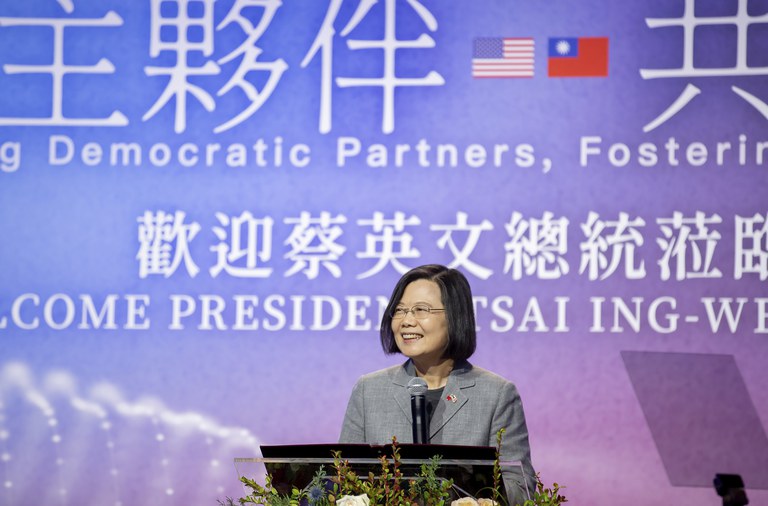 On Friday, the defense ministry said only two Chinese military aircraft and three naval vessels were spotted overnight near Taiwan and none had crossed the median line in the Taiwan Strait that marks the de facto boundary between the island and the mainland.
But on Friday morning, nine PLA aircraft crossed the line, the ministry announced.
U.S. National Security Council spokesman John Kirby on Wednesday urged China not to use Tsai's transit "as a pretext to step up any activity around the Taiwan Strait."
Meanwhile, "the Americans are belatedly trying to figure out how to defend Taiwan," said Grant Newsham, author of a new book on a potential Taiwan conflict, "When China Attacks: A Warning to America."
"The People's Liberation Army is capable of launching an assault across the Taiwan Strait, and it – or more importantly, Xi Jinping, thinks it can succeed," Newsham, a retired Marine colonel who's extensively studied the cross-strait military situation, told Radio Free Asia (RFA).
"China has been planning and getting ready to invade Taiwan for at least the last few decades," he said.
"The PLA will hit Taiwan hard and fast while isolating Taiwan electronically and physically," Newsham added. "It will intimidate the Americans into standing clear."
In his opinion, the upcoming Taiwan presidential election in January 2024 is particularly important.
"If a 'pro-China' candidate wins, Beijing just might back off and rely on their Taiwanese proxies to force Taiwan to give in and accept mainland dominance," the analyst said.
"But if the candidate that wants to stay free from Chinese communist dominance wins, I would expect Beijing to use force against Taiwan."