One of the most widely used photos of the recent drills by the Chinese People's Liberation Army (PLA) around Taiwan turned out to be the latest "fake news" in China's disinformation campaign against the democratic island, a Taiwanese fact-checking organization has claimed.
The photo, distributed by Chinese state news agency Xinhua, depicts a PLA soldier observing military drills in the waters near Taiwan through a pair of binoculars. 
In the background, a Taiwanese warship without a hull number is clearly visible. Next to it is a chimney, later identified as the smokestack of the Ho Ping Power Plant in Hualien County on the east coast of Taiwan.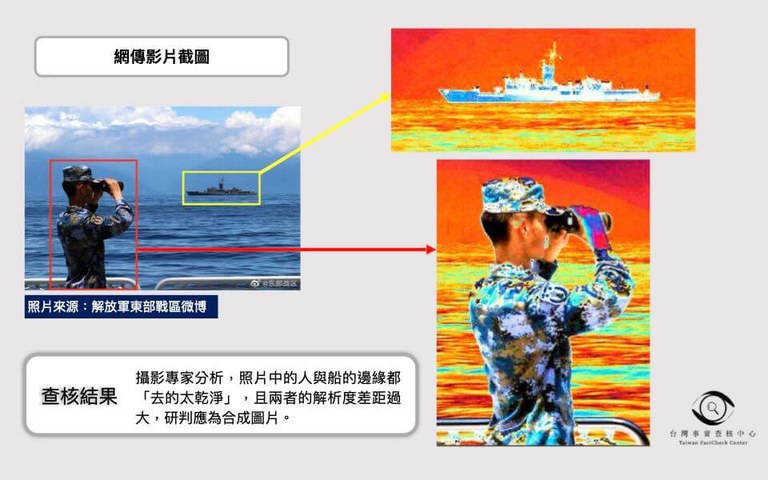 The Taiwan FactCheck Center (TFC), a Taipei-based independent organization, conducted a thorough examination of Xinhua's photo and published the findings on its website on Tuesday.
It said there are too many irregularities, calling the proportions of objects in the photo "unreasonable" and saying there were obvious signs of manipulation such as the lack of a hull number on the alleged Taiwanese warship and its outline, which TFC said was "too clean." 
Another photo released by Xinhua in the same batch clearly shows hull number 935 of the Lan Yang, a Taiwanese Navy Chi Yang-class frigate. 
Experts and analysts consulted by TFC concluded that the photo is a composite of different images. 
Xinhua said the photo was taken on Aug. 5, 2022, the second day of the unprecedented four-day drills conducted by the PLA Eastern Theater Command.
The photo led to widespread speculation on Chinese internet forums that a PLA Navy (PLAN) destroyer had come closer than 12 kilometers (6.5 nautical miles) from the coast of Hualien, well within Taiwan's territorial waters.
A state's territorial waters are defined by maritime boundaries 12 nautical miles (22 kilometers) from its coast.
Several Chinese and Taiwanese media outlets reported that PLAN destroyer Nanjing, where the soldier's photo was taken, was only 11.78 kilometers from the coast of Hualien and the Ho Ping Power Station on Friday morning.
'Hybrid warfare'
The Taiwanese Ministry of National Defense dismissed the news, describing it as "disinformation."
"No PLAN vessel has entered our territorial waters since August 4 when the PLA drill started," the Ministry said on Twitter.
China has stepped up its disinformation campaign and cyberattacks as part of "hybrid warfare" against Taiwan. 
Hybrid warfare is a combination of conventional military actions on the ground and hacks, or disinformation campaigns, designed to attack public morale and sow confusion.
Maj. Gen. Chen Yu-lin, deputy director of the Political and War Bureau of Taiwan's Defense Ministry said earlier this week that the current wave of "cognitive operations" started even before the military drills were announced as a response to U.S. House Speaker Nancy Pelosi's visit.
Pelosi is the most senior U.S. official to visit the island in 25 years. Her visit was condemned by Beijing as a "serious violation of China's sovereignty and territorial integrity." 
Chen Hui-min, TFC's editor-in-chief, told RFA his organization had detected a 30-40% increase in fake reports online since Pelosi's visit. 
"The biggest difference [from the past] is that it seems to be spreading from English-language Twitter," Chen said.
The Taiwanese Foreign Ministry said on Tuesday it had been hit by 170 million cyber attacks per minute during the height of the tension last week. 
China considers Taiwan a Chinese province that must be reunified with the mainland at all costs.
Meanwhile only two percent of 23.5 million Taiwanese people identified themselves as Chinese, down from 25 percent three decades ago, according to a new study by Taiwan's National Chengchi University.