Bangladeshi authorities evacuated hundreds of thousands of people Saturday from coastal areas near the projected path of a monster storm, but Rohingya refugees would be prevented from leaving their camps in Cox's Bazar, the home minister said.
As of late Saturday, Bangladeshi state media reported, the government had moved as many as 400,000 people into 1,030 cyclone shelters in Chittagong division, which covers Cox's Bazar and other districts near Bangladesh's southeastern border with Myanmar's Rakhine state, where Cyclone Mocha is expected to make landfall on Sunday.
During a public event in Dhaka on Saturday, Home Minister Asaduzzaman Khan Kamal said that agencies including the Armed Police Battalion in Cox's Bazar were ordered to stop any of the 1 million or so Rohingya sheltering at camps there from leaving those confines and spreading across the country.
"Law enforcers are on alert so that the Rohingya people cannot take advantage of the disaster to cross the barbed-wire fence. But if Cyclone Mocha hits the Bangladesh [areas] instead of Myanmar, the Rohingya people will be brought to a safe place," Khan said in televised comments.
World Vision, a humanitarian group, had warned on Friday that the storm threatened the safety of thousands of children at the world's largest refugee camp, situated in Cox's Bazar.
"Cyclone Mocha is expected to bring heavy rain and flooding along the coasts of Cox's Bazar in Bangladesh, posing severe threat to the safety of children and communities in danger zones along coastal and low-lying areas," the NGO said in a statement.
The cyclone is the most powerful and potentially dangerous sea-based storm seen in this corner of the Bay of Bengal in nearly two decades. On Saturday, India's meteorological department said the weather system had intensified into an "extremely severe cyclonic storm."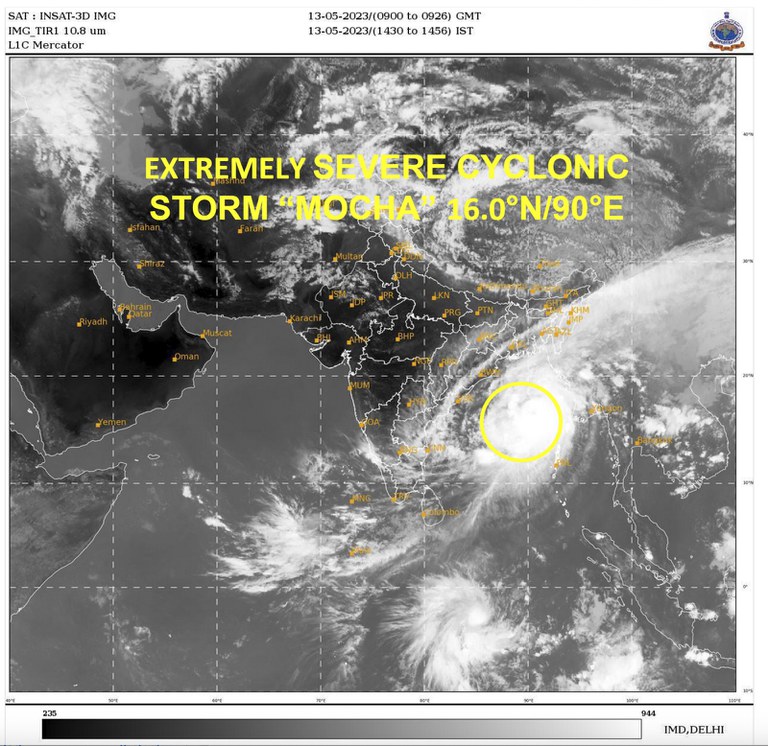 As of 12 p.m. Saturday (local time), the center of the storm was over the sea close to Sittwe, the capital of Rakhine, and packing winds of up to 231 kilometers per hour (143.5 miles per hour) as Mocha churned toward the low-lying coastal border areas between Myanmar and Bangladesh, according to the United Nations Satellite Centre (UNOSAT). Rakhine is expected to take a direct hit from the storm.
"According to the forecast by GDACS [Global Disaster Alert and Coordination System], tropical cyclone MOCHA can have a high humanitarian impact based on the maximum sustained wind speed, exposed population, and vulnerability," UNOSAT said.  
In a press release, the U.N. refugee agency UNHCR warned that Mocha could bring "significant rainfall with landslides and flooding of camps near the sea."
The U.N.'s Office for the Coordination of Humanitarian Affairs (OCHA) said in a separate bulletin on Saturday that the storm was forecast to generate wind speeds of up to 200 kilometers per hour (124.2 miles per hour) when it makes landfall on Sunday afternoon.
"Heavy rain and strong winds associated with the cyclone are expected to cause flooding across Rakhine, where many townships and displacement sites are in low-lying areas and highly prone to flooding," OCHA said.
"Many communities are already moving to higher ground to designated evacuation centers or to safer areas staying with relatives," the U.N. agency said.
In the Bangladeshi capital, Prime Minister Sheikh Hasina said her government was preparing to safeguard the nation and its people from the storm, but that there might have to be shutoffs to the electricity and gas supply.
"Cyclone 'Mocha' is coming. We've kept ready the cyclone centers and taken all types of preparations to tackle it," the state-run news agency Bangladesh Sangbad Sangstha quoted Hasina as saying on Saturday. Her Awami League government faces a general election in late 2023 or early 2024.
In Cox's Bazar, Bangladesh's meteorological agency raised the danger signal for the coming cyclone to 10, the most severe rating.
Meanwhile, Mohammad Mizanur Rahman, the country's refugee relief and repatriation commissioner, confirmed that law enforcement agencies would prevent Rohingya from leaving the camps.
He said Rohingya would have to seek shelter at mosques, community centers and madrassas located within the sprawling refugee camps in the district.
"We have prepared some buildings including mosques and community halls as temporary cyclone shelters. About 20,000 Rohingya people would likely need cyclone shelters if there will be a landslide," he said.
The Rohingya would face no risk from storm surges because their shelters are located in hilly areas, he added.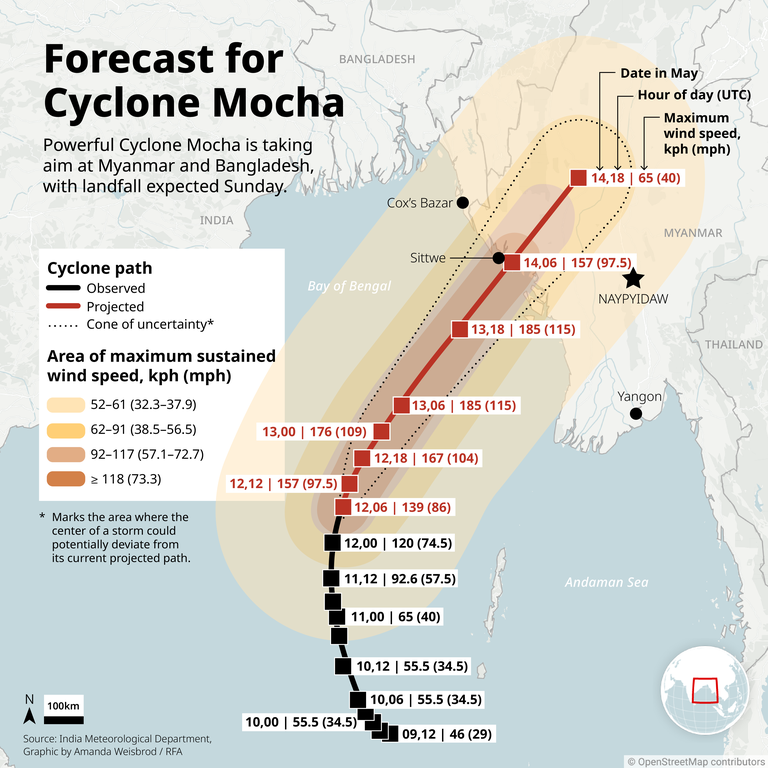 "As there are 1.2 million Rohingya, we have no capacity to evacuate them to [cyclone] shelters," according to a statement issued on Saturday by Md. Enamur Rahman, Bangladesh's state minister for disaster management and relief.
He did not give a reason and did not immediately respond to a follow-up phone call from BenarNews.
Nearly three-quarters of a million people who live in the camps fled to the Bangladesh side of the frontier with Myanmar after the Burmese military launched a brutal offensive in Rakhine, the homeland of the stateless Rohingya, in August 2017.
"Four and a half thousand volunteers are working under the leadership of the Refugee Relief and Repatriation Commissioner for the Rohingya people," Enamur Rahman said.
"There is no risk of floods on the hills but rainfall can cause landslides. Keeping this fear in mind, I have asked the volunteers to be prepared," the state minister said.
BenarNews is an RFA-affiliated news service.