On Sept. 16, 2022, at least seven minors were killed when military aircraft fired on a village school in Sagaing region in what appeared to be the deadliest attack on children in Myanmar since last year's coup. UNICEF condemned the attack in Tabayin township's Let Yet Kone village and put the death toll even higher, saying at least 11 children died "in an airstrike and indiscriminate fire in civilian areas." It said at least 15 other children from the same school were still missing.
Residents of Tabayin township told RFA Burmese after the attack that the helicopters fired on the school "for nearly an hour" before junta foot soldiers let loose with guns. They claimed the nearly 80 troops who raided the school belonged to Light Infantry Battalion 368, under the 10th Military Operations Command based in Kyi Kone village, in Sagaing's Kale township.
Two weeks later, a schoolteacher who survived the raid told RFA Burmese reporter Nayrein Kyaw of the terrifying incident she witnessed that day. Now in hiding, her name has been withheld due to security concerns.
RFA: Can you describe the events that took place on Sept. 16?
Schoolteacher: It must have been about 12:50 p.m. Ko Aung Saw Htway, who helped us with the computer at our school, told me planes were coming our way, so I yelled out a warning to the young teachers at the primary classes and … herded the children to the ground floor of the [nearby] monastery to hide. The moment we got there, a teacher said [a boy] was hit in the leg. A young teacher then brought some children over to me and told me she had been hit by a bullet in the thigh. I saw her face was covered in blood. Just then, a child who was crouching near me was hit in the neck by shrapnel. All her hair was cut off.
The shooting went on for an hour or so. The place was hit by heavy weapons as well as machine gun fire. And then soldiers, with bamboo baskets on their backs, entered the compound and reached the place where we were hiding. Then they fired their weapons towards the small [stupa] in the compound. Some soldiers ordered us to come out and said we must come out with heads bowed. "If you look at us, you're dead," one of them said.
I glanced towards the primary classrooms and saw children coming out. It was heart wrenching to see small kids covered in blood, some with head wounds, others with leg wounds, some hit in the back, and one hit in the eye. I tried to look for my children. I have three attending this school. I saw my eldest [daughter] and youngest [son], but I couldn't find my middle child. My daughter's clothes were completely soaked in blood, and I asked her if she was OK. She said her friend Win Win Khine was hit in the belly and all of her intestines were falling out. She said there were many dead in the classroom. And then my son, the middle child, ran to me crying. He was crying out his friend's name, Maung Hpone. The boy was one of our neighbors.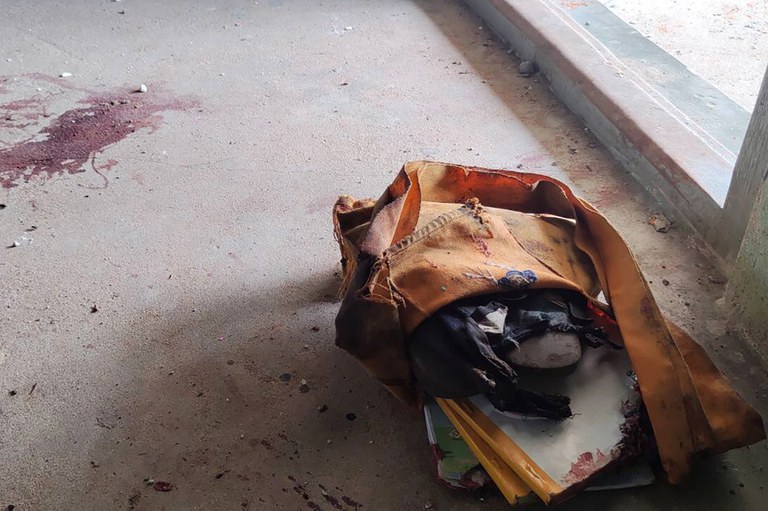 Very soon the boy's mother arrived crying. The soldiers asked her why she was coming this way and she said her son was hit and she wanted to find him. I heard one of the soldiers saying into his radio, "Stop it, that's enough," and the firing stopped. We asked them to let us give water to the children and treat Maung Hpone. When I saw him, his arm was missing and there were holes in his feet. His face was all black. He was saying over and over, "Mother, I am in so much pain, please kill me now." I remembered a wounded girl I hid under a huge bed. She was also badly wounded. I told the soldiers to pull her out. She was laid on the bed and I could see all the blood on her face and body. She was half conscious. She had been hit in the head and legs.
The soldiers said, "If you don't want these children to die, we want two people who can drive to come forward." One of the volunteer teachers came forward and said he could drive. The soldiers also asked the head monk for some [big plastic] bags and I saw them putting the bodies and body parts of those killed into them. They also took the seriously wounded children with them. On the way out, they shot all the men they saw in the village in the heads.
RFA: What kind of aircraft were they using? Jet fighters or helicopters?
Schoolteacher: People said there were both. Two helicopters were dropping soldiers while the two fighters opened fire on the village.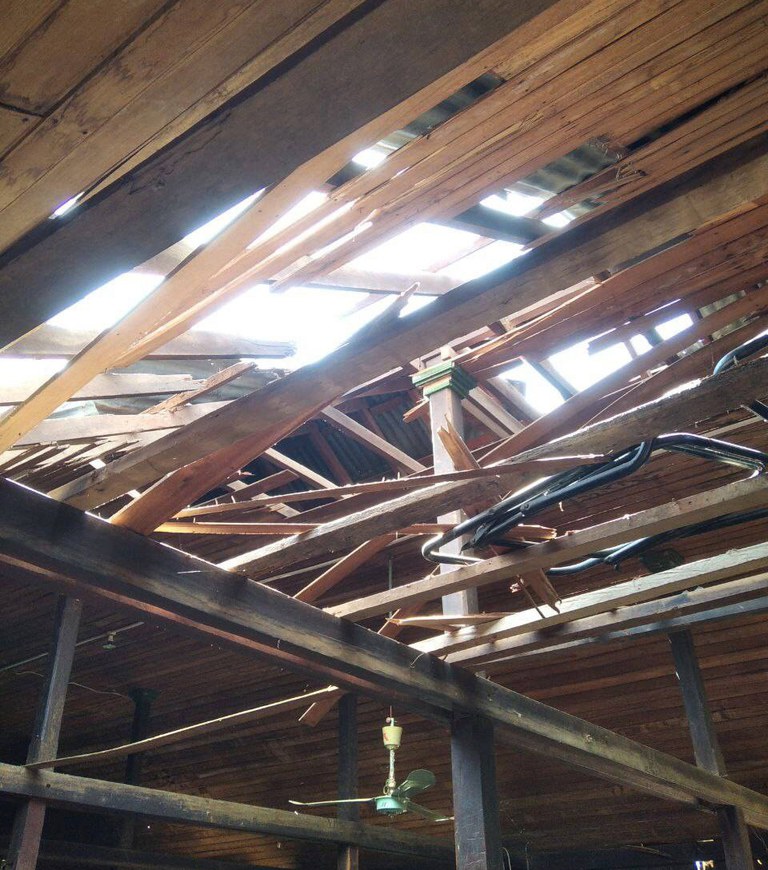 'They should investigate first'
RFA: So how many children and how many adults were killed in the attack?
Schoolteacher: Four students died instantly and another one died in the hospital, so altogether five students. And then two teenagers were killed outside the school which makes a total of seven students. Six [adult] villagers were killed too. So the death toll was 13.
RFA: How many were taken away by the soldiers?
Schoolteacher: Altogether 11 students and teachers were taken away. Two men who drove the cars and another four villagers were also abducted. 
RFA: Has anyone been released yet?
Schoolteacher: No, none of them have been released yet.
RFA: One of those killed as they left was your computer teacher, Aung Saw Htway, right?
Schoolteacher: Yes, that's right.
RFA: The military has said they carried out a surprise attack because they received reports that PDFs [People's Defense Force fighters] were transporting weapons and ammunition through the village. Did they find any?
Schoolteacher: Yes, I want to talk about that. If they receive this kind of report, they should investigate first. This is a small village. They have drones and things. Why didn't they look? Why didn't they see children playing in the school compound? There are no weapons here, not even needles. We had assigned night watchmen because we were scared. Some people said that before Aung Saw Htway was killed the soldiers placed some things they brought in front of him and took pictures. It was meant to put out fake stories.
What we need in our country is democracy. We are deprived of human rights. Children in other countries are pursuing their studies in peace while the children in our country are risking their lives just to go to school.
Translation by Khin Maung Nyane. Written in English by Joshua Lipes.