Muslims at Hong Kong's biggest Kowloon Mosque raised the Chinese national flag in formal ceremonies in July and October this year, to mark the city's 1997 handover to China and China's Oct. 1 National Day.
The move has prompted shock and disappointment among some believers, who see it as a challenge to the Islamic doctrine of the supremacy of God, yet few feel safe enough to speak out for fear of political reprisals or community pressure, according to a Hong Kong Muslim who spoke to Radio Free Asia on condition of anonymity.
The ceremonies come as the ruling Chinese Communist Party steps up control over religious venues across China, requiring them to support the leadership of the Communist Party of China and leader Xi Jinping's plans for the "sinicization" of religious activity.
Muslim leaders in Hong Kong have spoken to RFA Cantonese of "a developing relationship" with Chinese officials over the past 18 months, who have "suggested" they begin ceremonial displays of patriotism like flag-raising ceremonies.
The ceremonies have been fairly high-profile affairs, attended by community leaders and imams, officials from Beijing's Central Liaison Office in Hong Kong, as well as high-ranking police and local government officials.
At a recent ceremony filmed by RFA, the officials stood impassively as mosque-goers performed the ceremonial movements designed to show the highest respect to the flag, then sang the Chinese national anthem, while plainclothes police observed from the sidelines.
An anonymous Hong Kong Muslim said some believers are very unhappy with the move, which they say undermines the crucial Islamic principle that God is supreme, forcing them to choose between their religion and political "correctness" under the atheist ruling Chinese Communist Party. 
"Allah is the only highest principle there is," said the woman, who gave only the pseudonym Miriam for fear of pressure from within her own community and of prosecution under a draconian security law imposed on Hong Kong by Beijing.
"I don't understand how people can see room for compromise here and try to argue that it's not an issue," she said. "I am truly and utterly shocked by this. It's unthinkable."
Miriam said she was "deeply disappointed" in particular by the attendance of the local imam.
'The flag of an atheist country'
The organizers said the events, which come after a number of gatherings between Muslim community leaders and Chinese officials, are indeed a nod to Beijing's "sinicization of religion" program, and are likely to continue.
"Before we didn't have the idea to raise a flag," Hong Kong Muslim community leader Saeed Uddin said. "Then, during the last one-and-a-half years, our relationship developed."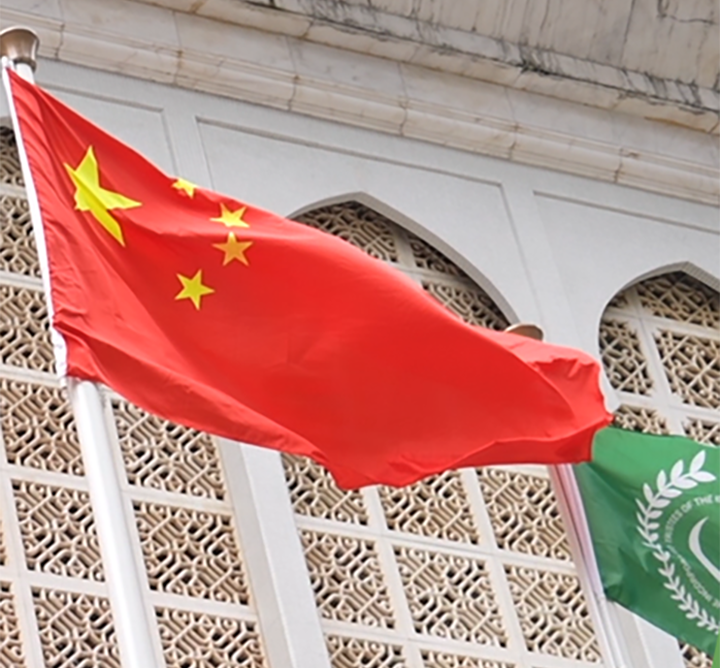 "There was a suggestion, 'why not have [flag-raising],'" he said. "I think this is not a bad idea, to let people be more patriotic to China. They enjoy it. It's no problem."
Yet, asked about dissenting voices among Hong Kong Muslims, he admitted to differences of opinion within the community.
"We have to respect the differences of opinion," Saeed Uddin said. But he added: "We will try to convince them."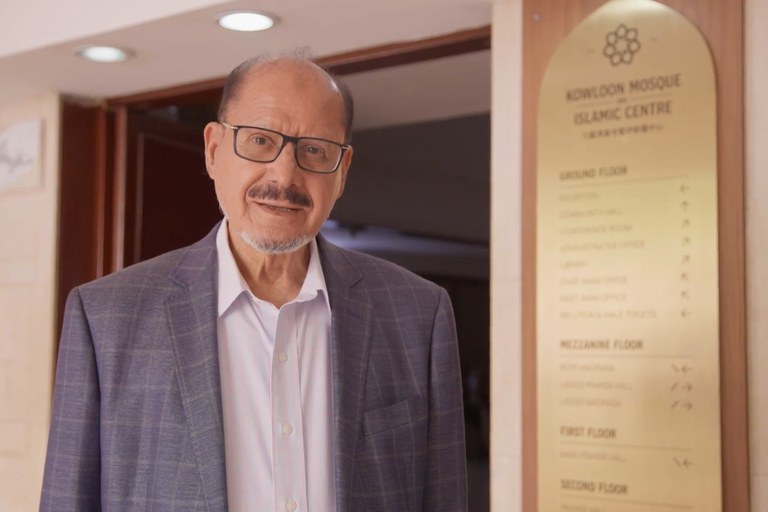 While Muslims must necessarily co-exist with secular power, they are expected to keep a certain distance, never lose sight of the supremacy of God in their actions, and avoid idolatry at all costs.
Non-Islamic images and human likenesses are avoided, particularly in sacred places like mosques.
For Miriam, the Chinese flag represents a totalitarian and atheist state that sees its own power as supreme, and should never be seen in a mosque.
"There's no issue with having the flag of a Muslim country in a mosque, because that country already recognizes no higher authority than God," she said. "The country itself will be founded on Islamic precepts."
"But I've never seen the flag of an atheist country blatantly on display in a mosque," she said. "Perhaps they're using people's lack of understanding of Islam to force this on them."
Rizwan Ullah, honorary adviser to the Islamic Community Fund of Hong Kong, supports Beijing's attempts to boost patriotism in the community.
"We're not raising the Chinese flag or singing the national anthem at a time of prayer," he told RFA Cantonese in a recent interview. "So it has no effect on our beliefs, or our customs."
"History will show that this has been a correct first step," he said, using phrasing similar to that of Chinese officials.
'Two things can coexist'
China's "sinicization of religion" policy, which has led churches in mainland China to display portraits of Communist Party leader Xi Jinping and prompted local officials to forcibly demolish domes, minarets and other architectural features in mosques around the country, sometimes in the face of mass protests.
The Communist Party now requires all religious believers to love their country as well as their religion, and claims that patriotism is a part of Islam.
Riswan Ullah agreed with this view. 
"I don't see a conflict. I pray five times a day," he said. "I raise the flag at different times of the day."
"I don't see why being a patriot somehow makes me a bad Muslim – It's not a zero sum equation: the two things can coexist," he said.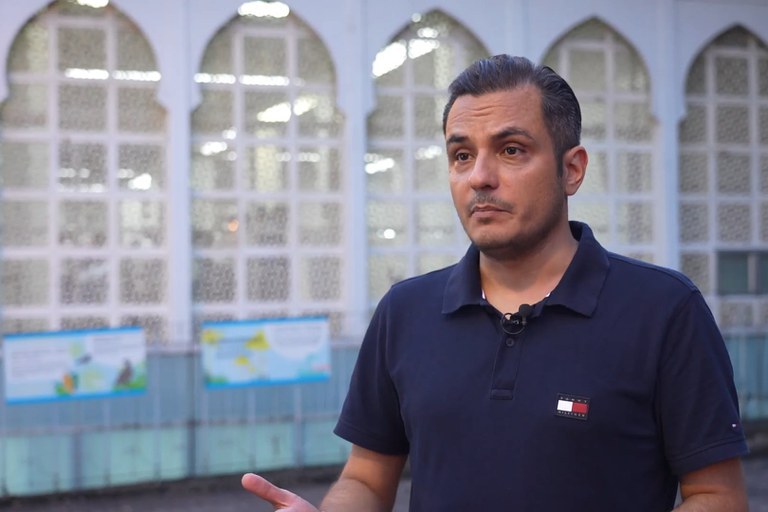 But for Hong Kong's Muslims, loving one's country – China – also means loving its atheist ruling Communist Party, which bars its own members from any form of religious belief.
"A religion like Islam of course requires a very high degree of devotion," James D. Frankel expert on Chinese Islamic Studies at the Chinese University of Hong Kong said.
"There's no-one more powerful than the Creator, from the perspective of believers."
"Any claim to be more powerful than the highest power of the universe is going to cause some questions," Frankel said.
"When [officials] say 'love your country, love your religion,' loving your country comes before loving your religion [in that slogan]."
Miriam believes that Hong Kong's Muslim leaders have gotten it badly wrong, and she fears their stance could mislead many others into thinking that there is no fundamental conflict.
'They have co-opted our voices'
Many Hong Kong Muslims are unhappy with their leaders' actions, yet are unwilling to speak out due to pressure to conform from within their own community, as well as the threat of prosecution under the National Security Law, she told RFA.
"Just because we don't speak out doesn't mean that everything they do is right," she said.
"This is actually a very small community, and once people know your name, they will easily be able to find out where you live, whose son or daughter you are, who your family is – it's an unspoken rule."
Miriam said she has seen the community's tendency to self-censor before, when Hong Kong police fired a water cannon at the Kowloon Mosque during the 2019 protest movement.
"When the mosque was hit by a water cannon in 2019, a lot of young Muslims were very critical, taking to Facebook and Instagram to make comments in English," Miriam said. 
"But in less than a week they had all disappeared. They had all been warned off commenting."
She said community leaders seem to have taken it upon themselves to cozy up to Beijing, regardless of what the rest of the community thinks.
"These people all come from within the establishment, and they have co-opted our voices, not just in worldly matters, but also in terms of our religious identity, which is something that should not be compromised, while claiming to represent us," Miriam said.
"We have no choice but to put up with a string of misinterpretations and blasphemies from these people, like helpless onlookers," she said.
"I can predict that in future, they'll be the ones oppressing us, the weaker ones in the community, as our so-called representatives."
Translated by Luisetta Mudie. Edited by Matt Reed.