Updated Oct. 16, 2023, 06:30 a.m. ET.
As Taiwan approaches its presidential elections in January, the spotlight falls on candidates leaning towards establishing agreements with China and those favoring the continuation of the Democratic Progressive Party's (DPP) leadership. 
But amid rising concerns over stagnant wages and affordable housing, no opposition figure currently poses a significant challenge to the DPP's Lai Ching-te, the incumbent vice president.
Polls suggest that if the DPP secures a victory, it might not solely be due to their policies but rather because of the divided opposition.
Opposition leaders, former Taipei mayor Ko Wen-je of the Taiwan People's Party (TPP) and Hou Yu-ih of the Kuomintang (KMT), have been reportedly under pressure to potentially unify their bid for the presidency.
Last Saturday, efforts towards this collaboration were visible when the campaign managers of both leaders met in Taipei, exploring the formation of a "blue-white alliance," reflecting the party colors of KMT (blue) and TPP (white).
While Hou's team proposed an open primary to determine the leading presidential candidate between the two parties, Ko's side suggested determining based on opinion poll averages. 
The KMT wants – for the first time – to deploy an open primary system for electing the leadership in the January election, with candidates receiving direct votes at polling stations across the island, which would play to the KMT's long-standing political presence in Taiwan since 1949. This presence began when the party, also recognized as the Nationalists, relocated to Taiwan following their defeat by the Chinese Communist Party.
If a vote of some kind were to happen, which most observers consider unlikely, the outcome would determine the order of a joint ticket: whether it's Hou-Ko or Ko-Hou, indicating the roles of president and vice president, respectively.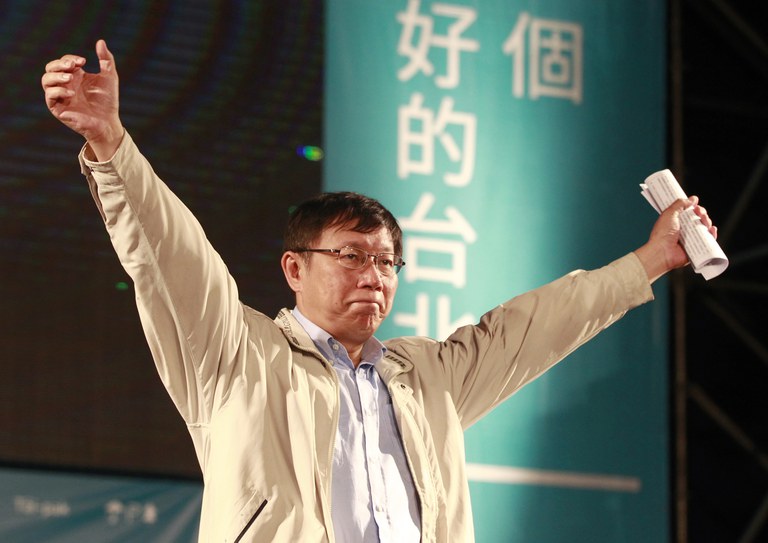 However, Ko has dismissed the open primary proposal from KMT.
"Ko thinks the KMT offer was just an attempt to show off their local organizational strength. It wasn't a serious offer," says Taiwan-based Californian lawyer Michael Fahey.
Separately, Taiwan watcher and pollster Courtney Donovan Smith noted the challenges faced by the relatively new TPP.
"Ko and the four-year-old TPP are struggling to establish themselves as a distinct party, and no doubt Ko is mindful of the experience of a similar party," said Smith. "The People's First Party, which accepted the vice-presidential slot on a unity ticket in the 2004 election but failed to effectively differentiate themselves from the KMT and have slid into irrelevance since."
There are other formidable obstacles to a joint ticket. Both Hou, a former police officer and current mayor of New Taipei City, and Ke, a trained doctor popular for his straightforwardness, are not keen on taking a secondary role to the other.
"A 'Ko-Hou' ticket is impossible, and the chances of a 'Hou-Ko' ticket, I believe, are less than 10% likely," Liao Da-chi, a professor at National Sun Yat-sen University's Institute of Political Science, told Radio Free Asia.
"The KMT, with its 14 mayors and 38 legislators, cannot possibly play second fiddle. Moreover, Hou Yu-ih has only been re-elected as the mayor of New Taipei City for less than a year. It would be a significant risk to give that up for a vice-presidential position. What would be the point?"
Local issues count
The recent Taiwan News "weighted poll of polls" shows Ko is ahead of Hou by about 5%. Lai from the DPP has an average support of 32%-35%, with Ko at 18%-20% and Hou at 15%-18%.
Terry Gou, billionaire and Foxconn founder, polls at around 10%, but he suggests having additional "hidden supporters." Observers believe Gou may seek a pivotal role after the election, especially as local issues gain prominence in Taiwanese politics.
Many Taiwan elections in the past have turned on the China issue, said Roy Ngerng, a Taiwanese labor and wages activist who described the January elections as "different."
"While the two major parties still draw voters based on using China as the key campaign agenda, there has emerged a group where other issues take center stage and these seem to be around livelihood issues like Taiwan's high housing prices and stagnant wages," said Ngerng.
There are significant numbers of younger voters, argues Ngerng, who "are eager for Taiwan's elections to be normalized around local livelihood concerns … due to their distrust of KMT which is not seen as committed to Taiwan's statehood, and due to the belief that the DPP has broken its promise of improving the livelihoods of Taiwanese over the last two terms."
Ngerng added: "These voters are gravitating to the … TPP, in the hope that Ko Wen-je might refocus, addressing the stagnant economic situation in Taiwan."
While this does not mean that Ko is likely to win the presidential election – particularly given the unlikelihood of being able to join forces with the KMT – it does signal that the DPP, if they do win, will not do so on a strong wave of support.
Ngerng said he thinks there's "disappointment arising from the fact that Tsai [Ing-wen] was elected on her promise to the youths of improving livelihoods but has failed to do so … and Ko has been adept at positioning his campaign to reflect their concerns."
"Eventually, the DPP cannot be using democracy and human rights as a rallying cry, without meaningfully enhancing the labor rights and livelihoods of Taiwan's workers," said Ngern.
Edited by Mike Firn and Taejun Kang.
Updated to clarify the process of the open primary and to correct the names of Hou Yu-ih and Roy Ngerng.