The Association of Southeast Asian Nations (ASEAN) Special Envoy to Myanmar has again requested that the junta let him speak with detained opposition chief Aung San Suu Kyi, amid criticism that his mission to resolve the country's political crisis will be fruitless without meeting all stakeholders.
ASEAN Special Envoy Prak Sokhonn held talks on Friday with representatives of seven ethnic armed groups in the capital Naypyidaw on the third day of his second visit to Myanmar since assuming his role with the bloc.
Leaders of the armed groups told RFA Burmese that during the two-hour meeting Prak Sokhonn explained that he is working to achieve three goals: a dialogue on conflict resolution with all stakeholders, a nationwide ceasefire, and providing humanitarian assistance to those in need.
He also told the groups that he wants to meet with the head of the deposed National League for Democracy (NLD) Aung San Suu Kyi, but that doing so "is very difficult," they said.
Nai Aung Ma-ngay, a spokesman for the New Mon State Party (NMSP), an opposition party that signed the Myanmar government's nationwide ceasefire agreement in 2018, told RFA that the ASEAN envoy claimed to have asked for a meeting "with those whom he deserved to meet" during talks with junta leader Snr. Gen. Min Aung Hlaing on Thursday.
"He said he is trying his best on the prison issue. He said he met with the [junta] chairman yesterday and talked about these issues. He said they also talked about a dialogue," the NMSP spokesman said.
"Regarding the matter of Aung San Suu Kyi behind prison walls, he told us today 'it is very difficult' and 'will take a lot of time.'"
Nai Aung Ma-ngay noted that during Prak Sokhonn was also denied access to Suu Kyi by the junta during first visit to Myanmar as special envoy in March.
"He said he is still trying and that he has about six months left in his current role [before the ASEAN chair rotates at the end of the year]," the NMSP spokesman said. "He told us that he would try to find a way to do it before his tenure ends."
During an emergency meeting on the situation in Myanmar in April 2021, Min Aung Hlaing had agreed to a so-called Five-Point Consensus to end violence in the country, which included meeting with all stakeholders to resolve the political crisis, but has failed to keep that promise. Observers say that peace cannot be achieved without including the NLD leadership and other powerbrokers in the process.
In addition to the NMSP, the ethnic armed groups that met with Prak Sokhonn on Friday included the Shan State Reconstruction Council (RCSS), Democratic Karen Army (DKBA), Arakan State Liberation Party (ALP), Karen National Peace Council (KNLA/PC), Lahu Democratic Union (LDU) and Pa-O National Liberation Organization (PNLO). All seven are among groups that have signed a Nationwide Ceasefire Agreement (NCA) with the government since 2015.
Saw Mra Yazarlin, vice-chairwoman of the ALP, told RFA that Prak Sokhonn also asked the groups for their thoughts on who else should be included in talks aimed at resolving the country's political stalemate.
"Some answered him, saying representatives of the government, parliament, and [military]," she said.
"[But there also] must be all political parties, and all ethnic armed groups, and civil society organizations, and other stakeholders included. Our side told him such a situation is necessary."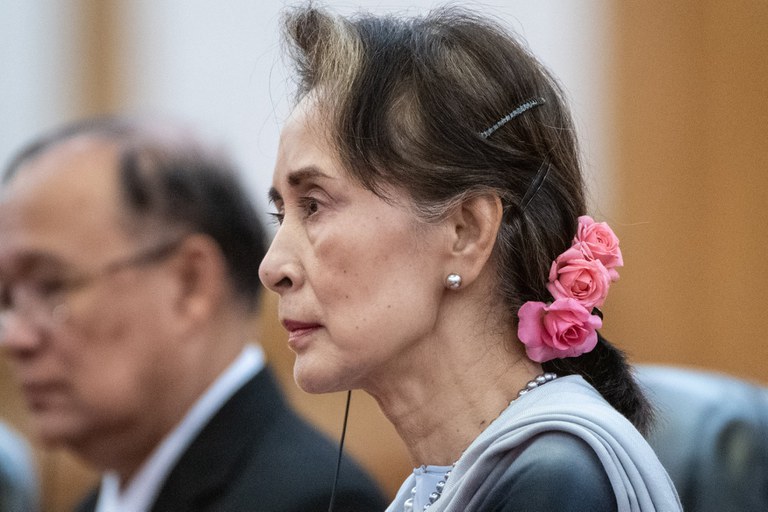 'No one is above the law'
Prior to Prak Sokhonn's ongoing five-day trip, Cambodian Prime Minister Hun Sen — whose nation holds the chair of ASEAN — and the special envoy had requested that he meet with Suu Kyi and NLD president Win Myint but were refused by the junta. The pair are among several NLD officials who were arrested in the immediate aftermath of the military's Feb. 1, 2021, coup and face multiple charges widely viewed as politically motivated.
Prak Sokhonn has also requested that Suu Kyi be returned to her original place of detention after she was transferred last week to a Naypyidaw prison, prompting concern for the 77-year-old's well-being due to poor conditions and lack of access to health care at the facility. That request was denied Friday by junta Deputy Minister of Information Maj. Gen. Zaw Min Tun, who told a press conference that "no one is above the law," and said special arrangements had been made to provide Suu Kyi "with proper food and healthcare needs."
Multiple attempts by RFA to contact Zaw Min Tun for comment on Prak Sokhonn's visit went unanswered Friday.
Earlier this week, the junta spokesman said that "those facing trials" will not be allowed to meet with the ASEAN envoy, adding that the military regime is "working with certain groups" to end the conflict in Myanmar, which has claimed the lives of 2,053 civilians since the coup, according to Bangkok-based NGO Assistance Association for Political Prisoners.
The military has said it plans to allow the envoy meet with "some NLD members" during his visit but has not specified who they are.
When asked on Wednesday who will hold talks with Prak Sokhonn, NLD central working committee member Kyaw Htwe said he could not comment on the matter.
No solution likely
Speaking to RFA, Naing Htoo Aung, permanent secretary of the shadow National Unity Government's (NUG) Ministry of Defense, described Friday's talks as "a sham," and said they won't produce a practical solution to the political crisis in Myanmar.
"It is very important that all those who deserve to be involved in the talks are involved," he said.
"A sham political dialogue is not a solution to the country's political and armed conflict, and such talks could have more negative consequences."
Ye Tun, a Myanmar-based political analyst, said that Friday's meeting failed to include armed groups fighting junta forces in Kayin, Kachin, Chin, and Kayah states, and Sagaing and Magway regions, and that therefore it would do little to reduce ongoing military tensions in the country.
"The armed conflicts we are seeing now took place after the 2021 coup and thus, discussions with the ethnic armed groups are not the solution," he said.
Ye Tun noted that several armed ethnic groups who are supporting the anti-junta People's Defense Force (PDF) paramilitary group have also refused to hold talks with the military.
"This situation will remain the same and the conflicts will continue – they might even become more intense," he said.
ASEAN has yet to release details of Prak Sokhonn's meetings with the ethnic armed groups, Min Aung Hlaing, or with Foreign Minister Wunna Maung Lwin and International Cooperation Minister Ko Ko Hlaing, who he spoke with later on Thursday.
Translated by Khin Maung Nyane. Written in English by Joshua Lipes.