Australian Prime Minister Anthony Albanese pledged Monday to help host country Indonesia make this year's G20 summit a success, including by attending the gathering, which controversially has both the Russian and Ukrainian presidents on the guest list.
Australia's new PM made the pledge during a news conference at the Presidential Palace in Bogor, after he and Indonesian President Joko "Jokowi" Widodo held talks and rode around the palatial grounds on bamboo bicycles, in a nod to their humble origins.
Albanese, who took office two weeks ago, was on his maiden visit as prime minister to the giant neighbor next-door.
"[D]eepening engagement with Southeast Asia is a priority for my Government," he stressed in a statement read out to reporters.
"I will work closely with President Widodo to help deliver a successful summit," Albanese said, adding that international cooperation was needed "to tackle the many challenges we face in navigating the post-COVID global economic recovery."
Indonesia holds the 2022 presidency of the grouping of the world's top 20 economies. The United States has urged Indonesia not to invite member-state Russia to the G20 summit, scheduled for November in Bali, because of Russian President Vladimir Putin's invasion of Ukraine. 
Jakarta so far has refused to disinvite Russia from the summit but has invited Volodymyr Zelenskyy, the president of Ukraine, which is not a G20 member, as a guest. In March, U.S. President Joe Biden said Ukraine should be able to participate in the G20 summit, if the grouping did not expel Russia.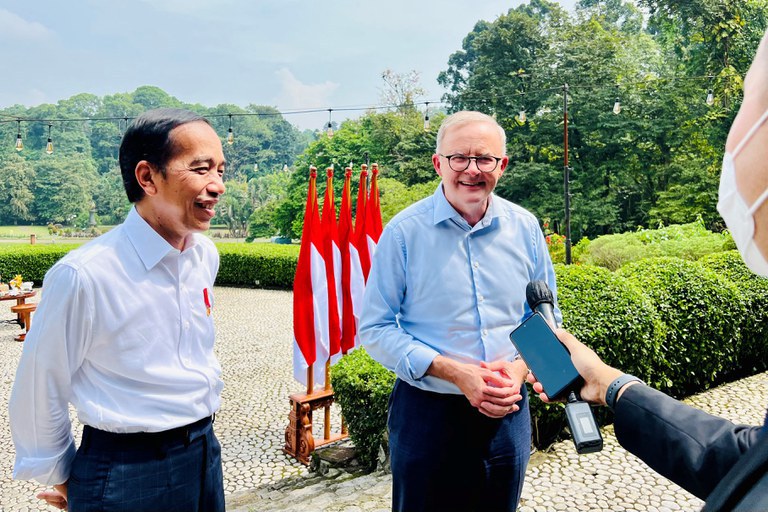 'Mutually beneficial bilateral cooperation'
Albanese also pledged closer cooperation with Indonesia on trade, security and climate change.
"Indonesia is on track to be one of the world's five largest economies," Albanese said.
"Revitalizing our trade and investment relationship is a priority for my government," he said.
Albanese added that the two countries were working to realize the potential of the Indonesia Australia Comprehensive Economic Partnership Agreement, a free trade agreement which came into effect two years ago.
Albanese came to Indonesia with a delegation that included chief executives of major Australian companies, as well as Foreign Minister Penny Wong and Trade Minister Don Farrel.
Jokowi, for his part, said that the "strategic partnership agreement" and the free trade deal with Australia provided a strong foundation for bilateral relations.
"These two foundations are very important for the two countries to continue to strengthen mutually beneficial bilateral cooperation," Jokowi said.
Jokowi stressed the importance of expanding access to exports for Indonesian products to Australia, including cars.
"The first shipment of completely built-up cars made in Indonesia to Australia was made in February and I hope that export access like this will continue to expand," he said.
Jokowi said he told Albanese that good bilateral relations could contribute to regional peace and prosperity.
"International principles and laws must be consistently obeyed, strategic competition in the region needs to be managed properly to avoid open conflict, a culture of peace and strategic trust needs to be strengthened," he said.
Albanese also promised increased cooperation in the fields of defense, as well as maritime security and safety, amid China's growing assertiveness in the contested South China Sea.
Indonesia has on several occasions expressed concerns about a new trilateral security pact between Australia, the United States and the United Kingdom, known as AUKUS, which allows Australia to acquire nuclear-powered submarines.
In their respective statements, however, the two leaders made no references to AUKUS.
Albanese stressed that his government would work closely with Australian Super Funds, one of the country's largest investors, to explore investment opportunities in Indonesia.
Ninasapti Triaswati, an economist at the University of Indonesia, said the visit provided an opportunity for Indonesia to strike business deals with Australian companies.
"But it requires technical readiness on the part of the Indonesian side to be able to make cooperation contracts that benefit the Indonesian people," Ninasapti told BenarNews.
Ninasapti said she believed the presence of Putin at the upcoming G20 summit would not affect economic ties with Australia.
"If Putin comes, the Australian government may leave the room, but CEOs of Australian private companies will still be interested in investing in Indonesia," he said.
'Strengthen partnerships in the Pacific'
Albanese also said his government was committed to deepening economic ties with Southeast Asian countries.
"And we will deliver a comprehensive ASEAN Economic Strategy to 2040, to map current and future export and investment opportunities across key ASEAN markets," he said.
Albanese said Australia would give A$470 million (U.S. $338.55 million) to Southeast Asia over four years under Overseas Development Assistance (ODA) programs, on top of A$200 million for its climate and infrastructure partnership with Indonesia.
"We also agreed to strengthen partnerships in the Pacific, especially in the fields of climate, fisheries and agriculture," he said.
"True to my government's ambitious climate targets, I want better access to affordable, reliable and secure clean energy right across our region, as we transition to a net zero world together."