The junta-run Central Bank of Myanmar has revoked the licenses of 10 foreign exchange companies, state-controlled newspapers said Thursday.
In Wednesday's announcement, the bank said the forex firms had not complied with the central bank's orders and instructions.
It named the companies as Kannan Trading; Net Change; Thiri Aung Si; Riverwood Group; Global Myanmar Services; D-Gold; Aurum Image; Hi Welcome Travel; & Tours Sweeties Pearls; and Chase Travels & Tours.
Although the statement said the licenses were revoked according to a decision of the executive committee, it did not mention what orders and instructions were violated.
RFA contacted the companies whose licenses were revoked but they did not respond.
An entrepreneur holding a foreign exchange license, who did not want to be named for security reasons, called the central bank's current forex policy "unstable."
"They shut [companies] If they want to. We do not know what for," he said. 
"But there is one thing that they should explain. Why was it not in accordance with the rules and regulations?"
At present, the central bank allows foreign exchange companies to exchange one U.S. dollar for 2,100 Myanmar kyat.
Firms are not allowed to change more than $10,000 per day and must be able to show the transactions list during investigation.
Last March, the business licenses of 20 money exchange companies were revoked for failing to comply with the central bank's orders and instructions.
And on June 21, the U.S. Treasury Department announced it was adding the junta's Ministry of Defense, and the regime controlled Myanma Foreign Trade Bank (MFTB) and Myanma Investment and Commercial Bank (MICB) to a sanctions blacklist in connection with the Myanmar military's purchases of arms from foreign sellers "including sanctioned Russian entities."
The dollar rose 7.3% against the kyat in the following 24-hours.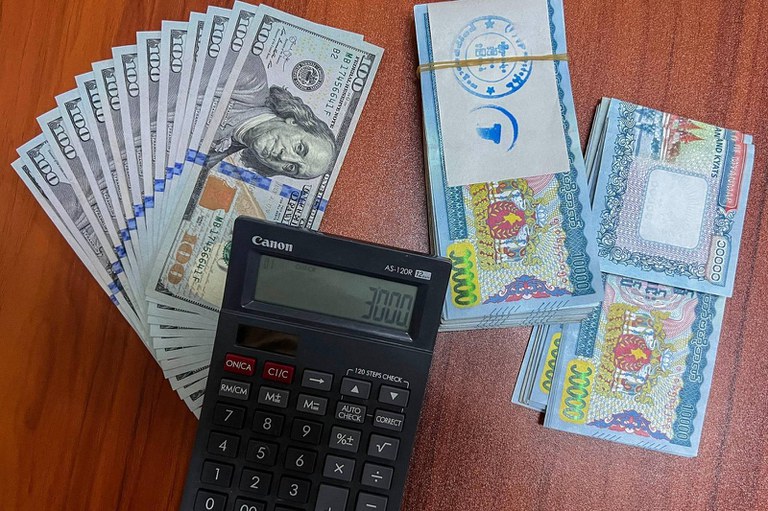 Two days later, the central bank said authorities had arrested 51 people for allegedly trying to cash in on the sudden spike in the price of dollars.
It said foreign exchange speculators in Yangon and Mandalay, foreign currency dealers, people transferring money and officials from three companies had been prosecuted.
The Central Bank of Myanmar said its currency market monitoring team took action in accordance with the anti-money laundering and foreign exchange management laws.
Also on June 23, in a move aimed at slowing the outflow of foreign currency the junta's commerce ministry announced that importers at northeastern Myanmar's border with China would have to pay for goods using their local bank accounts from Aug. 1.
Junta Deputy Information Minister, Major Gen. Zaw Min Tun, told state-controlled media last month that the U.S. sanctions were aimed at triggering a political and economic crisis in Myanmar.
Translated by RFA Burmese. Edited by Mike Firn.