Myanmar's armed resistance has dismissed an unprecedented call by the junta to surrender as a "sugar-coated offer" by a regime that must pay for its war crimes against civilians, as a new report found the military responsible for nearly 20,000 arson attacks since it's 2021 coup.
In a statement published in both Burmese and English by Myanmar's state-run newspapers on Monday, the junta's Information Team announced that all members of the armed resistance – including the pro-democracy People's Defense Force (PDF) paramilitary group it has labeled a terrorist organization – will be allowed to return to civilian life if they willingly lay down their arms.
The junta blamed "political adversaries and disagreements in ethnic affairs" for Myanmar's internal armed conflicts, which it said had hampered development, and called for "unity" to heal the nation.
"Those who were persuaded by terrorist groups … to commit acts of terrorism leading to the utter devastation of the country and launch armed resistance under various names of groups including PDF … affect the stability of the State and ensue delay in ways to democracy," the statement said.
"Therefore, it is here announced that the organizations, including PDF, are welcomed if they enter the legal fold [to return to] their normal civilian lives by surrendering their weapons, [and] following rules and regulations to participate in future work plans of the country."
Various armed resistance groups that have sworn loyalty to Myanmar's shadow National Unity Government (NUG) told RFA Burmese that surrender to the junta is "impossible," citing the devastation it had wrought on the country since the Feb. 1, 2021 takeover. Others said the military cannot be trusted and suggested that its call for surrender is a sign of weakness.
"If we had thought surrender was a possibility at the beginning, we would never have started the revolution," said a spokesman for PDF in Kayah state's Demawso township, speaking on condition of anonymity.
"We will never surrender. We'll never trust the military which has ruled us for over 70 years and wants to brainwash us, no matter what they say."
A spokesman for the Myingyu township PDF in Sagaing region, who also declined to be named, said his group will also continue its fight against the military.
"As far as we know, they are weakening. I think they are making this offer because they have suffered heavy casualties during their offensive in our township," he said.
"We blew up their convoys with landmines whenever they passed through our territory, and they suffered a lot. We will never surrender to them but fight to the end."
A member of the Chinland Defense Force, which was fighting the junta in Chin state before the NUG was formed in April last year, said his group had barely acknowledged Monday's offer.
"We have determined to wipe out the military dictatorship. That is why we have taken up arms against them and reached this stage," he said.
"Frankly speaking, we don't even need to comment on their offer."
Doubts over junta's claims
Naing Htoo Aung, shadow defense secretary, said the NUG will not consider the offer because the junta is "untrustworthy."
"It is unbelievable that these people, who are currently committing atrocities and killing innocent people and burning villages, have asked us to surrender our weapons and return to civilian life," he said. "We all know that we cannot believe [this offer]."
Naing Htoo Aung called Monday's offer "sugar-coated," and vowed to hold the junta responsible for the death and destruction it has sown over the past 16 months.
The NUG claimed last month that it had already formed more than 250 battalions across the country and established links to more than 400 PDF units, suggesting it was more than capable of defeating the military regime.
Sai Kyi Zin Soe, a Myanmar-based analyst, questioned why the junta would expect the PDF to disarm without removing the group from its list of terrorist organizations.
"After all, it is difficult for people who have suffered because of the junta actions, to give up their weapons," he said.
"In this age, when news travels fast, the military cannot make up stories and fool people like the previous juntas."
Monday's offer came days after U.S. State Department adviser Derek Chollet told reporters in Bangkok that the junta should return Myanmar to the path of democracy as it appears unable to crush the opposition. He also noted that the military has suffered heavy casualties in its fight with the resistance.
Earlier this month, independent research group the Institute for Strategy and Policy (ISP Myanmar) said that it had documented more than 4,600 clashes between PDF units and the military as of May 15. More than half of them occurred in Kayin state, while the second most took place in Sagaing region.
Junta chief Snr. Gen. Min Aung Hlaing in April called on Myanmar's ethnic armed groups to hold peace talks and end armed conflict with the military, but he refused to meet with the PDF.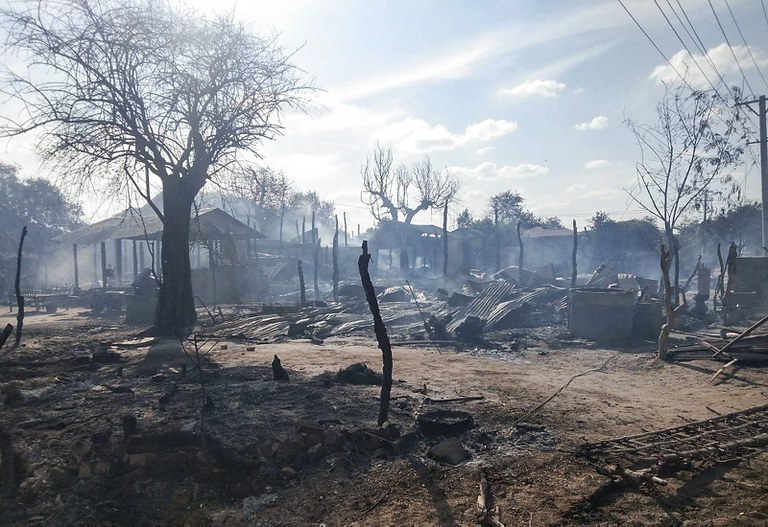 Nearly 20,000 houses razed
The junta's invitation to surrender also came less than a week after local watchdog group Data for Myanmar issued a report which found that junta troops and military proxy groups had burned down 18,886 homes across the country between last year's coup and the end of May 2022.
According to the report, villages in Sagaing were the hardest hit by the junta, with 13,840 houses destroyed, while those in Magway region and Chin state came in second and third. It said that 7,146 homes were set on fire in May alone – the highest monthly figure since the coup.
Legal experts and analysts told RFA on Monday that the widespread use of arson against civilians amounts to war crimes and said the junta must be held accountable for its actions.
Min Lwin Oo, a human rights lawyer, said the perpetrators of the arson should be tried in international courts.
"The military junta is committing war crimes," he said. "In order to take action, it is important to have solid facts, and whoever is collecting information should find out who the perpetrators were and how the orders are carried out."
NUG Minister for Human Rights Aung Myo Min said evidence is being collected for what the shadow government hopes will be a trial at the International Criminal Court.
"We have been informed by residents of the villages that have been burnt down, and we are conducting a thorough re-investigation and gathering evidence," he said.
"Telling the world what is happening is key to ensuring that prompt action is taken against the junta."
Calls to junta Deputy Information Minister Maj. Gen. Zaw Min Tun seeking comment on the report's findings went unanswered Monday. In earlier interviews, he had denied that the military was responsible for the arson and instead blamed it on local PDF units.
Nay Zin Latt, a former member of parliament for the deposed National League for Democracy party in Sagaing's Kanbalu township, told RFA that the military has falsely claimed to be following a "code of conduct" on the battlefield by avoiding civilian casualties.
"They set fires to villages. They arrest and kill innocent villagers," he said.
"No matter how they try, they cannot hide all these crimes because the villagers themselves saw their houses being burnt down, their families and friends being killed. The facts are indisputable."
A resident of Kan Thit village in Sagaing's Khin Oo township, whose house was burnt down during a military raid, said that he and his fellow villagers are "only asking for a little bit of justice so that we can live in peace."
"I want the international community to know what has happened so that we can put an end to the cruelty that befallen us," he said.
According to Thai rights group Assistance Association for Political Prisoners, authorities in Myanmar have killed 1,937 civilians since last year's coup, mostly during peaceful anti-junta protests.
Translated by Khin Maung Nyane. Written in English by Joshua Lipes.