Junta troops arrested around 100 villagers in Myanmar's Magway region, killing one man, locals told RFA Tuesday.
Around 100 soldiers raided Shwe Lin Swea in Myaing township on Sunday after bombarding the village with heavy artillery.
They arrested 40 men and around 60 women, setting most free the following day.
Locals said they held onto four men and tortured them, killing one 50-year-old man.
"There were four arrested including Htay Win but he was killed," said a local who didn't want to be named for fear of reprisals.
"One man escaped … When he was asked to drive a bullock cart by the soldiers he released the bullocks, pretended to chase them and ran away."
The local said two men were still being held by the troops but he didn't know their names.
The troops took rice, oil, beans and cooking utensils from the villagers before heading to another village, according to another local who also requested anonymity for safety reasons.
"The troops moved on to Let Htoke Taw village in the afternoon and grabbed things from the village and even from the monastery [and put them in] three trucks," the local said. 
"There is no one left in the village. The village was set on fire without anyone to defend [the houses]."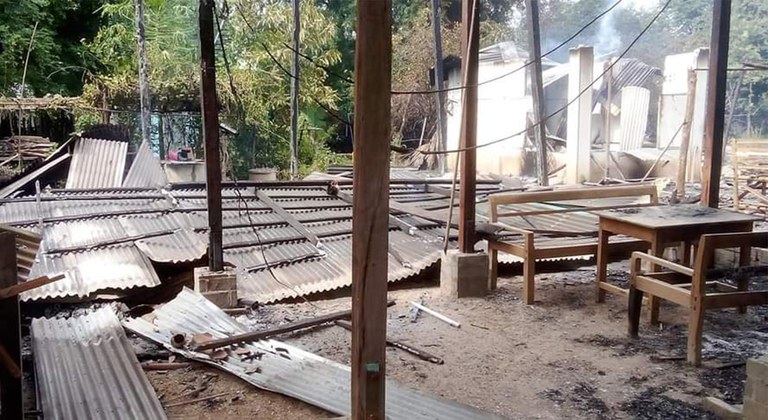 Another local said troops burned around 40 houses in Myaing township. He said nearly 1,700 residents of Shwe Lin Swea and Let Htoke villages fled ahead of the junta raids.
Aung Zeya, leader of the Myaing Villages Revolutionary Front, told RFA local defense forces clashed with the troops on Sunday as they moved the stolen food to another village in the township but he didn't say how many casualties there were on either side.
The junta spokesperson for Magway region, Than Swe Win, said that he was not aware of the incident because he was on medical leave.
More than 10,000 homes in Magway region have been burned down by the junta and affiliated militias since the Feb. 2021 coup, according to the independent research group Data for Myanmar.
Translated by RFA Burmese. Edited by Mike Firn and Taejun Kang.