Myanmar opposition marks '8888' anniversary with protests, vow to fight on
Myanmar's shadow National Unity Government (NUG) and activists marked the anniversary of the uprising against former Gen. Ne Win on Monday with protests calling for an end to junta rule and a vow to fight until their goal of a federal democracy is achieved.
The "People Power Uprising," also known as the "8888 Uprising," was a series of nationwide protests, marches, and riots led by university students against the Ne Win regime, key events of which took place on Aug. 8, 1988. Authorities crushed the movement in mid-September that year.
On Monday, the NUG observed the anniversary of the uprising in a ceremony hosted online in which shadow Prime Minister Mahn Win Khaing Than condemned Myanmar's successive military dictators for their brutal oppression of the country's democracy activists. He vowed to channel "the spirit of the '4-Eights'" in supporting the people's fight against the current regime, which seized power in a Feb. 1, 2021 coup, and to form a federal union in Myanmar based on democracy and the protection of human rights.
This year's anniversary held special significance for the opposition as it came just weeks after the junta put to death 8888 Uprising leader Ko Jimmy and three other democracy activists in the country's first judicial executions in more than 30 years. The executions prompted protests in Myanmar and condemnation abroad.
In addition to the NUG ceremony, activists held protests in Myanmar's commercial capital Yangon, the embattled region of Sagaing, and in Laiza, the "capital" of the ethnic Kachin Independence Organization-controlled territory in Kachin state.
Anti-junta groups in Yangon held anti-junta flash protests in the morning and carried out pot-banging activities in the evening, sources told RFA Burmese.
Nang Lin, a member of the Yangon Anti-Dictatorship Force, described the 8888 Uprising as "a powerful movement … that involved people from all walks of life working together to bring down [a] terrible one-party dictatorship and allowed democracy to flourish."
"Now, we will continue to carry the banner of this uprising," he said.
"We will hold the spirit of that uprising and carry on its work, with determination, to achieve federal democracy, which is the goal of successive revolutions and the goal of this ongoing spring revolution."
Jewel, a member of the Pazundaung and Botahtaung Townships Young People's Strike Committee in Yangon, told RFA that she and her comrades would continue to carry out the unfinished task of the 8888 democracy movement and "root out" the military dictatorship.
"The 4-Eights Uprising was over a long time ago. However, as members of a younger generation, we'll continue its unfinished work and are determined to eradicate this military dictatorship," she said.
Sagaing and Kachin
In Sagaing, the region in which the junta has encountered some of the strongest armed resistance to its rule since the coup, more than 200 residents of Yinmarbin and Salingyi townships joined together and staged a multi-village protest, carrying signs that vowed to "fight to the end to overthrow the military dictator."
Villagers in Sagaing's Kani and Budalin townships also held protests to commemorate the 8888 Uprising.
The All Burma Students Democratic Front (ABSDF), which is headquartered near Laiza, in northern Myanmar's Kachin state, also held a 34th anniversary event on Monday.
A member of the ABSDF Northern Military Region Committee who gave his name as Joshua told RFA that the people of Myanmar can expect more coups in the future unless the military dictatorship is "uprooted."
"We are holding this ceremony as a way of passing on the torch of the 8888 spirit, what the 8888 had wanted and fought for, so that all the young and old can remember why the 8888 Uprising came to be," he said.
"As long as there are military dictators, they will seize power … if they cannot get what they want. They will seize power again in the future if we cannot fight them off for good."
Joshua said that the ABSDF has been fighting successive military dictators with "whatever weapons we could lay our hands on" and that "more than 700" of its members had died in the more than three decades since 1988.
In a statement to mark Monday's anniversary, the ABSDF warned that the political, economic, education, and health sectors of Myanmar are in the midst of "serious deterioration," while all three branches of government in the country "have collapsed."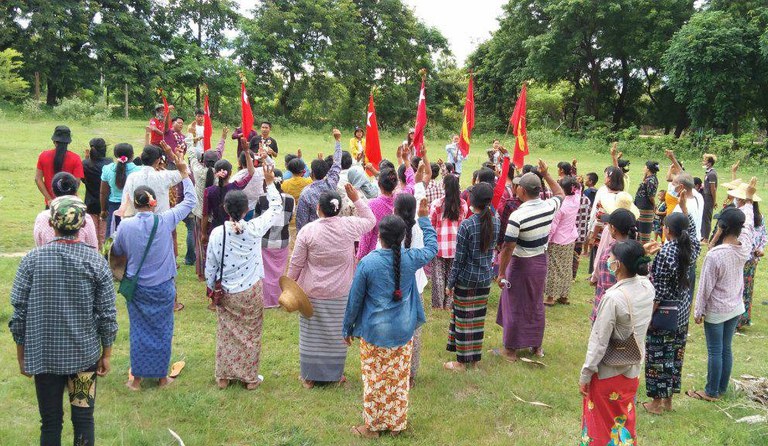 Impetus for success
Attempts to reach junta Deputy Minister of Information Maj. Gen. Zaw Min Tun for comment went unanswered Monday.
Myanmar political analyst Than Soe Naing told RFA that if the people of Myanmar hope to succeed in their current democratic struggle, they must not forget the 8888 Uprising.
"It's time to make up for the weaknesses of 88 and push for victory in this Spring Revolution," he said, adding that the movement should use the movement's goals as an "impetus for success."
Ye Naing Aung, a member of the 88 Generation group of students who led the uprising, told RFA that he believes the people of Myanmar will one day achieve the democracy they desire.
"As long as people have an expectation for a better system, we can't move backwards," he said.
"Even though the change is not here yet, it will take place at some point. I'm absolutely certain that they will enjoy a democratic system."
While authorities claim that only around 350 people were killed in the military crackdown on the 8888 Uprising, rights groups say the death toll is at least 3,000.
Security forces have killed at least 2,167 people and arrested more than 15,000 since last year's coup, mostly during peaceful anti-junta protests, according to the Bangkok-based Assistance Association for Political Prisoners.
Translated by Khin Maung Nyane. Written in English by Joshua Lipes.