Myanmar's military is sending troops to villages in war-torn Sagaing region where the armed resistance is strong and forcibly recruiting residents into pro-junta militias, according to sources in the area.
Residents of Sagaing told RFA's Burmese Service on condition of anonymity that troops have offered them money to join and train with the pro-junta Pyu Saw Htee militia and threatened to burn down their villages if they don't comply.
A source from Kyunhla township's Magyi Inn village wrote in a letter to RFA that one military unit visited the area last week and demanded that 30 residents join the Pyu Saw Htee. Troops said that if the recruits didn't show up for training within a few days, they would return and torch the entire tract.
RFA attempted to confirm the incident with residents of the village by phone, but they refused to comment, citing fear of reprisal.
A resident of Taze township told RFA that troops recently armed villagers in the area and paid them to recruit others in the fight against pro-democracy People's Defense Force (PDF) paramilitaries.
"Pyu Saw Htee groups have been set up in many villages of Kanbalu and Taze townships, as well as those in the Mu River valley," he said.
"In those villages, people joined them because they were paid and provided weapons. When they were sent elsewhere, they acted abusively because they had received armed training. In some places, they ended up extorting money from people and now are more like bandits."
RFA was unable to independently confirm the resident's claim that villagers were being paid to join the Pyu Saw Htee.
Residents of Taze told RFA that there are "about 400 Pyu Saw Htee fighters" based in the eastern part of their township and neighboring Kanbalu.
Around 500 homes in Taze's Ywah Shay village were set on fire by a joint force of military troops and Pyu Saw Htee militiamen on June 1, they said, although it was not immediately clear whether the arson was connected to a recruitment campaign.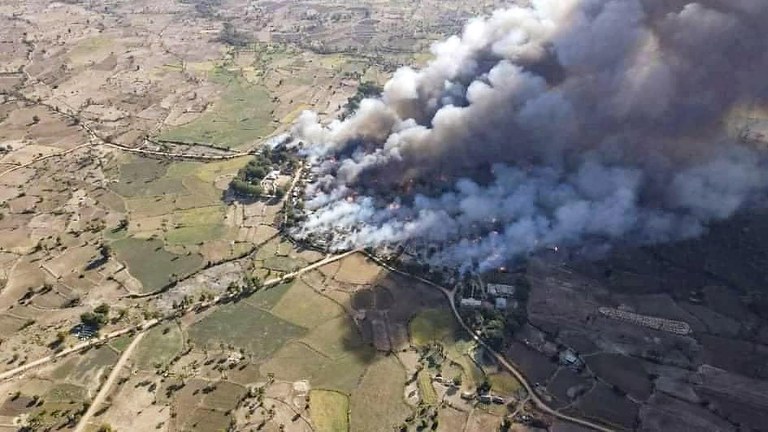 Targeting two regions
Data for Myanmar, a research group that studies the impact of conflict on communities, also said the burning of villages in Sagaing and neighboring Magway region are the work of the military and Pyu Saw Htee. More than 11,400 homes have been destroyed in the regions since the military's Feb. 1, 2021 coup, the group said.
Residents in Sagaing and Magway regions claim that the military pays Pyu Saw Htee members 7,000 kyats (U.S. $4) a day.
A spokesman for the PDF in Magway's Yezagyo township told RFA that the military is using Pyu Saw Htee units "to oppress the people."
"To say it bluntly, Pyu Saw Htees are asked to do the dirty work because the military doesn't want their name tarnished," he said.
"These Pyu Saw Htees are mostly supporters of the military. They are given training and armed and are sent to the head of troop columns. It's dangerous. In other words, they are being used as human shields."
A resident of Sagaing, who also declined to be named, told RFA that he had seen Pyu Saw Htees carrying military-grade weaponry, including automatic rifles and carbines and even grenade launchers.
Asked about the reports, junta Deputy Information Minister Maj. Gen. Zaw Min Tun, told RFA last week that there "are no such thing" as Pyu Saw Htees and claimed the military is forming militia groups so that residents can protect their own villages from the PDF, which the military has labeled a terrorist group.
"If there is a real need, we will provide training first. During the training, they learned how to shoot," he said.
"But it is not just a matter of armed training. There are duties and responsibilities to be assumed. There are rules to be followed, just like a soldier does. We are working for peace in the community in a systematic way."
He did not comment on allegations that members of the Pyu Saw Htee are paid by the military.
Forming a proxy force
After the military coup, Pyu Saw Htee militias were formed in villages which formerly supported the military and the military proxy Union Solidarity and Development Party (USDP).
Observers say the Pyu Saw Htee act as a proxy force for the military and are responsible for some of the junta's worst abuses against civilians, including looting and arson, arbitrary arrests, torture, and execution.
RFA documented at least 74 civilian deaths linked to pro-military groups such as the Pyu Saw Htee in Myanmar in May alone.
USDP spokesman Nanda Hla Myint has told RFA that although party members had not been instructed to take up arms against the opposition, the party leadership will not stop them from doing so.
Zaw Zaw, a resident of Sagaing's Pale township said that although not every USDP member is Pyu Saw Htee, Pyu Saw Htee units are mainly comprised of USDP members.
"Some of them, mostly hardliners, go to Pyu Saw Htee training. In some villages, people who were accused as 'Dalans' (military informers) flee and join them," he said.
"These kinds of people have been involved in election campaigns for years. They are not actually USDP members but most of them are very supportive of the USDP."
Min Zaw Oo, executive director of the Myanmar Institute for Peace and Security (MIPS), said the formation of proxy armed groups like the Pyu Saw Htee is a military strategy with a long history in the country.
"It seems junta leaders were hesitant in the beginning, as they weren't sure whether they could trust the villagers not to turn against them when they were given weapons," he said.
"In the beginning, there were no guns, but later – especially in 2022 – more groups were armed."
According to a recent report by the Institute for Strategic Studies (ISP Myanmar), at least 5,646 people were killed in clashes across the country between Feb. 1, 2021 and May 10, 2022.
Security forces have killed at least 1,905 civilians and arrested 14,018 others in the 16 months since the coup, mostly during peaceful anti-junta protests, according to Thailand's Assistance Association for Political Prisoners.
Translated by Khin Maung Nyane. Written in English by Joshua Lipes.