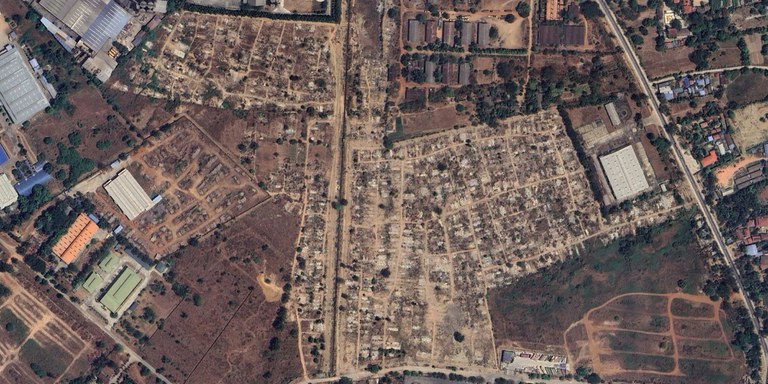 Myanmar's military junta has evicted families and destroyed more than 16,500 homes and other buildings in large cities and towns across the Southeast Asian country, claiming that the structures "encroached on land owned by the state," according to data compiled by Radio Free Asia.
The data is based on residents' testimonies and notices from local authorities, compiled since the military seized control of the country from the elected civilian-led government in a February 2021 coup. The actual figure may be higher, however.
The junta has removed the buildings under the pretext of "encroachment," claiming the land belongs to the railway department, the irrigation department, or the military, or that it has been zoned for municipal infrastructure.
The junta also has forcibly evicted people living in informal settlements as part of a bid to increase its land holdings, RFA reported in February.
Families who have lost their homes say they are now facing hardship.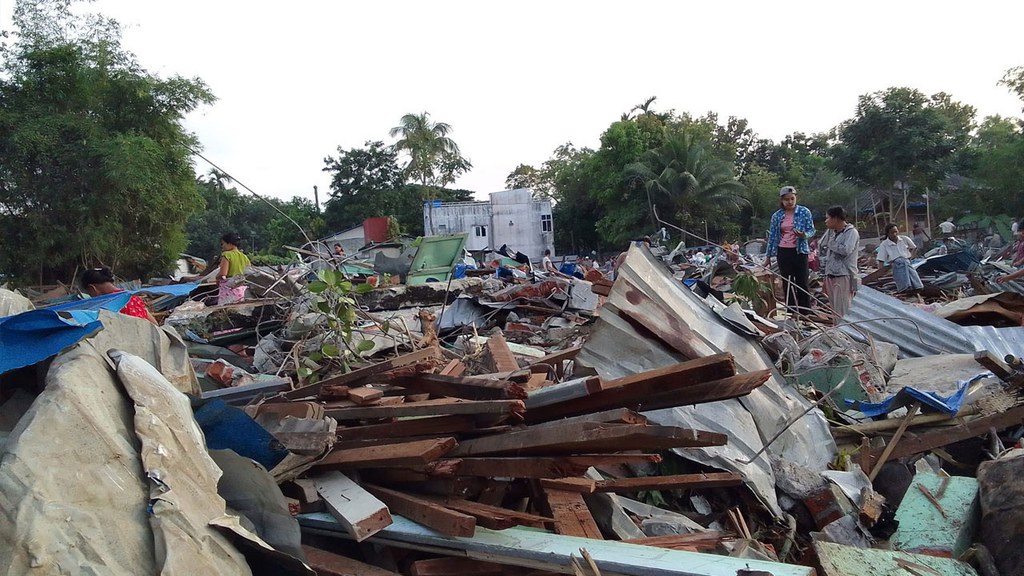 The military has leveled nearly 11,700 houses and buildings in Yangon region, home to Myanmar's largest city and former capital, and the area with the greatest concentration of buildings.
Of that figure, the junta has demolished more than 4,100 houses and buildings in Mandalay, the second-largest city by population, while smaller cities and towns, such as Magway, Naypyidaw, Taungoo, Sittwe and Ann have seen between 75 to 200 demolitions each.
The military removed residential houses in Magway, saying they were too close to an Air Force base, demolished civilian homes and buildings in Mandalay on the grounds that the inhabitants were squatting on regional government-owned land, private land or land too close to a railway, and tore down homes in Naypyidaw, claiming they were situated too close to the Yan Aung Myin Forest Reserve.
Enter the bulldozers
A resident of Myo Thit Ward No. 4 in Mandalay who had lived in a home there for 17 years, said the junta leveled 200 homes in the ward, including his.
"There was no deadline in the notice that the authorities sent to us," he said. "It just said that we must move out as soon as possible, so we started collecting our property and disassembling our homes."
"But yesterday bulldozers arrived and started bulldozing our houses around noon," said the resident who declined to be identified out of fear of retribution. "Right now, I have rented a house to live in."
A resident who was evicted from Manadalay's Pyigyitagun township told RFA that he could not afford to buy another dwelling because of high commodity prices.
"We had to pinch pennies with a lot of difficulty to save up and buy our house," he said.
Patheingyi township administrators under the control of the military issued notices this June to nearly 10,000 households that their homes would be removed on the grounds that they had been built on farmland without permission.
Similarly, in Yangon region, the junta demolished homes it claimed were built on lands owned by public parks, the regional government or the military.
In November 2022, soldiers knocked down about 100 houses in Yangon's Mayangon township they claimed was on land owned by a stadium, forcing nearly 300 people into homelessness.
A resident who refused to be named for safety reasons told RFA he had to rent a house to stay on the outskirts of the city because he could not afford to buy a new one.
"No one could buy another house again after the evictions," he said. "All of them have to live as tenants now. Some had to go back to their villages."
Human rights violation
Rights activist Zaw Yan of the Yangon People's Welfare Network told RFA that the junta's demolition of civilian homes under the pretext of encroachment is a violation of human rights.
"From a human rights standpoint, it is a violation of Article 13 of the United Nations Universal Declaration of Human Rights," he said. "Also, they've violated [Myanmar's] constitution which says that every citizen has the right to live in any region within the country according to the law."
In a statement issued on Dec. 2, 2022, U.N. human rights officials said the junta's act of removing houses by force was a violation of basic human rights and a war crime.
Maj. Gen. Zaw Min Tun, spokesman for Myanmar's State Administration Council, the official name of the regime, told RFA in March 2022 that the junta had to focus on encroachment issues because previous governments did not resolve them.
A Yangon-based attorney who knows about the demolitions told RFA that previously the removal of homes was usually suspended or postponed through negotiations with administrative officials, though that's no longer possible under current military rule.
Translated by Myo Min Aung for RFA Burmese. Edited by Roseanne Gerin and Matt Reed.