Malaysia and the Philippines have said that they're willing to discuss oil and gas exploration with China in the South China Sea, a move that analysts say may cause friction within ASEAN as the Southeast Asian bloc wants to accelerate negotiation for a Code of Conduct in order to avoid conflict.
On Tuesday the Philippine Department of Foreign Affairs said Manila would resume talks with Beijing on joint oil and gas exploration in the South China Sea, despite the country's Supreme Court already having ruled against such activities.
The court in January decided that a trilateral joint exploration agreement between the Philippines, China and Vietnam – another party in the South China Sea dispute – was unconstitutional because it allowed "foreign corporations to participate in the exploration of the country's natural resources" without observing required safeguards.
The agreement was signed in 2005 but failed to materialize. 
In 2018, under then-President Rodrigo Duterte, the Philippines and China also signed a document on Cooperation on Oil and Gas Development but Duterte himself terminated the talks last June after both sides failed to resolve the issue of sovereignty over Reed Bank in the Spratlys.
For its part, Malaysia has informed China that it is ready to negotiate on the oil exploration in the waters both countries claim.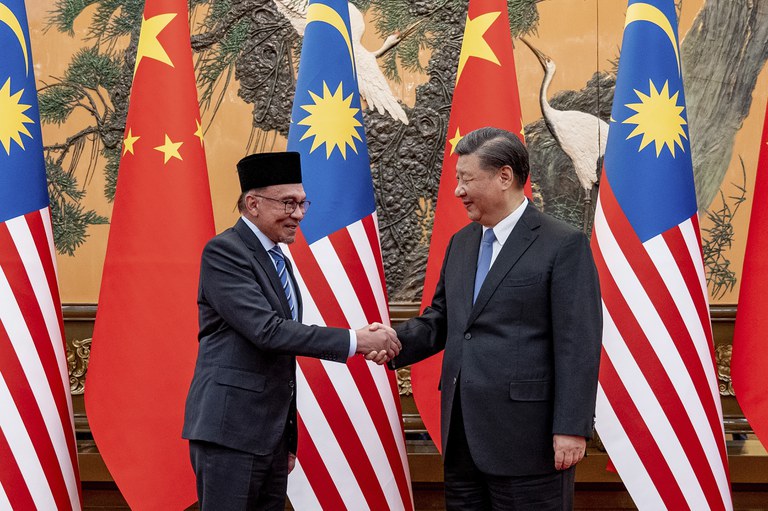 Prime Minister Anwar Ibrahim said Monday that he told China's President Xi Jinping during his recent visit to Beijing that, as a small country, Malaysia needs to continue with oil exploration but "if the condition is that there must be negotiations to secure [our rights], then we are prepared to negotiate."
On Tuesday the prime minister seemed to adjust his conciliatory tone by adding that he "insisted that the area … falls within Malaysia's territory" and that "in the meantime our exploration efforts will continue."
Bilateral negotiations
China responded that it is "firmly committed to safeguarding our lawful rights and interests in the South China Sea."
Foreign Ministry's spokesperson Mao Ning said at a Tuesday briefing that, at the same time, "we are ready to work together with the Malaysian side and continue to properly handle maritime disputes through dialogue and consultation."
Some other ASEAN countries that are also embroiled in disagreements with China over natural resources in the South China Sea – Vietnam and Indonesia – have yet to react to the latest developments but analysts warned against what they see as "China's bilateral approach."
"Xi Jinping has used official state visits by President Marcos Jr. of the Philippines in January and Prime Minister Anwar Ibrahim in April to press China's claims in the South China Sea and to press for bilateral discussions," said Carlyle Thayer, a veteran regional specialist.
"China's insistence on bilateral discussions has been consistent for the last decade and a half," the Canberra-based analyst told Radio Free Asia, adding that China can "divide and conquer" using its superior economic weight.
Another analyst, Collins Chong Yew Keat at Universiti Malaya, told RFA's affiliate BenarNews that the scope and level of the negotiations remains to be seen "but it must not be based on a bilateral basis, as Beijing will exercise its burgeoning leverage and cards at its disposal now, to use economic tools and other measures to dictate more favorable terms."
ASEAN countries restarted negotiations with China on a Code of Conduct for the South China Sea, with the first round of talks taking place in the second week of March. 
Several member states have accused China of impeding and harassing their oil and gas activities in areas within their exclusive economic zones that also fall within China's nine-dash line that Beijing uses to claim "historic rights" to almost 90% of the South China Sea. 
This imaginary boundary was declared as illegal by a U.N. tribunal in a case brought by the Philippines in 2016.
'Not an indication of success'
"Indonesia has a long-standing policy of refusing to discuss maritime disputes with China on the grounds that its maritime boundaries are in accord with international law," said Carl Thayer.
Vietnam, which saw several oil development projects with foreign partners stopped under China's pressure, has always maintained that any joint exploration should abide by international law, especially the U.N. Convention on the Law of the Sea (UNCLOS).  
As a rule, Hanoi does not publicly criticize other ASEAN members' policies but Vietnamese scholars said that Beijing-led joint projects in the South China Sea could become "dangerous precedents" if pursued.
China has been offering other countries to "set aside dispute and pursue joint development," viewing it "as a measure to assert sovereignty in the negotiated area," wrote a Vietnamese researcher, Bui Sang Minh, in the South China Sea Studies Journal, which usually reflects the Vietnamese government's stance. 
"Most of the areas in which China has brought up such offers are well within other countries' economic exclusive zones and continental shelves." 
As the Philippines and China are to resume talks, Manila should "try not to fall for the 'setting disputes aside and pursuing joint development' concept and refrain from prioritizing economic benefits over maintaining its sovereignty in the process," Minh added.
Some other analysts such as Jay Batongbacal, director of the Institute for Maritime Affairs and Law of the Sea at the University of the Philippines, said that a desire to settle disputes amicably "does not mean they will simply give in to China's demands."
"An announcement that they will discuss and negotiate is not an indication of success in the bilateral approach," he said.
Meanwhile, Carl Thayer told RFA that in his opinion, "China's bilateral approach is not without risk."
The Philippine Constitution limits the involvement of foreign enterprises in the exploitation of the Philippines' natural resources so a joint exploration would risk setting up "a clash between Philippines sovereignty and China's assertion of sovereignty."
"A second risk for China is that the commencement of bilateral talks is likely to provoke nationalist sentiment in both the Philippines and Malaysia to demand that China respect the Philippines' and Malaysian Exclusive Economic Zones," the maritime expert said.
Gan Pei Ling and Iman Muttaqin Yusof in Kuala Lumpur contributed to this report 
BenarNews is an RFA-affiliated news organization.
Edited by Mike Firn.