Junta policies that restrict packages to jailed inmates and permit prisoners to be transferred to remote facilities without notifying relatives are negatively impacting the health of political prisoners in Myanmar, their family members told RFA Burmese on Friday.
The two practices are seen by rights campaigners as ways for the junta to punish critics of its rule. But they can have a deadly effect on the lives of what Thailand's Assistance Association for Political Prisoners (Burma) says are the more than 19,600 prisoners of conscience languishing in Myanmar's poorly provisioned jails since the military's February 2021 coup d'etat.
Traditionally, families of all inmates have been allowed to send enough food for two weeks at a time, as well as medicine and other supplies, to supplement what little is provided to them in prison by the state. The amount also allowed for inmates to share food with those whose families have less to give.
But beginning in August, several prisons across the country introduced limits on sending packages to political prisoners – but not the prisons' general population – with no official announcement or explanation for the decision.
Family members told RFA Burmese that the new rules have left their loved ones without enough to eat and in need of medicine to address medical conditions.
The family member of a political prisoner in Pathein, who was sentenced to more than 20 years in prison, said that the new restrictions mean that what can be sent will now barely support them for a week.
She said that she can now only send seven packets of instant coffee, five packets of instant noodles, 14.4 ounces of dry snacks and 1.8 pounds of curry.
"He won't even be able to eat [enough] for a week," she said.
Min Lwin Oo, a member of the Dawei district strike committee, told RFA that the health of his 65-year-old imprisoned father, who was sentenced to two years in Dawei Prison in August 2022 for "defaming the state," is now "worse than when he was outside."
He said his father has asked for a daily supply of medicine to treat a fungal skin disease, but that he has been unable to send it due to the new restrictions.
"Before [prison], he used to visit clinics regularly, but he can't do that anymore," Min Lwin Oo said. "Things like creams don't work well for this problem, so I am worried about his health."
In addition to the restrictions on packages, shortly after seizing power, the junta instituted a ban on in-person meetings between political prisoners and their lawyers on the pretext of preventing the spread of Covid-19. 
The ban, which remains in place despite drastically reduced Covid transmission numbers, has limited the ability of prisoners of conscience to fight charges for crimes they say are politically motivated and that they didn't commit.
Prison transfers
Authorities have also used transfers to remote prisons – often without informing families – as a form of retribution against political prisoners that limits their access to lawyers, loved ones, and badly needed supplies, watchdog groups say.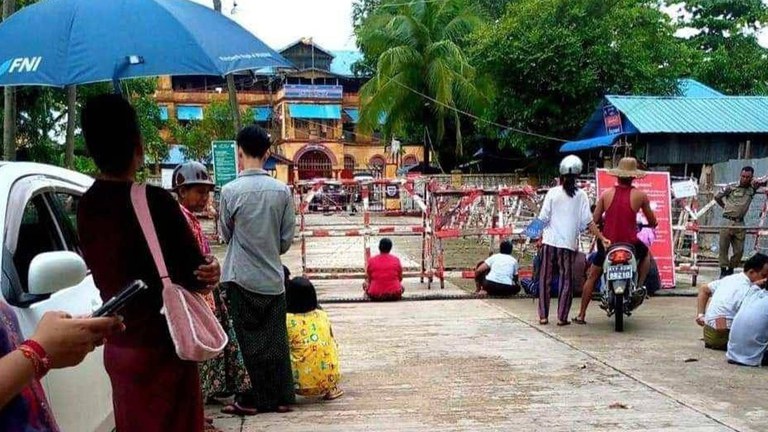 Ko Ganang, a member of a group that sends supplies to prisons, said political prisoners who are sent to remote facilities can find themselves "in serious trouble."
"Families can't afford travel expenses, even if it is only once a month," he said. "The country's economy is not good, so it is very difficult for family members of political prisoners. They are financially discriminated against."
According to Thaik Tun Oo, a leading member of the Myanmar Political Prisoners Network, conditions for political prisoners became much worse in the country after the junta appointed Myo Swe – formerly of the regime's ministry of defense – to replace Zaw Min as director general of the ministry of home affairs' prison department.
"After a military officer became the director general of prisons, the [political] prisoners were forbidden from wearing clothes they used to wear and reading the books they used to read," he said, noting that not even books published with official permission are allowed to be read in prisons anymore.
"They are no longer allowed to keep personal belongings, such as toothbrushes, and drinking water can no longer be sent from the outside," he said. "We've learned that it's the prison authorities who are carrying out this oppression."
No legal basis for restrictions
Thaik Tun Oo said that at least 24 prisons across the country have been restricting the sending of packages to political prisoners, with no reason provided.
A lawyer, who declined to be named due to security reasons, said that under Myanmar's laws, all inmates have the right to meet with their family members, engage in correspondence and receive supplies.
"All inmates are allowed to meet in-person with their family members … and if there is no opportunity to meet in person, they can receive supplies [or letters]," he said. "These are the ways that inmates can maintain contact with the outside. According to the prison manual, unless there are special circumstances, every prisoner must be provided these rights."
RFA's attempts to reach out to Naing Win, a spokesman for the prison department, regarding the restrictions on sending supplies to inmates went unanswered Friday.
Translated by Htin Aung Kyaw. Edited by Joshua Lipes and Malcolm Foster.