A Chinese rights activist who openly supported the "white paper" protest movement of November 2022 has applied for political asylum in the Netherlands after learning that he could be targeted as part of an ongoing case against his dissident father. Zhang Hongyuan, son of veteran Wuhan-based rights activist Zhang Yi, flew from Beijing to Amsterdam on April 13 after learning that he was being named as a co-defendant alongside his father, who is being targeted for giving interviews to overseas media organizations during the Wuhan lockdown of 2020. He spoke to RFA Mandarin about his current situation:
RFA: Where are you right now?
Zhang Hongyuan: I am now in a town in the Netherlands, about a 20-minute drive from The Hague.
RFA: When did you leave the immigration detention center?
Zhang Hongyuan: They eventually decided to put me in this open camp after I had been in the immigration detention center for 12 days. I had my first interview with the immigration bureau in the detention center. After I stayed in the immigration prison for twelve days, they finally decided to put me in this open camp. I completed [two interviews] with the immigration bureau in the immigration prison.
RFA: You shot some video of the "white paper" protest that went viral. Was this the main reason for your political asylum application?
#武汉 2022/11/27夜晚11点 中山大道(汉正街站) pic.twitter.com/dAykIJMyAs

— 自由亚洲电台 (@RFA_Chinese) November 27, 2022
Zhang Hongyuan: It's one of the reasons. I did get video from the [police] clearance of the demonstration on Hanzheng Street in Wuhan, although the people who were actually holding up blank sheets of paper weren't on Hanzheng Street, but on Yiyuan Road.
The real reason I am seeking political asylum is that we received news that they are planning to prosecute me alongside my father as a co-defendant because my father gave interviews to foreign media during the pandemic.
RFA: How did you come by that information?
Zhang Hongyuan: People linked to the case told us, but I can't disclose the details.
RFA: Does that mean someone in the government?
Zhang Hongyuan: Yes.
RFA: Lots of people spoke to foreign media during the lockdown, so what is so special about Zhang Yi's case?
Zhang Hongyuan: It's because we were in Wuhan, and he was giving interviews to any foreign media that asked, all the way through lockdown. And because foreign journalists would let him know they wanted to interview him by calling his Chinese cell phone [without messaging first], the police would have known about it straight away, even though we never actually gave interviews on the phone. We found a safer way of giving the interview later. 
In the end, the police told my father that he had been interviewed by more than 60 different media organizations around the world. My father didn't even realize how many there were because he didn't count them.
RFA: What is your father's situation now?
Zhang Hongyuan: Right now he's in Wuhan. First off, the [ruling Chinese Communist Party's] political and legal affairs committee of Hubei province want to arrest him, and the central political and legal affairs committee [in Beijing] wanted to make it an open-and-shut case and asked the Hubei political and legal affairs committee to find a way. They wanted [me] as his son to be arrested alongside him and charged as a co-defendant. Then they found out I had left the country after you reported that I was seeking asylum, and now my father is under round-the-clock surveillance, with guards at his door.
There is a car downstairs outside our apartment building with a team of three people following him 24/7. It seems they are getting ready to detain him at any time. I've been able to leave [China], but there's no way he will be able to.
RFA: Was there any other reason why the Hubei government has been keeping such a close eye on Zhang Yi?
Zhang Hongyuan: Yes. Because he has been calling for the release of [disappeared pandemic journalist] Fang Bin for the past three years … in interviews with foreign media.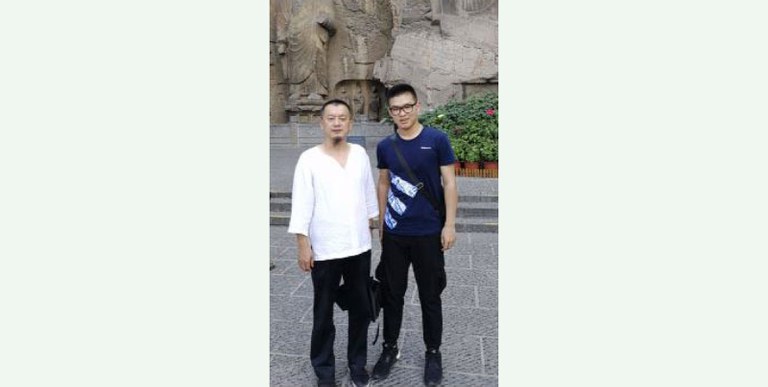 RFA: Why did the government take action against you, when it was your father who was giving the interviews?
Zhang Hongyuan: Because I'm his weakness. They threaten him by threatening to arrest us both together, I think that's [official] Chinese logic. Also, I assisted him with the interviews, because all of his encrypted chats required circumvention tools to get around the Great Firewall [of internet censorship]. When he was interviewed by the Voice of America, some of the communication was done via email like Gmail, and I also helped him use software like Skype and WhatsApp.
RFA: So it was just technical assistance?
Zhang Hongyuan: Yes, technical assistance. But after he was interviewed, when the police came to threaten him, I also shot a video of them that was broadcast by Japanese TV station NHK.
RFA: During the "white paper" movement, you said that you witnessed protests on Hanzheng Street?
Zhang Hongyuan: Yes. Hanzheng Street is a wholesale shopping mall in Wuhan, and it supports large numbers of people, but under the strict lockdown conditions, they had no way to work and no food to eat. Then came the white paper movement after the Urumqi incident, and the whole country marched together. Even in Wuhan, they began to hold demonstrations against the strict zero-COVID policy.
RFA: Were there any political slogans shouted on Hanzheng Street, for example calling on Xi Jinping to step down?
Zhang Hongyuan: By the time I got there on Nov. 27, 2022, it was night, and they were clearing the protesters away. I didn't hear any slogans like that.
RFA: How did your escape from China go?
Zhang Hongyuan: The process was relatively smooth, although I was very apprehensive as I was leaving. One worry was that the airline would stop me from boarding, and the other was that the border guards would stop me.
RFA: But you still took the risk and decided to leave?
Zhang Hongyuan: Yes. I had been told by my sources that if the Hubei provincial political and legal affairs committee wanted to have me stopped at the border, it would have to make this request via higher levels of government, particularly as I have a clean criminal record. The whole process took just three days from my decision to leave, to my landing in Amsterdam, once I heard in advance from friends that we would both be detained. I left very hastily. It wasn't until after I arrived that the police told Zhang Yi that I would likely have received a sentence of 3-5 years, as an accomplice. We didn't know that before; only that I would be arrested.
I had other reasons for leaving. In March, I drove from Wuhan to Laos, smuggling Yang Min into Laos. Yang Min's daughter died of COVID-19 … and she tried to get some truth and accountability about that. She decided to leave China because she was unwilling to be subject to restrictions on speech in China, including harassment by the state security police. We drove 3,000 kilometers from Wuhan to Vientiane, just the two of us. 
RFA: Did the government know about this?
Zhang Hongyuan: Yes they did, because when we swiped our ID cards three times at the Yunnan border, and our ID cards were photographed, together with the license plate. I also assisted Ai Weiwei, who made a documentary called "Coronation" in 2020 about the emergence of the pandemic in Wuhan. I made subtitles for interviews in Hubei dialect, and my name appears in the credits at the end.
RFA: Was this one of the things you were to be charged with? 
Zhang Hongyuan: Yes.
RFA: Have you always supported your father's words and deeds?
Zhang Hongyuan: Before I was in high school, I didn't really understand my father's words and deeds, which caused him to be constantly arrested and questioned by the police station, and brought a lot of trouble to our family. But as I got older and my world view changed, I understood that what my father was doing was actually promoting democratic progress, and I always supported him after that. When I was in high school, he was also called by the police station for questioning every now and then, and the questioning lasted 24 hours. One time he was accused of "picking quarrels and stirring up trouble", and he was detained for 15 days or a few days. I calmly went to the police station alone to ask them for answers about how my father was doing. I demanded an answer in writing.
RFA: What left the biggest impression on you, after three years of the pandemic in Wuhan?
Zhang Hongyuan: I think it was when Dr. Li Wenliang passed.
RFA: What touched you about that?
Zhang Hongyuan: Dr. Li said that a healthy society cannot have only one voice.
RFA: Why was that so moving?
Zhang Hongyuan: Because he proved his point with his life. He had been a party member before, but I was really moved that he could make a statement like that before he died.
Translated by Luisetta Mudie. Edited by Malcolm Foster.