A Nov. 24 fire in an apartment block in Xinjiang's regional capital, Urumqi, sparked protests across China, with many people expressing condolences for the victims of the fatal lockdown blaze and others hitting back at ruling Chinese Communist Party leader Xi Jinping's zero-COVID policy.
Huang Yicheng was among them, turning up at a spontaneous protest at Shanghai's Urumqi Road, only to be detained and mistreated by cops, who hung him upside down at one point, as he described in an earlier interview with Radio Free Asia given under the pseudonym Mr.Chen.
Now in Germany, Huang spoke to RFA Mandarin about his plans for the future:
Huang Yicheng: I'm from Shanghai. I am 26 years old and a graduate of the Chinese department of Peking University. I am currently a postgraduate student at the University of Hamburg, Germany. On Nov. 27, 2022, I was arrested by the police on Urumqi Middle Road, Shanghai, put onto a bus, and then escaped from the bus. Then a white man helped me escape the scene. 
RFA: You were interviewed by me on Nov. 27, the weekend when the "white paper" movement took place. You were interviewed anonymously then, so why did you choose to disclose your real name and appearance now?
Huang Yicheng: This is because I have now left China. I saw that there were so many people around the same age as me who took part in the white paper movement with me, who have been arrested and imprisoned. So I feel that I will always be in pain and have uncontrollable anxiety if I don't stand up and speak out on their behalf, even though there are great risks involved in doing so.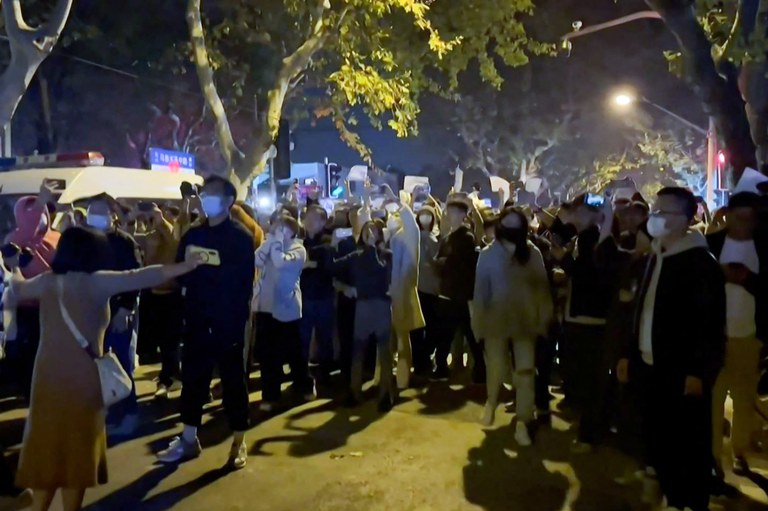 I hope that everyone can call for the release of Cao Zhixin and the other peaceful demonstrators who are now behind bars. 
The government should tell us how many people were arrested in each city after the white paper movement, and issue a complete list of names for each city, so the rest of the world knows exactly what is going on.
RFA: You just said that you are aware of the great risk of doing so. How would you deal with this risk?
Huang Yicheng: This is very hard to think about, because now I have revealed my true identity, educational background and my true appearance. But I want to use this to encourage others in the same boat. But I also think it's almost impossible to remain entirely anonymous in the current online environment. So instead of talking about how scared we are, we should face up to the risk and the fear.
In that way, I hope that the next generation, or our own generation, within the next 10, 20 years or even sooner than that, will get to live in a society without the need for such fear, where we are free to express our thoughts without fear.
RFA: Did you decide to study abroad due to safety concerns, or were you planning to do that anyway?
Huang Yicheng: I had originally planned to study abroad, but it was very, very difficult to get a visa during the zero-COVID restrictions. I started this application before the Shanghai lockdown [of spring 2022], and it took more than a year to come through.
This delay was one of the reasons that I took part in the white paper protests in the first place, as well as the three-month lockdown in Shanghai. It was an experience that changed my life.
RFA: Were you worried that you might be prevented from leaving the country because you had taken part in the protest?
Huang Yicheng: Yes, yes I was. I think everyone else had similar worries. They had already taken away two busloads of detained protesters from Urumqi Road in Shanghai between the evening of Nov. 26 and the early morning of Nov. 27. The video clips being shot at the time were very worrying. I never thought going into it that I would get detained. That's why I want to speak out in support of the people who were detained. Hopefully we can put some pressure on [the authorities] and get them released.
RFA: When I interviewed you on Nov. 27, when you had gotten back home, you said that you were very worried that the police would come looking for you, so you asked for anonymity. Did they come looking for you?
Huang Yicheng: No, they didn't. My identity was kept well hidden, and they didn't find me.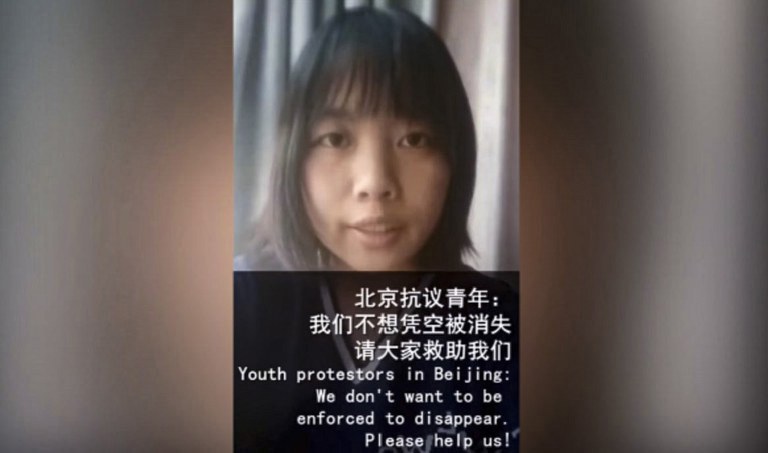 RFA: How did you manage to protect yourself?
Huang Yicheng: I just hid at home and cut off all contact with friends at home and abroad. I don't know if they used facial recognition or anything like that. I also made a video statement to be posted in case I got arrested and gave it to a friend I trust. He would have posted it if I had been detained.
RFA: Given that you were actually caught by the police and put on the bus, it's pretty lucky that you managed to escape – a fluke, wasn't it?
Huang Yicheng: When I think about it now, I can hardly believe it. It was a bit dream-like. When I was detained and put on the bus, it was parked on the southwest side of the intersection between Urumqi Road and Wuyuan Road. I was probably in the second row, near the door.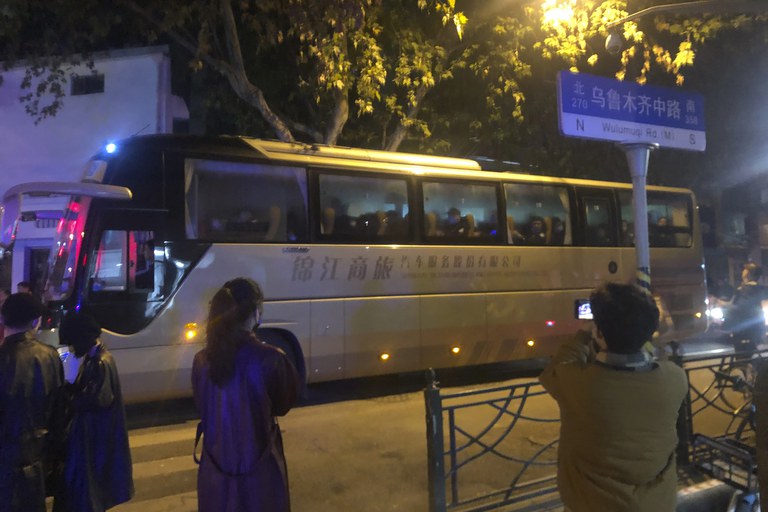 The policeman got off the bus and went to detain other demonstrators, but he didn't handcuff us. We could see from the Twitter account "Mr Li is not your teacher" that there was a trans woman at the back of the bus. The police attacked her repeatedly then closed the bus curtains to stop people filming the attack from outside. Some people filmed the attack with their phones and posted the video of the violence against the transgender person. Some people might think it incredible that we could still shoot video like that after being detained on the bus. But they didn't handcuff us and they didn't watch us very closely, which meant I had an opportunity to escape.
RFA: You mentioned the Twitter account "Mr Li is not your teacher," which is run by a Chinese student studying in Italy. Do you think the videos he posted were credible?
Huang Yicheng: All the photos he posted were real, and I think at least two were taken by me. One was a street sign of Urumqi Middle Road with someone holding flowers and a candle. The other was a white placard calling for artistic freedom. I sent both of those photos to him. I didn't dare to shoot the video of the police attacking protesters, as the atmosphere was very tense at the time. But I basically saw everything that he posted [on the ground].
RFA: Did anyone you know get arrested?
Huang Yicheng: No one I knew directly was arrested. However, Cao Zhixin works at Peking University Press, so I can confirm that Cao Zhixin is indeed still in custody through my connections with Peking University alumni, and that she hasn't been released yet.
RFA: We have confirmed this via other channels, too. Did you ever expect to be treated like this by the Chinese government?
Huang Yicheng: No, no, because I was thinking about the situation in Hong Kong [during the 2019 protest movement], where they had the brave defenders on the front line, with the peaceful demonstrators behind them. The only reason I went there was to call for the release of those detained. I didn't even hold up a blank sheet of paper, and I didn't shout any slogans other than calling for them to release people. I stood further back to protect myself.
I met a lot of inexperienced people there who went to stand in the front row, but I told them not to stand there, that they should try to protect themselves, because they always start detaining people who are in the front row. 
What makes me want to cry the most is that all of the people standing in the front row were women. All the people holding up the sheets of blank paper were women, standing there in front, facing off with the police. There were almost no men there. They took away about one woman every 10 minutes on average. Some men were detained, but very few – it was almost all women. They went for the women every time, not always the ones in the front row.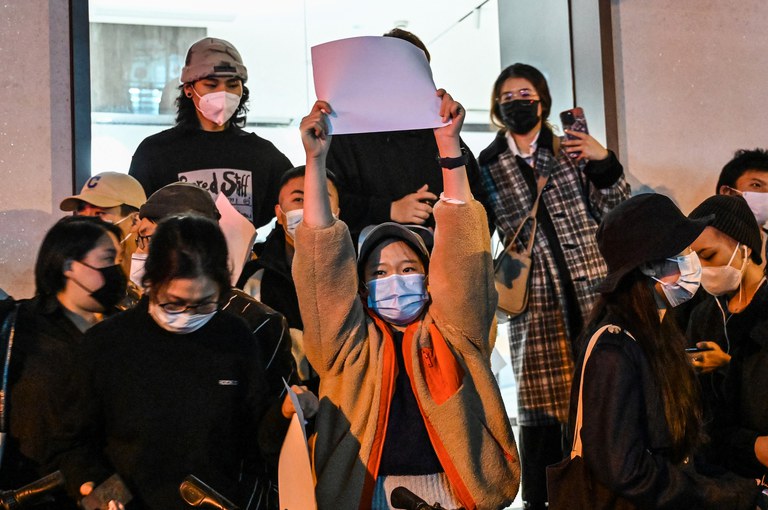 There was a tall plainclothes cop … people were talking about him on Twitter because he was the one who said "I just can't understand you people." He was communicating with someone via a walkie-talkie, and he would suddenly point at a person, maybe in the second or third row, and then all the officers with earpieces would rush to grab them. That's how I got detained.
RFA: Why do you think it was mostly women in the front row and not men?
Huang Yicheng: It wasn't just young women, but also queer people and other sexual minorities. They had the strongest presence in the white paper movement, maybe because China's political system is highly patriarchal. So I think they weren't just challenging the government, but also the patriarchy.
One thing that made a huge impression on me was three women hugging each other and crying on the eastern sidewalk of Urumqi Road. I asked them, "Why are you crying? Did your friend get taken away yesterday?"
But they replied: "No, none of our friends were taken away, but we saw on Weibo that there was a little girl who burned to death in Urumqi, part of the Uyghur family."
RFA: This wasn't the first time your classmates were detained, was it?
Huang Yicheng: A whole bunch of people from the Peking University Marxist Society were detained in 2018, maybe a dozen or as many as 20. Out of them, I had the closest relationship with [labor activist] Yue Xin. I have so many memories of her. I want to write more about that, so we can remember what happened. So many young people in China have lost their personal freedom just because of their thinking … including Cao Zhixin mostly recently. 
I burst into tears when I saw Cao Zhixin's video, because I feel that, if she is in prison, then so am I. She's the same age as me. So now I've managed to get away, I should say a few words for her.
RFA: Would you call yourself a young leftist?
Huang Yicheng: I did take part in the Peking University Marxist Society, and I made some posts to their official social media account. But gradually I moved further away from that stance. The white paper movement wasn't just about leftists. It was mostly young people who were dissatisfied with the zero-COVID policy.
RFA: Do you think that the white paper movement was a political movement?
Huang Yicheng: I think so. We can see from the slogans of various cities that Shanghai's slogans were relatively radical, but we still saw a number of … political appeals in other cities. Human rights were a very important issue, because countless tragedies were caused by the lack of human rights during zero-COVID. The white paper movement that followed had solid public support. Even though not that many people took part in Shanghai, there was a huge base of support there.
RFA: Do you think that the white paper moment brought about the end of the zero-COVID policy?
Huang Yicheng: I think it must have. Because the zero-COVID policy in China had totally ended just two weeks after the white paper movement. It was a total U-turn. 
But the heartbreaking thing is that while the Chinese government may actually meet our demands, they still insist on punishing everyone. I think this has been their logic for thousands of years, not just under the Communist Party. So it means that all of our bravest people, who are willing to stand up and plead on behalf of ordinary people, and push for freedom, get eliminated [from further social activism].
So who will speak up the next time we get such insane government policies in China? We have to keep the focus on those people, and call on the rest of the world to put pressure on China.
We have to stand up bravely, and express our true thoughts, and then people all over the world will respect us. If we all just go along with their lies, then as a nation we won't be worthy of respect.
Translated by Luisetta Mudie. Edited by Malcolm Foster.