Intense fighting between the military and anti-junta forces in Myanmar's Chin and Shan states since the weekend left 19 dead, including four civilians, RFA Burmese has learned. 
The clashes, which killed an 11-year-old boy and left a dozen civilians injured, are the latest to erupt in two areas known as hotbeds of resistance to military rule since the Feb. 1, 2021, coup d'etat.
Salai James, the chairman of the anti-junta Zofe Chin Defense Force, told RFA that a battle broke out between his paramilitaries and military troops in the Chin townships of Hakha and Thantlang on May 28.
Over the course of two days, he said, junta troops fired heavy artillery on CDF positions with support from four fighter jets and a military helicopter.
"The junta's heavy artillery hit the edge of Hakah town, which is close to their artillery base," Salai James said. "Eleven anti-junta fighters have been killed by their airstrikes so far, but we haven't been able to retrieve all of their bodies yet as we are still fighting."
The bodies of only seven of the 11 dead CDF fighters had been retrieved as of Tuesday, he added.
A Hakha CDF official, who declined to be named for security reasons, said that the fighting is "continuing to intensify" as the junta forces seek to regain territory between Hakha and Thantlang, which is currently controlled by a joint force of Chin defense groups.
"They haven't been able to operate safely in Hakha and Thantlang – that's why they regularly attack those areas," he said. "When their ground troops can't beat the resistance forces, they use their air power to attack us."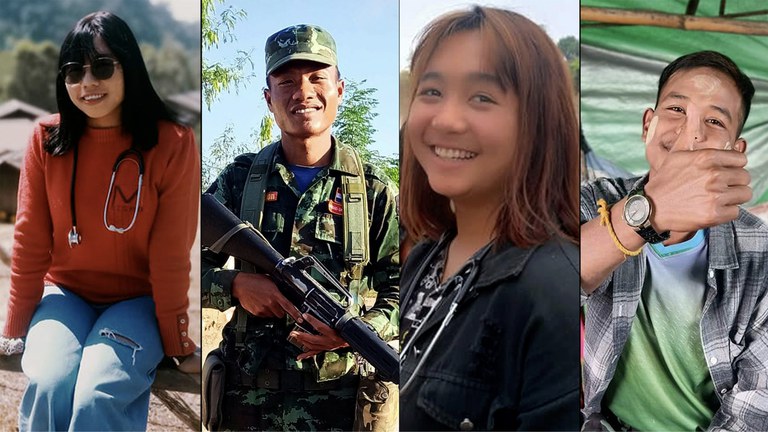 Fighting between the two sides continued on Tuesday, residents of the two townships said.
Since the coup, the junta has launched nearly 80 aerial attacks on Chin state, killing 64 people, including members of anti-junta local defense forces, according to a May 22 statement issued by the Institute of Chin Affairs.
Shan fighting
Fierce fighting also was reported in eastern Shan state, when a joint force of ethnic Karenni resistance groups battled junta troops in the townships of Pekon and Pinlaung, according to anti-junta groups.
On May 27, junta troops "randomly fired heavy artillery" into Pinlaung's Moe Bye village in an attack against members of the anti-junta Moe Bye People's Defense Forces, killing an 11-year-old boy and injuring four civilians, Banyar, the director of the Karenni Human Rights Organization said Tuesday.
"This kind of attack isn't a one-off occurrence – the junta plans and attacks this way in many different places, knowingly firing at the civilian population," he said. "This is not only a war crime but also a crime against humanity."
The Moe Bye PDF confirmed details of the battle, which was fought intermittently from May 27-29, in a statement issued on Monday.
Additionally, four medics from an anti-junta unit based in neighboring Kayah state's Demoso township were killed while treating the injured during the fighting in Shan state, the Karenni Revolutionary Union rebel group said in a statement on Sunday.
The dead included Caroline Khine Lin, Angela, Mya Htwe and John Bosco – all between the ages of 17 and 23, the KRU said.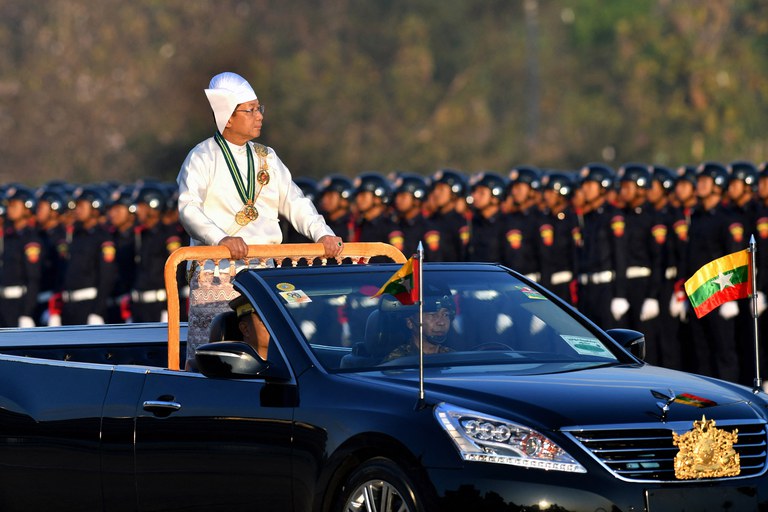 And at around 4:00 a.m. on Sunday, junta forces launched a series of airstrikes on an area of Moe Bye where civilians had taken shelter from the fighting, injuring four people and damaging three homes, according to the Moe Bye People's Defense Force.
In a May 1 statement, the rebel Progressive Karenni People's Force said that there have been at least 663 clashes in southern Shan state and neighboring Kayah state between the coup and April 30, 2023.
The junta has yet to issue a statement on the fighting in Chin and Shan states and attempts by RFA to contact junta Deputy Information Minister Major Gen. Zaw Min Tun went unanswered Tuesday.
The clashes follow a vow by junta chief Senior Gen. Min Aung Hlaing on Armed Forces Day in March to eradicate the shadow National Unity Government, the anti-junta People's Defense Force paramilitary group, and the organizations that support them.
Translated by Myo Min Aung. Edited by Joshua Lipes and Malcolm Foster.