Nearly 2 million civilians in Myanmar have been displaced from their homes by the civil war raging in their country, with 40,000 displaced in the past month alone, according to the U.N.'s humanitarian agency, which appealed for food and other supplies.
Myanmar has been wracked by violence since the military overthrew the democratically elected government in a Feb. 1, 2021, coup. Junta forces have faced stiff resistance from various ethnic armies that have teamed up with local anti-regime People's Defense Forces — civilians who have taken up arms to fight the military. 
Of the total 1.9 million internally displaced persons, the largest number — nearly 800,000 — are in Myanmar's northwestern Sagaing region, the United Nations Office for the Coordination of Humanitarian Affairs, or OCHA, said in an update on the situation on July 15.    
"Countrywide, restrictions on humanitarian access have increased in multiple states and regions, notably in the Southeast and Kachin [state], further impeding timely and efficient aid delivery to affected and displaced communities," the report said.
"Sustained support, including financial assistance, from the international community is crucial to allowing partners to stay and deliver in challenging circumstances," it said.
The humanitarian situation remains urgent as families continue to grapple with the devastating aftermath of Cyclone Mocha, resulting in significant ongoing needs for shelter and food, OCHA said. The tropical cyclone in the North Indian Ocean hit western Myanmar's Rakhine state and parts of Bangladesh in May.
"After a brief suspension, humanitarians have been able to restart their regular programs in Rakhine, but the humanitarian cyclone response remains paused by the SAC," the report said, referring to the State Administration Council, the ruling junta's official name.
The strictness of junta authorities on humanitarian aid is tightening throughout the country and the situation is worse in the southeast of the country and Kachin state, according to OCHA's statement.
Food shortages worsen
Displaced people in Sagaing, Chin and Kayah states complain that food shortages are getting worse as military authorities restrict humanitarian aid access. 
A day after OCHA published the figure, military troops raided Sagaing's Khin-U township, prompting roughly 10,000 residents from about 20 villages to flee to safety. 
A resident of the township's Inn Pat village told Radio Free Asia that the soldiers unexpectedly raided his community at 5 a.m., putting elderly people who could not flee in imminent danger.
"It caused a great deal of trouble," said the person granted anonymity to ensure his safety. "Elderly people and the disabled who couldn't run, had to remain in the village, hiding in the alleys between houses."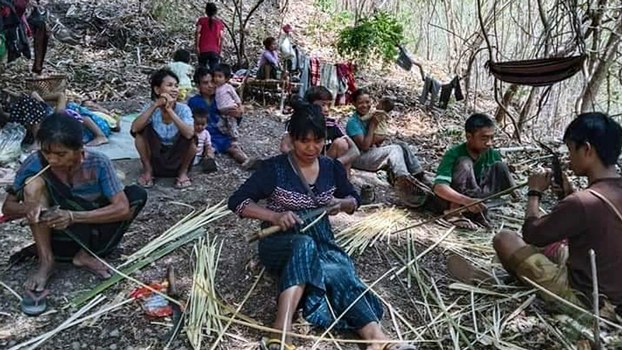 Civilians living in villages where military troops and pro-junta Pyu Saw Htee militias have been stationed cannot return to their homes, he added. 
More than 50,000 internally displaced people, or IDPs, are  in western Myanmar's Chin state, according to OCHA's report.
Civilians there also fled their homes because of fighting and face life-threatening challenges on a daily basis because of the junta's heavy artillery shelling and airstrikes, said a management committee official for the IDP camps in Chin's Mindat township.

"Many people have been injured by the shelling," said the official who declined to be named for fear of his safety. "The junta planes fly over the area every night. That's why everyone is panicking and can't sleep well. It's a pretty bad situation."
Mounting casualties
Three civilians, including a nine-year-old girl and a breastfeeding mother, were killed by an airstrike by junta forces on Mindat's Wun Khone village on July 8. 
A resident of Moebye township in southern Shan state, where junta troops and ethnic Karenni joint forces engaged in fierce clashes, said IDPs are having a hard time getting food because military troops have banned the transportation of rice to the area. 
"We can buy only dry food and gasoline in small quantities," the local said. "The rice transportation routes have been totally blocked by the junta."
Aid and relief groups said 28 civilians were killed during the 40 days of fighting in Moebye from May 25 to July 4.
The armed assaults on civilians, forcing them to flee their homes, are a crime against humanity, said Banyar Khun Aung, executive director of the Karenni Human Rights Group.
"The junta intentionally planned their attack to force them out of those places that they call home," he told RFA. "It's not just in one location. They junta attacked many places using many different strategies to force the local residents to leave their homes."  
RFA could not reach junta spokesman Maj. Gen. Zaw Min Tun for comment. 
Armed conflicts continue in 255 of 330 townships in Myanmar, according to the latest annual report by the Office of the United Nations High Commissioner for Human Rights issued on March 3. 
The U.N. Security Council adopted a resolution last Dec. 21, calling for the immediate cessation of violence, the release of all political prisoners, including State Counselor Aung San Suu Kyi, and the unrestricted flow of humanitarian aid in Myanmar. 
Translated by Myo Min Aung for RFA Burmese. Edited by Roseanne Gerin and Malcolm Foster.