Global fossil fuel subsidies hit a record U.S.$7 trillion, equivalent to more than 7% of global gross domestic product in 2022, the International Monetary Fund said.
The subsidies are financial support from governments that make fossil fuels like oil, gas, and coal cheaper to produce or buy.
Subsidies for coal, oil and natural gas in 2022 represented more than world governments spent on education and two-thirds of what was spent on healthcare.
According to the IMF report released Thursday, governments provided support to consumers and businesses during the surge in global energy prices, a consequence of Russia's incursion into Ukraine and the economic rebound from the COVID-19 pandemic.
The IMF's report comes as the world witnesses its highest average monthly temperatures on record. 
When burned, fossil fuels emit harmful pollutants that contribute to global warming and intensify extreme weather events. They also contaminate the air with toxins, harming our respiratory systems and other vital organs and killing millions yearly.
By fuel product, undercharging for oil products accounted for nearly half the subsidies, coal another 30%, and natural gas almost 20% (underpricing for electricity accounts for the remainder), the report said.
By region, East Asia and the Pacific accounted for nearly half the global subsidy, according to the IMF. 
Meanwhile, by country, in absolute terms, China contributed by far the most to total subsidies ($2.2 trillion) in 2022, followed by the United States ($760 billion), Russia ($420 billion), India ($350 billion), and the European Union ($310 billion).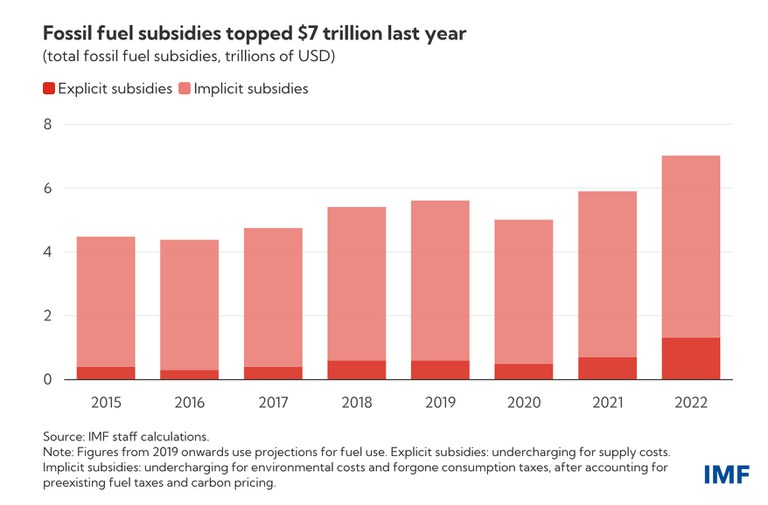 The bulk of global subsidies accounted for in the study fall into what the IMF termed implicit subsidies, which arise when governments do not adequately charge for the environmental damage caused by the combustion of fossil fuels. 
Such damage encompasses air pollution and climate change, with the impact forecast to grow due to the rising consumption of fossil fuels by developing countries. 
The IMF said explicit subsidies, in which consumers pay less than the supply costs of fossil fuels, have tripled since 2020, from $0.5 trillion to $1.5 trillion in 2022.
The figure is similar to the estimates from the Canada-based think tank, International Institute for Sustainable Development, released Wednesday, that said the world's biggest economies, the G20, provided a record $1.4 trillion in public money for fossil fuels in 2022 despite the promise to reduce spending. 
That includes investments by state-owned enterprises and loans from public finance institutions. 
The G20 nations, which cause 80% of global carbon emissions, pledged to phase out "inefficient" fossil fuel subsidies in 2009.
Comprehensively reforming fossil fuel prices by removing explicit fuel subsidies and imposing corrective taxes such as a carbon tax would reduce global carbon dioxide emissions by 43% below "business as usual" levels in 2030 (34% below 2019 levels) the IMF said. 
It added that this would be in line with keeping global warming to 'well below' 2 degrees Celsius and towards 1.5 degrees Celsius.
"Underpricing fossil fuels implies that governments forgo a valuable source of much-needed revenue and undermines distributional and poverty reduction objectives since most of the benefits from undercharging accrue to wealthier households," the IMF report said.
"The gap between efficient and current fuel prices is often substantial given, not least, the damages from climate change and the large number of people dying prematurely from fossil fuel air pollution exposure (4.5 million a year)."
The IMF said fuel price reform would avert about 1.6 million premature deaths yearly from local air pollution by 2030.
Edited by Mike Firn and Taejun Kang.