With supreme leader Kim Jong Un looking on, the foreign minister smashed a bottle of champagne against the hull of North Korea's latest nuclear submarine, prompting the crowd of sailors and factory workers to erupt in thunderous cheers and applause.
But the reaction to the smashed bottle among the general public was less than smashing.
Many North Koreans saw the ceremony, involving Foreign Minister Choe Son Hui, as puzzling and even hypocritical in a country that suppresses superstitious activities – which is how the submarine christening appeared to many.
"Everyone was surprised to see the female foreign minister come forward and break a liquor bottle by hitting it against the hull," a resident from the northeastern city of Rason told RFA Korean on condition of anonymity for security reasons.
"The authorities have been cracking down on the simple rituals of fishermen performing ancestral rites and pouring alcohol to ensure the safe navigation of boats, defining them as superstitious practices," he said.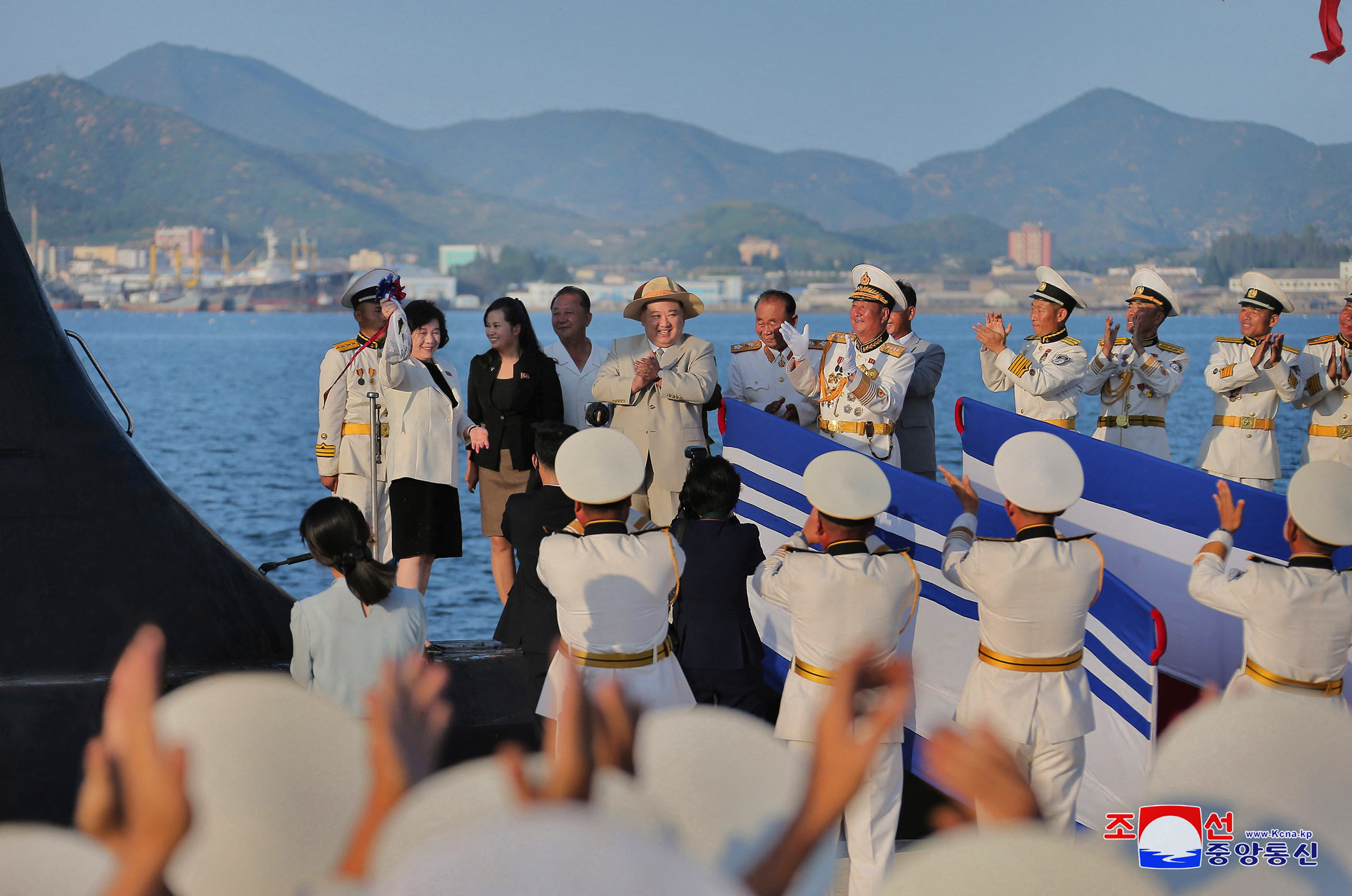 North Korean fishermen have traditional ceremonies whenever they take a new boat out to sea or when they repair an old boat, and sometimes they involve elements of superstition that have been passed down over generations.
Those rituals, which can involve a pig's head and copious amounts of alcohol, are, like the submarine christening, meant only to wish for the safety of ships at sea, the resident said. 
Punishing 'capitalist' behavior
Though anti-superstition laws have long been on the books they were not strictly enforced all the time, but the recent passing of a new "anti-capitalist" law caused authorities to be less tolerant of superstitious activities.
The 2020 Anti-Reactionary Thought and Culture Act, is aimed at preserving the purity of North Korean socialist ideals by harshly punishing people for watching foreign media, speaking like a "South Korean," wearing "capitalist" fashion, or even dancing like a "capitalist."
The law does not specifically mention superstitions and the fishermen are emulating their own ancestors rather than "capitalist" fishermen in the South, but authorities have interpreted their activity as "reactionary ideology" brought in from the outside.
Fishermen have therefore been secretly holding these ceremonies under cover of night to avoid being punished.
"I couldn't help but be surprised that a ceremony that the authorities say is a punishable superstitious act was held in front of Kim Jong Un," the resident said, adding that the small ceremonies fall under Article 256, a different law that forbids fortune telling, divination, and exorcism as superstitious acts.
According to that law, punishments can range from "up to a year" in a disciplinary labor facility to "a minimum of three to seven years" depending on how serious the act is.
"After seeing the reports of the submarine launch ceremony, fishermen and other residents are saying that the authorities are two-faced, and they should no longer have to do their own ceremonies in secret," the resident said.
It was the first time that a ship christening was reported in state media, a resident of Rason's surrounding North Hamgyong province told RFA on condition of anonymity to speak freely.
"It is deeply contradictory for the authorities to tell residents not to believe in superstitions and not engage in superstitious behavior, but then to do something similar [themselves.]" he said. "People are mocking the authorities by asking, 'Do [the authorities] believe in superstitions, too? Is it okay to do superstitious acts in front of Kim Jong Un?'"
 Translated by Claire Shinyoung Oh Lee. Edited by Eugene Whong and Malcolm Foster.