Participants in the first public protest in Hong Kong since a draconian national security law took effect were forced to wear badges and walk within a police cordon last weekend.
A few dozen people protesting a proposed land reclamation project and garbage processing facility marched in the eastern district of Tseung Kwan O on Sunday, wearing numbered lanyards and walking within a security ribbon in a manner reminiscent of an elementary school outing.
The protest was the first to go ahead since the ruling Chinese Communist Party imposed a national security law on Hong Kong in July 2020, ushering in a citywide crackdown on public dissent and peaceful opposition that has seen dozens of former opposition lawmakers and pro-democracy activists stand trial for "subversion" for holding a primary election.
But protesters said the restrictions imposed on them weren't acceptable.
"To be honest, a lot of people including myself feel that wearing numbered lanyards and walking inside a security tape is actually pretty humiliating," political activist and former Democratic Party member Cyrus Chan told Radio Free Asia at the protest.
"A lot of us have years of experience as marshals in the [formerly annual] July 1 demonstrations and the [now-banned] Tiananmen massacre vigils," he said. "I've never seen anything like this before."
"We feel as if we are living in a whole new world," Chan said. "As to whether that's a brave and beautiful new Hong Kong in which we are free, or one in which we are subject to all manner of restrictions, I hope the government will consider this question."
Dragged around 'like livestock'
Police earlier gave permission – via a "letter of no objection" – for a women's rights march in honor of International Women's Day, but organizers later canceled the event amid threats from police that they would arrest key activists.
Sunday's protest also received a letter of no objection after organizers applied for permission to hold a march of up to 300 people, but with a number of conditions attached, including individually numbered lanyards for each participant and a cordon preventing anyone from joining the protest if they hadn't been there from the start.
"Some lawbreakers may mix into the public meeting and procession to disrupt public order or even engage in illegal violence," the police letter said by way of explanation.
Participants were also told they couldn't wear masks or cover their faces.
"I really don't like wearing a number, being numbered," one participant told Radio Free Asia. "It really places limits on the spontaneity of the event, and makes people wary of taking part."
"We were dragged around inside this cordon the whole time like livestock," they said. "It was really strange."
Former pro-democracy lawmaker Ted Hui, now living in Australia, said the mask bans first emerged as part of "emergency measures" taken to curb the 2019 protest movement, which had massive popular support for its resistance to the erosion of Hong Kong's promised freedoms, and its demand for fully democratic elections.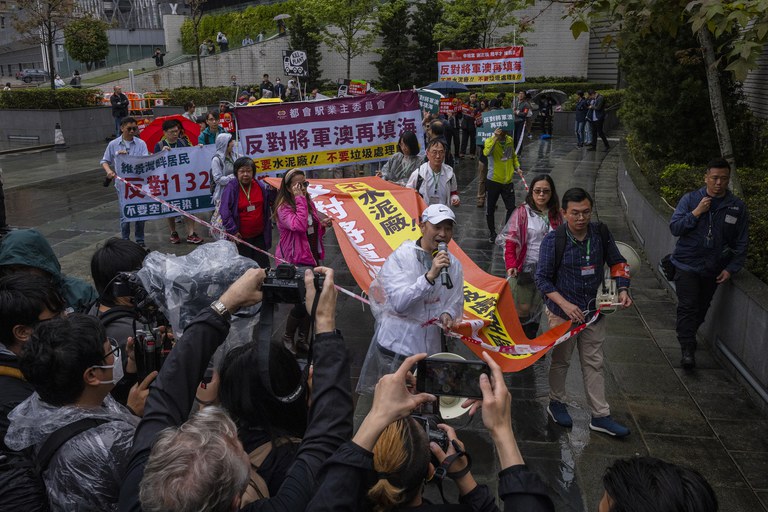 Color revolution fears
Beijing has dismissed the protest movement as the work of "hostile foreign forces" who were trying to foment a "color revolution" in Hong Kong through successive waves of mass protests in recent years. The government last week ordered the takedown of a digital artwork bearing some of the protesters' names.
"There was a lot of opposition [to the mask ban] back then," Hui said. "Yet they are still using this law three years later, which tells us that the Hong Kong government hasn't learned any lessons [from the 2019 protest movement]."
Hui said the new system is similar to "real-name" requirements typically used to track people's activities in mainland China, and will likely put participants at greater risk of official reprisals.
"The Hong Kong government will definitely be retaliating against participants," he said. "They may or may not prosecute them, or they could investigate them, or confiscate their travel documents."
"That's the sort of thing people have been accustomed to seeing in Hong Kong over the past three years," Hui said, adding that the freedoms of association, assembly and expression enshrined in the city's mini-constitution, the Basic Law, now exist in name only.
A spokesperson for the Democratic Party said the whole point of a protest is to allow for the airing of public opinion, so the number of participants shouldn't be limited.
The government-run Independent Police Complaints Council said the conditions placed on protesters were "understandable," and said not every demonstration would necessarily be subject to the same restrictions in future.
Translated by Luisetta Mudie. Edited by Matt Reed.