The fire that tore through the nine-story Hanoi apartment building this week and killed 56 people has shed light on Vietnam's lax fire safety standards.
Deputy Prime Minister Tran Luu Quang has ordered an investigation, along with tougher regulations for smaller apartment buildings, according to a government statement. 
One tenant whose family has been living in a tiny 30-square meter (323-square feet) unit in a five-story building for many years said that after Wednesday's fire in the Thanh Xuan section of Hanoi, he checked the fire prevention system in his building and realized there was none.
"Prior to the tragedy, I had already studied our building layout and the surrounding area to see how to escape or how to jump to a neighboring house if a fire occurs," said the man, who requested anonymity for security reasons on Friday. 
"Our building doesn't properly equip tenants with any fire prevention equipment."
His building is located in a small alley in Hanoi's Ba Dinh district. The road is so narrow that it would be impossible for fire trucks to get to the building if a fire were to break out.
Also, there are no hydrants near the building, nor is it equipped with hoses.
He said he has grave concerns for his family's safety, but the landlord does not seem to care.
"After the incident, I've been waiting to see whether the landlord or the company managing the building would issue any alerts or provide any firefighting equipment but haven't received any notification, warning, or any equipment at all," he said.
Living in such an unsafe space is not a choice, he said. It is the only place they can afford.
"For people migrating from a rural area to the city like us, we don't have many options," said the man. I have always had a desire to live in a place safe from fire and floods, but our current incomes only allow us to rent out here in the slums."
Mini-apartments
Hanoi is home to around 2,000 similar mini-apartments, while Ho Chi Minh City in the south has around 4,200 of them, according to media reports.
Many in his neighborhood are in worse shape than his, the man said. He once inspected a seven-story building in the district where his friend lives.
"The landlord told me that they had built the seven-story building illegally but the local government did not know," he said. "From the outside, the building looks like a beautiful house, but when you enter, you will notice that it is divided into many small rooms for students and low-income people to rent."
"Mini-apartment" is not an approved category of domicile under Vietnamese law, Hoang Anh Tuan, the Director General of the Ministry of Construction's Administration of Construction Management told the local Pioneer (Tien Phong) newspaper.
The director general of the ministry's Department of Science, Technology & Environment, Vu Ngoc Anh, said that the mini-apartments had operated similarly to residential apartment buildings, but without fire and safety systems required by law.
Units in similar buildings are available to rent all over the city. A Facebook group called "Renting Houses, Houses for Rent, Mini-Apartments, and Cheap Rental Rooms in Hanoi" advertises a newly opened 27 room mini-apartment building in the city's Nam Tu Liem district.
But the person who posted the ad would not respond to RFA's questions regarding fire prevention and evacuation measures.
What to do
The man who lived in a mini-apartment said he and his wife have discussed fire prevention measures and agreed on a plan in the event of a fire.
"I have instructed my family on how to use electricity and gas or what we should do when a fire occurs," said the man. "For example, we must unplug electric appliances after use or always check whether there is a gas leak."
The family has also mapped out the local area and developed plans for what to do with the kids and their valuables.
"If a fire breaks out, we must stay calm and figure out the best solution for our family," he said.
He said the building's electrical system is overtapped, and with so many people living in a cramped space, the floors are cluttered.
"I think if a fire breaks out, it would be challenging for the people there to escape, and they would be in a situation similar to the Thanh Xuan fire."
Fire safety
After the Thanh Xuan disaster, the demand for fire prevention equipment has sharply increased. The price for some items has even doubled, sources told RFA Vietnamese.
Nguyen Dinh Ha, a resident living in the upscale Vinhome Times City building in Vinh Tuy district, said that his and other newly built residential buildings in the capital had to fulfill the city's fire prevention requirements before they were handed over to end-users. 
Therefore, these residential buildings are not subject to the city's upcoming examination of fire prevention work at multi-family buildings.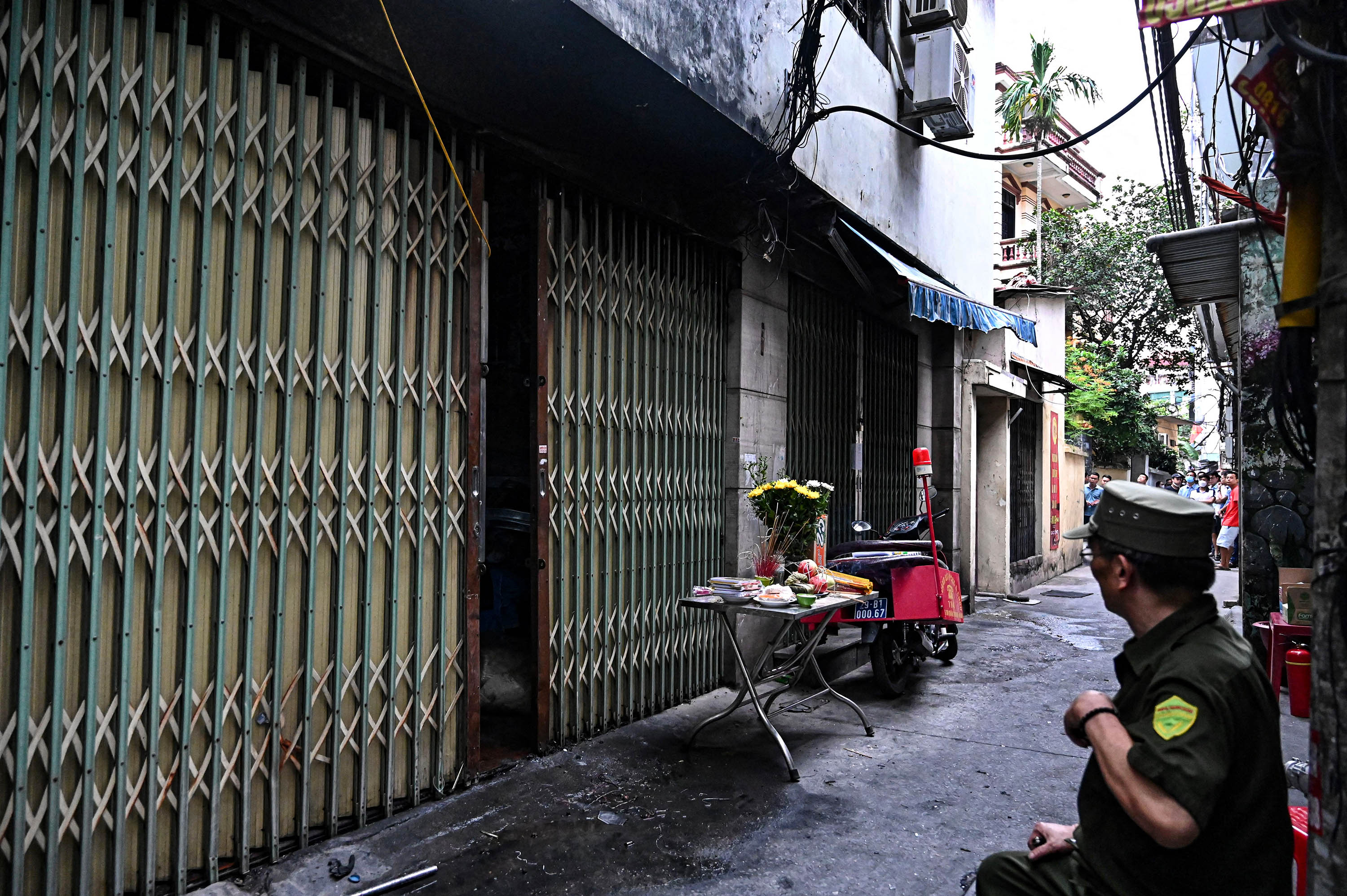 He suggested that the city pay attention to the fire prevention of houses in small alleys and mini apartments as their construction did not follow the city's standards like projects on residential building development.
He also recommended installing fire prevention equipment in older residential buildings to enable them to meet the current standards. 
Minh Tuan, a Hanoian who moved out from a residential building in Me Tri ward, Nam Tu Liem district, told RFA that after the deadly incident in Thanh Xuan, his building had introduced stiffer fire prevention measures, requiring residents not to recharge their electric vehicles after 11:00 p.m.
Translated by Anna Vu. Edited by Eugene Whong and Malcolm Foster.