Cambodia's top opposition partnership of the past decade is no more, one half of the duo said Wednesday, confirming rumors of a split within the Cambodia National Rescue Party (CNRP) and raising questions over who can mount a legitimate political challenge to strongman Prime Minister Hun Sen.
Speaking during proceedings for his trial on unsubstantiated charges of treason at the Phnom Penh Municipal Court, former CNRP President Kem Sokha announced that his relationship with the party's acting President Sam Rainsy had ended, although Sam Rainsy was quick to dismiss the comments as the result of legal pressure.
"I am using this platform to speak about politics [to put an end to speculation]. Sam Rainsy and I are done. I would like to inform you that this is true. It's no longer 'Sam Rainsy and Kem Sokha as one,'" Kem Sokha said in a rare courtroom audio recording that was later published by the pro-ruling Cambodian People's Party (CPP) Fresh News media outlet.
"Before, Samdech [Hun Sen] maintained a culture of dialogue with Sam Rainsy, but now there is none. He [Sam Rainsy] led the Candlelight Party to join the [commune] election and in doing so, he left us and attacked me. I want to clarify this during the trial."
Sam Rainsy, who founded the Candlelight Party in 2005 before joining forces with the CNRP, has been living in self-imposed exile in France since late 2015. The opposition leader tried to return in November 2019 to lead a peaceful uprising against Hun Sen's CPP, but his plan to enter Cambodia from Thailand was thwarted when he was refused permission to board a Thai Airways plane in Paris.
Kem Sokha told the court on Wednesday that he had "never supported" his former ally's plan to return, which has subsequently been used by authorities to try and convict several opposition members on charges of incitement to overthrow the government. His comments came after being pressed by the court prosecutor to explain his connection to the events of 2019.
"I didn't support him. I asked my supporters not to join. If I were granted political rights by the judge, I would have held a press conference to explain this," Kem Sokha said, referring to a court-ordered ban on his political activities during his trial.
"I've decided that Cambodia is my homeland and I have no other place that I belong. I have no interest in bringing foreigners into the country to provoke chaos."
Speaking to RFA Khmer following Wednesday's hearing, Kem Sokha's lawyer Pheng Heng confirmed his client's statement.
"This is real audio recorded during the trial. He responded to the same questions [asked by the prosecutor] who accused him of assisting with Sam Rainsy's repatriation," he said.
"Sam Rainsy and Kem Sokha ended their alliance when Sam Rainsy threw his support behind the Candlelight Party."
Pheng Heng added that he was "surprised" that the court had allowed Kem Sokha's statement to be taped during the trial, as reporters are normally banned from making audio or video recordings during hearings and said that he will discuss with his client whether he intends to file a complaint.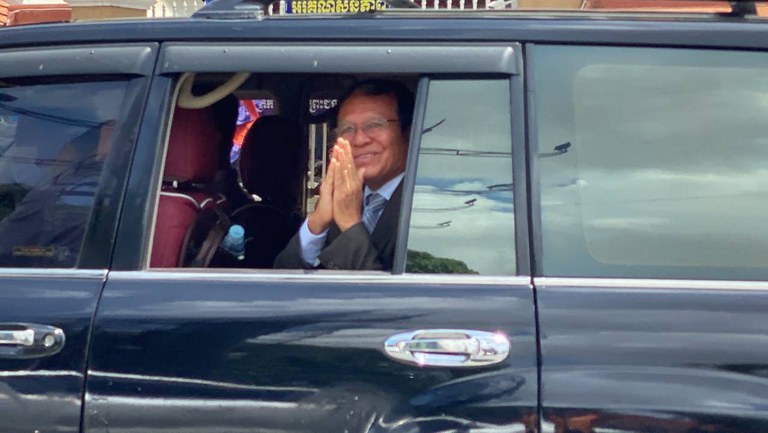 Rumors of a split
Kem Sokha's claim to have ended his relationship with Sam Rainsy appear to confirm pervasive rumors of a schism within Cambodia's opposition that were reignited following a four-hour meeting last month between the former CNRP president and Hun Sen at a funeral for the latter's brother, during which the two discussed national policy issues.
CNRP supporters had dismissed the rumors as part of a bid by the CPP to fracture the opposition ahead of nationwide elections for local councils held earlier this month but had urged party leaders to issue a statement clarifying the status of their relationship.
The CPP claimed a sweeping victory in the commune polls last week — a contest that rights watchdogs said was heavily slanted toward the ruling party and marred by intimidation and obstruction of the opposition. The official election results will be announced on June 26.
On Wednesday, Sam Rainsy told RFA that Kem Sokha had lied about the nature of their alliance, insisting that "nothing has changed."
"We must look at the circumstance. Is he speaking his mind or is he being pressured? He spoke before the court that charged him," he said.
"I don't change my stance. Kem Sokha is a hostage of Hun Sen. He can't say what he wants. Hun Sen has threatened Kem Sokha that he will send him back to prison."
Sam Rainsy also alleged that the leak of the courtroom audio is "part of a plot" organized by Hun Sen.
"This is a plot to show that Sam Rainsy and Kem Sokha are splitting," he said. "If Cambodia's democrats remain united, it will mean the end for Hun Sen. So, I'm not interested in what Kem Sokha said in this circumstance."
Cambodia's Supreme Court dissolved the CNRP in November 2017, two months after the arrest of Kem Sokha for his role in an alleged scheme to topple Hun Sen with the help of the U.S. government — charges he denies. The former CNRP president, who faces up to 30 years in jail, declined to vote in this month's election and was joined by many of his followers.
Sam Rainsy told RFA that amid efforts to return the CNRP to legal status, the best way forward for Cambodia's opposition supporters is to rally behind the Candlelight Party.
"While we are in the jungle, we need candlelight until the sun rises," he said.
Translated by Samean Yun. Written in English by Joshua Lipes.