Nearly 30,000 people from Kayin, Mon and Rakhine states and Bago region in Myanmar have been evacuated due to heavy rain and floods since the beginning of August, relief workers told RFA Thursday.
Flooding forced over 8,600 people in Kayin state and over 2,000 people in Mon state to evacuate their homes. Also having to leave their homes were over 12,500 citizens of a single township in the Bago region and more than 4,100 civilians in the Rakhine state,  aid workers said.
Separately, the junta's local administration office said nearly 3,000 households in Bago township have been affected by flooding. 
A relief worker in the township's Myo Thit neighborhood told RFA that temporary camps for flood victims have been opened in the monasteries of every neighborhood in Bago since Wednesday.
"Now it is raining, so the water will rise again. There will be more flood victims," said the worker, who didn't want to be named for security reasons.
"Currently, there are more than 500 flood victims in the monasteries in Myo Thit neighborhood."
In Kayin state six townships – Hpa-An, Hlaingbwe, Kawkareik, Kyainseikgyi ,Hpapun and Myawaddy – have been evacuated due to flooding.
Local residents in Myawaddy township are still being evacuated due to the flood, an official from the aid group Mon Myat Phyu Sin Social Assistance Association told RFA.
"There are still some evacuees in religious buildings, also in other places and at our office," said the official, who also requested anonymity.
"There are 52 households at our office and we are taking responsibility for their food and drink."
Saw Khin Maung, a junta council spokesperson for Kayin state, told RFA that Myawaddy and Hlaingbwe townships are at particular risk from flash floods.
"Water is rushing down the mountains in Myawaddy and Hlaingbwe. The floods are heavy," he said.
"There is water rushing at high speed from Dawna Range when the rains are heavy on that side [of the range]."
He said there have been no casualties but some houses were damaged by falling trees in the town of Thandaung.
The Kayin state spokesperson said more than 8,600 flood victims have been moved to 36 relief camps. He said they are receiving free medical treatment and the junta is providing each household with 2,500 kyat (U.S.$1.20) per day to buy rice and cooking oil.
Heavy rains and flooding have cut off all roads leading from Kawkareik to Myawaddy, including the Asean Highway, an important route for trade with Thailand.
In Mon state, floods have been reported in Bilin, Kyaikmaraw and Kyaikto townships.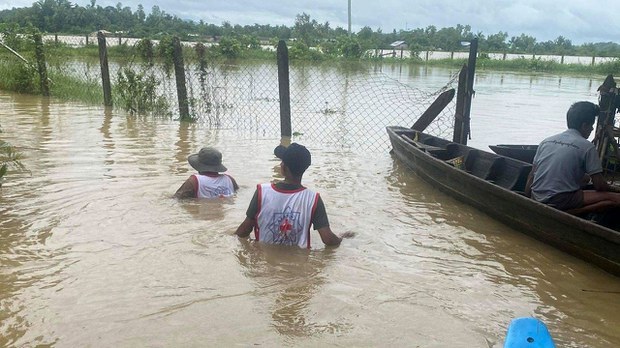 In Rakhine state, residents of Minbya, Kyauktaw, Mrauk-U, Buthidaung and Maungdaw townships were evacuated on August 4, residents told RFA.
Rakhine state is still recovering from Cyclone Mocha, which made landfall on May 14 with sustained winds reaching over 220 kilometers per hour (137 mph).
Mocha killed more than 400 people in low lying areas of Myanmar near the Bay of Bengal and left a trail of destruction. Aid workers said more than 90% of buildings in northern Rakhine were damaged by the storm.
The U.N.'s Office for the Coordination of Humanitarian Affairs recently announced that it has received only U.S.$24.3 million out of the estimated U.S.$333 million needed for relief and rehabilitation projects in cyclone-hit areas. 
Translated by RFA Burmese. Edited by Mike Firn and Taejun Kang.