Over a fortnight, a Uyghur folklorist missing since 2017 was revealed to be serving a life prison for "separatism," while another Uyghur scholar who had vanished into Chinese custody years earlier appeared on shortlists and oddsmakers picks for the 2023 Nobel Peace Prize.
The cases of ethnographer Rahile Dawut, whose life conviction in December 2018 was uncovered by a U.S. NGO only last month, and economist Ilham Tohti, put away for life on similar charges in 2014, share key similarities that highlight the personal and family tragedies behind China's relentless assimilation policies in the northwestern Xinjiang region.
Both Dawut, who was born in 1966, and the 53-year-old Tohti built their academic careers inside the Chinese system, teaching at prestigious universities and releasing their work through major state publishing houses. The two scholars collaborated with and were respected as authorities by their Chinese and international peers.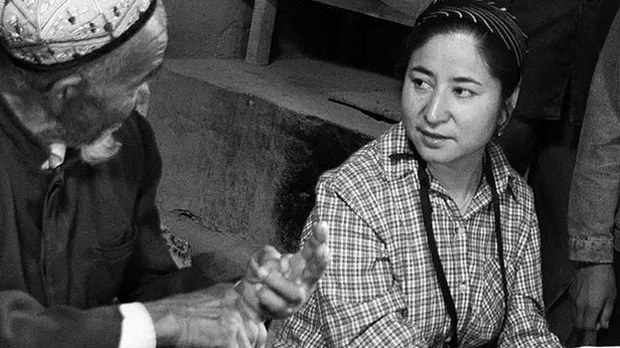 Dawut created and directed the Xinjiang University 's Minorities Folklore Research Center and wrote dozens of articles in international journals and a number of books on the region and its culture.
An economist at the Central University for Nationalities in Beijing, Tohti ran the Uyghur Online website, set up in 2006, which drew attention to the discrimination facing Uyghurs under Beijing's rule over Xinjiang and its increasingly restrictive religious and language policies.
The families of Dawut and Tohti share the common fate of not having heard anything from their jailed loved once since 2017, the year that China's harsh crackdown in Xinjiang went into overdrive, with the establishment of a network of internment camps for Uyghurs, Kazakhs and other Turkic minorities.
"My first reaction was that I couldn't believe it, I couldn't believe it at all," Dawut's U.S.-based daughter, Akide Polat, told Radio Free Asia last month.
"None of my mother's work, nor the way she went about it, nor anything in her personal life had anything to do with 'endangering state security,'" she said of the charges on which her mother was convicted.
'No intellectual resistance'
The Dui Hua Foundation, which revealed Dawut's life sentence, noted estimates of as many as several hundred Uyghur intellectuals who have been detained, arrested, and imprisoned since 2016.
RFA Uyghur has documented scores of disappearances and detentions of Uyghur writers, academics, artists and musicians in recent years.
"What we've seen inside the Uyghur region of China is what is often termed 'eliticide,'" said Sean Roberts, a Central Asia expert at The George Washington University's Elliott School of International Affairs in Washington, D.C.
"There's a particular focus on the intellectual elites, many of whom were working at state institutions, have been loyal to the state, did not did not present any sort of real resistance. Their only crime was basically maintaining the idea of a Uyghur nation and identity," he told RFA Uyghur.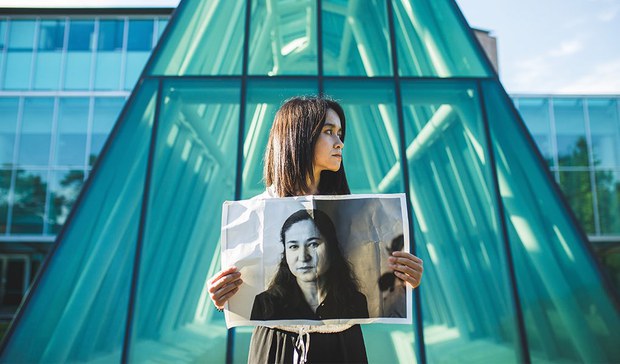 Roberts said eliticide "is often identified as occurring at the beginning of a genocide, where there's an attempt to get rid of the entire political, economic and intellectual elite to ensure that there is no intellectual resistance to the erasure of a people and their identity."
In early 2021, after years of cumulative reports on the internment camp system in Xinjiang, the United Nations, the United States, and the legislatures of several European countries, officially branded the treatment of Uyghurs as genocide or crimes against humanity. 
China has angrily rejected the genocide charges, arguing that the "reeducation camps" were a necessary tool to fight religious extremism and terrorism, in reaction to sporadic terrorist attacks that Uyghurs say are fueled by years of government oppression.
Beijing has also waged an information counterattack, with a global media influence campaign that spreads Chinese state media content to countries in Asia and beyond, invites diplomats and journalists from China-friendly countries on staged tours of Xinjiang and promotes pro-China social media influencers.  
Awareness-raising on genocide
Last month, the pushback saw Chinese diplomats pressuring fellow United Nations member states not to attend a panel on human rights abuses in Xinjiang sponsored by a think tank and two rights groups on the sidelines of the U.N. General Assembly in New York.
Tohti, who has been nominated for the Norwegian Nobel Committee's Peace Prize since 2020, was listed by the U.S. news outlet Time as one of top three favorites to win the medal this year, following Ukrainian President Volodymyr Zelenskyy and jailed Russian opposition leader Alexei Navalny.
Tohti was given higher odds on many of London's famed betting sites of winning the prize than the recipient, jailed Iranian activist Narges Mohammadi.
"There are many human rights issues around the world that are equally as important as the suffering that the Uyghurs are going through, but the international status and power of the perpetrators of these human rights abuses aren't considered equal," said Jewher Ilham, Tohti's daughter.
"The Chinese government is known to have a much more powerful political and economic influence than the Iranian government in the western world," she told RFA Uyghur.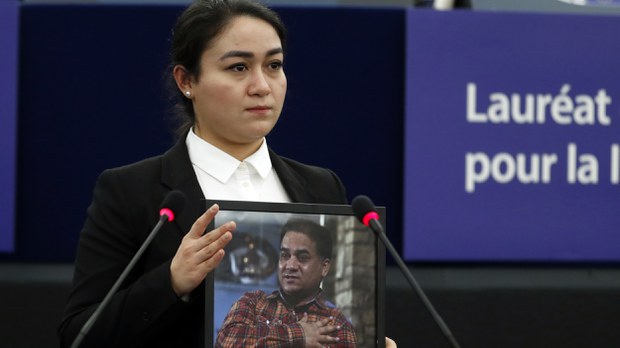 It is not clear that that China would be moved by a Nobel Prize to release Tohti or moderate policies in Xinjiang, where Communist Party chief Xi Jinping appears to be doubling down on draconian security measures and policies to suppress Uyghur culture.
Beijing lashed out at the Nobel Committee and imposed trade sanctions on Norway after the Nobel 2010 went to Chinese dissident writer Liu Xiaobo.
With Liu in jail, the Chinese capital Beijing won the right in 2015 to host the Winter Olympics, and Beijing largely shrugged off the global outcry when in 2017, Liu became the first Nobel laureate to die in jail since German journalist and Nazi opponent Carl Von Ossietzky perished in custody in 1938.
For Jewher Ilham, the mention of her father as a Nobel contender is "still a huge recognition for his work and also an opportunity for awareness-raising on the broader Uyghur genocide problem.
"I hope more people will learn about Ilham Tohti, and will learn what is happening to hundreds of thousands of Uyghur families," she told RFA Uyghur.
Reported by Nuriman Abdureshid and Alim Seytoff for Radio Free Asia Uyghur.