As the ruling Chinese Communist Party (CCP) continues with large-scale and long-term lockdowns on major cities, mass incarceration in quarantine camps and on university and college campuses, coupled with blanket digital surveillance and control over people's movements, some signs of mass discontent have begun to emerge.
Shanghai entrepreneurs called in a May 30 open letter for the release of all political prisoners and for the CCP to begin a process of political reform at the 20th Party Congress later in the year, warning of mass capital flight and a widespread loss of public confidence in Xi Jinping's leadership.
The letter also called on the government to overturn the guilty verdicts against entrepreneurs Ren Zhiqiang and Sun Dawu, as well as punishing officials responsible for "violating the law and disregarding public opinion" as part of the zero-COVID policy and loosening CCP controls on the media.
Public anger at the policy was glimpsed during the Shanghai lockdown, as residents clattered pots and pans from the relative safety of high-rise balconies, sang protest songs composed for the occasion, or yelled anonymous protests into the night air.
A Shanghai resident who gave only the nickname Ceausescu said the lockdown had likely forced a lot of people to think about politics.
"Most people were locked up at home, and they couldn't even buy food for a while at first, so they had to think about it three times a day," he said. "Normally, people from Shanghai, people in the middle classes, wouldn't have to think about such things … they would definitely have felt that their rights had been violated."
The deprivation of personal freedom, loss of control over economic activity, and no guarantee even of basic subsistence would have caused many people to start thinking more about politics, even those who were previously uninterested in the topic, Ceausescu said.
"I think if young people are unable to go about their lives in peace, they will definitely stand up," he said.
Some have wondered whether the feisty attitudes of sophisticated Shanghainese with their keenly developed sense of middle-class entitlement translate readily to other parts of the country.
Protests involving hundreds of students have sprung up at university campuses in Beijing and Tianjin following months of draconian COVID-19 restrictions imposed on higher education institutions.
The scenes at Tianjin University, Beijing International Studies University and Beijing Normal University were eerily reminiscent of the early stages of the 1989 student movement, which later took over Beijing's Tiananmen Square for weeks on end with demands for democratic reforms and the rule of law.
Similar protests had sprung up at the Wuhan University of Science and Technology and Sichuan University in March.
But, possibly due to the proximity of the sensitive June 4 anniversary of the Tiananmen massacre that ended the nationwide pro-democracy movement, the authorities appear to have largely given the students what they wanted: the right to take online classes at home, and to return to campus only to sit exams.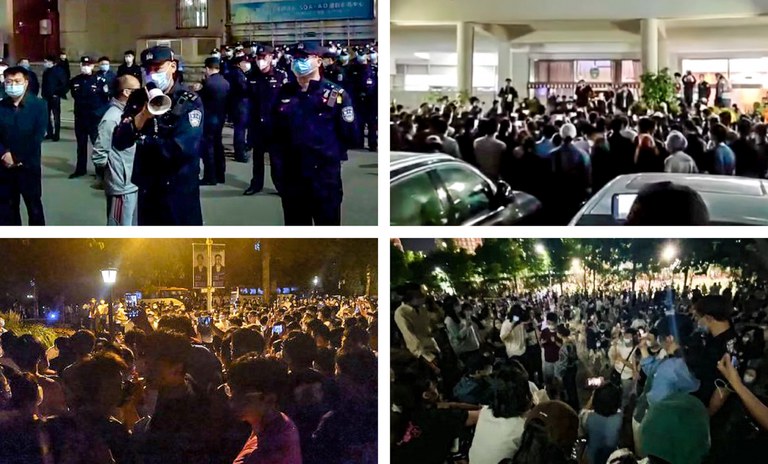 Xi taking China backwards
A Shanghai resident born in the year of the Tiananmen Square protest movement, who gave only the pseudonym Li Bing, said the students had clearly decided to take their fate into their own hands.
"I think they chose to protest on campus because it had become very clear to them that you have to fight for your rights; that nobody is going to just hand them to you," Li told RFA.
But he said he wasn't sure if he would join a similar protest, despite the privations of lockdown in Shanghai's Pudong district.
"Of course I want to resist, but when the call came, I am pretty sure [I wouldn't]."
Li is no stranger to public dissent. He once reposted a list of the victims of the Tiananmen massacre issued by the Tiananmen Mothers victims group.
The move brought him a slew of threatening phone calls from local officials, imprinting the shadow of fear firmly on his mind.
A Henan resident who graduated from college just a year ago, and who gave the pseudonym Zhou Xiao, had no hesitation, however.
He expects some form of mass popular uprising against the CCP in the next few years, largely spurred by zero-COVID and the government's program of forced vaccinations.
"Vaccines have been administered on a large scale in the past two years," Zhou said. "Anyone who reported side effects had their posts deleted and their accounts blocked."
"Nobody really knows what side-effects there could be from the vaccine … I was forced into getting vaccinated because of my work," he said.
According to Zhou, the CCP under Xi had already been going backwards in terms of freedom of expression even before the pandemic emerged in Wuhan in 2020.
"I'm totally disappointed," he said. "Most obviously, the suppression of speech is getting worse."
Zhou expects public anger to translate into action at some point in the next few years.
"The big one is coming, and I feel that this regime will face huge problems within the next 10 years, due to various factors causing a chain reaction," he said, citing the economic hardship caused by the government's response to the pandemic.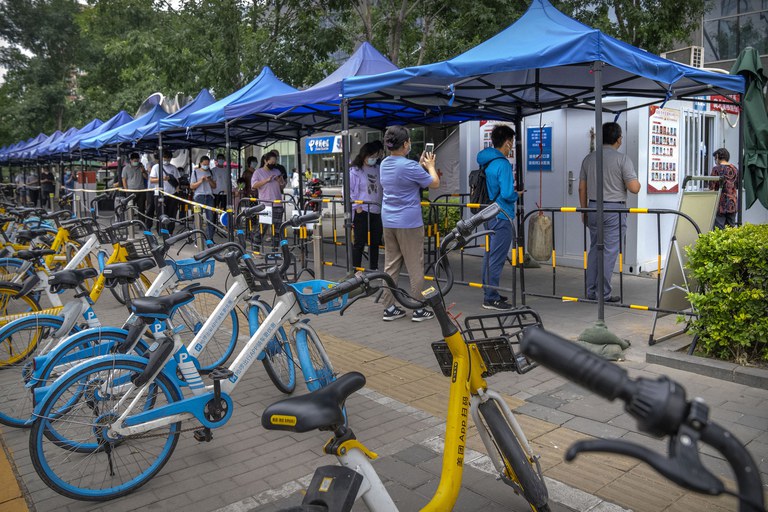 Indifference
Wang Juntao, U.S.-based chairman of the China Democracy Party (CDP), which is banned in China, said now is the likely time for protests to emerge, however.
"From my experience of the student movements of the 1980s, they were all sparked by particular real-life problems," Wang said. "They started slowly, in dribs and drabs."
"It was hard at first, but then the students started to see their own strength, and it got easier and easier as more students joined them," he said, citing the recent campus protests numbering a few hundred students at different universities.
Some read more into those protests than others. The use of a slogan from a historical peasant revolt caused one person to comment via Twitter: "June 4 is coming soon."
But a college student from Wuhan who gave only the nickname Wu said such protests were unlikely to gather momentum in the same way.
"Our generation of college students isn't as elitist as they were in 1989, and back then, there was a pervasive sense of longing on campuses for freedom and democracy," Wu said.
"Judging from my own classmates, most people now are actually politically indifferent, and more concerned with their own interests, like leisure activities, hanging out with friends, taking postgraduate entrance exams, finding a job and so on," he said.
He said some of the more general campus slogans, including "oppose bureaucracy" and "oppose formalism," were intended to target specific inconveniences affecting the students' daily lives.
"Regardless of whether there is a lockdown on campus or not, you still have to swipe a card to register your comings and goings," Wu said. "Before the pandemic, people could come and go freely, including people from outside."
"In my opinion, that's not just because of the pandemic, but because the authorities want to take the opportunity to tighten controls over universities," he said. "It actually plays a role in maintaining stability [preventing concerted public action]."
U.S.-based legal scholar Teng Biao said the "stability maintenance" regime was highly effective in preventing protest or public dissent.
"A large number of dissidents and human rights activists have been arrested and sentenced," Teng said. "It's very common."
"The cost [of resistance] is higher, including daily tea drinking [enforced 'chats' with state security police], warnings, the revocation of lawyers' licenses, job losses [due to dissent], all of that is getting increasingly common," Teng said.
He said a nationwide surveillance network that includes the SkyNet system means people in China are now living under a form of high-tech totalitarianism, making mass, organized popular protest and rebellion far less likely than in previous decades under the CCP.
"The CCP's propaganda and brainwashing methods are still very effective and powerful, which means that people lack a clear understanding of their rights," Teng said.
Cult of personality
Hu Ping, honorary editor-in-chief of the overseas political journal "Beijing Spring", said zero-COVID is being driven by the cult of personality around Xi Jinping, citing parallels with the Great Leap Forward and Cultural Revolution under late supreme leader Mao Zedong.
"The key characteristic [of such movements] is that a single indicator is set up as an overriding priority, and everything else has to serve that priority," Hu told RFA.
"[For the leadership], the gains outweigh the losses, but the secondary disasters outweigh the initial disaster [the pandemic]," he said.
Hu said zero-COVID is now the top political priority in Xi's China.
"That zero is now paramount," Hu said. "It regards COVID-19 as the only disease, ignoring all of the other diseases."
"Only those who die of it are counted among the dead, while those who die from other causes are not," he said. "Local leaders know that implementing it will lead to losses in other areas, but they don't care, because their superiors only look at their COVID-19 figures."
Wang Juntao said that while the college protests may not have gathered momentum this time round, it doesn't mean they won't in future.
"This country will definitely change in the future, and if it does there will be more such incidents," Wang said. "And college students will still play an active role, as is the case … all around the world."
Translated and edited by Luisetta Mudie.