Fighting between junta troops and the ethnic Ta'ang National Liberation Army, or TNLA, has driven more than 1,000 people from northeast Myanmar's Shan state across the border with China to seek shelter, according to residents.
The group is the latest example of civilians displaced by conflict in Myanmar, where the U.N. Office for the Coordination of Humanitarian Affairs says that tens of thousands have fled into neighboring countries to avoid conflict since the military's February 2021 coup. 
More than 1.6 million people have been internally displaced by fighting since the takeover, according to the U.N.
Fighting between the military and the TNLA in Shan's Muse and Kutkai townships broke out on July 23, when the latter's forces attacked a pro-junta militia convoy near Sei Lant village on the Muse-Namhkan highway.
Since then, more than 1,000 residents of seven villages – including the border tracts of Nam Kat and Sei Lant – have fled into China, said a resident of Nam Kat who, like others interviewed for this report, spoke to RFA Burmese on condition of anonymity, citing security concerns.
"We have been fleeing from our homes for two months now," said the resident. "We can't make a living and the children's education has also been impacted."
The resident said that few people felt the need to flee the fighting initially, even when the military began firing artillery in the area.
"But one evening recently, lots of people from Namhkan fled after being attacked because the military used a jet fighter and the attack was at night," he said.
There are more than 100 internally displaced persons, or IDPs, sheltering in Namhkan's Kawng Tat village and more than 300 IDPs sheltering in Muse's Nam Hsant village, the resident said, while at least 1,000 people have fled to Ruili and Jie Gao in southwest China's Yunnan province. The number of people who have fled elsewhere was not immediately clear, he added.
Caught between two factions
Residents of Sei Lant told RFA that while some villagers had fled to Muse, most are "living in fear" in their homes. One resident named Aik Sai said that although fighting has stopped in recent days, "they are worried that it will resume" due to the presence of troops from both sides stationed near the village.
"Both sides are staying [near] the village and we can't drive them out," he said, urging the troops to "fight in the jungle, if possible … [because] it isn't good for both sides to use locals as shields."
Aik Sai said life in the village had ground to a halt amid the fighting and that "we can't earn a living."
"We're worried about residents being shot in the village," he added.
TNLA spokesman Lt-Col. Mai Aik Kyaw confirmed the military's recent use of air power in the area.
He said that on Sept. 25 at around 10:00 p.m., the military dropped six bombs, including two 500-pound bombs with an impact radius of up to 30 meters (100 feet), in the jungle near a TNLA camp along the Muse-Namhkan highway, around 16 kilometers (10 miles) from the Chinese border.
"We don't know why they came and attacked," he said, adding that the TNLA has "only engaged in self-defense."
"Since Sept. 22, there has been no retaliatory attack from our side," Mai Aik Kyaw said. "On their side, they are constantly firing from the air and artillery every day. In the last three or four days, there have been drone attacks."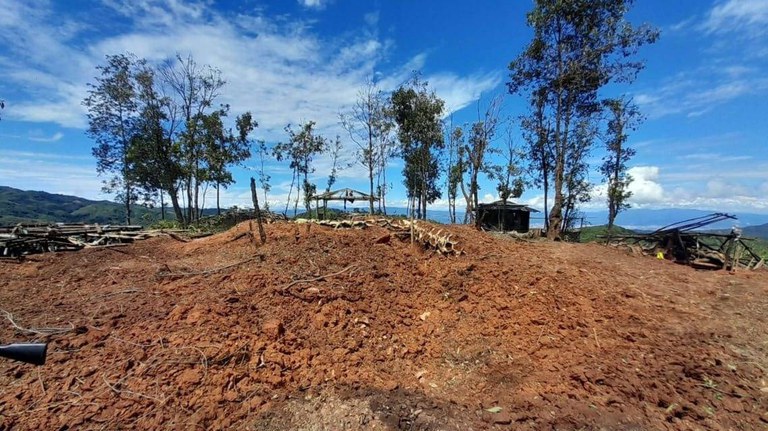 A resident of Kutkai's Ngawt Ngar village also confirmed the military's use of aircraft, saying that two fighter jets fired on the tract on the afternoon of Sept. 26. That same evening, he said, junta troops in nearby Nam Hpat Kar lobbed artillery at Ngawt Ngar, damaging a home.
The resident said that the incidents were enough to cause many villagers to flee and others to go into hiding nearby.
"There are only a few people left [in the village]," he said. "Some ran away to the jungle, since people don't dare to stay in the village anymore."
Control of border town
Attempts by RFA to reach the junta's economic minister and Shan state spokesman Khun Thein Maung went unanswered.
Similarly, RFA contacted the Chinese Embassy in Yangon via email regarding the issue of Myanmar nationals fleeing into China due to fighting near the border, but received no response.
Than Soe Naing, a Myanmar political commentator, said he believes that the junta has been stepping up attacks in the area because it "cannot tolerate" TNLA control of Muse, a town of economic importance due to its proximity to the border.
"That's why the junta is putting pressure on the TNLA, and the fighting has become intense," he said.
According to the TNLA, the two sides fought nearly 50 battles between July 23 and Sept. 26.
RFA reporting found that a total of nine civilians – including a child – were killed and 13 civilians were injured in Mogoke, Muse and Kutkai townships over the same period.
Translated by Htin Aung Kyaw. Edited by Joshua Lipes and Malcolm Foster.