Chinese President Xi Jinping met with U.S. Secretary of State Antony Blinken at the Great Hall of the People on Tiananmen Square in Beijing late Monday afternoon in a climax of high-stakes diplomacy.
Xi said he hoped the U.S. diplomat's visit would stabilize ties, adding that state-to-state interactions should be based on mutual respect, Foreign Ministry spokesperson Hua Chunying, who was present in the meeting, wrote in a tweet.
Blinken had earlier met with China's top foreign policy official Wang Yi and Foreign Minister Qin Gang. 
Achieving a meeting with Xi, who is also China's General Party Secretary, was widely perceived as the key measure of the success of Blinken's visit as the two nations' relations plumbed depths not seen since the countries diplomatically recognized each other in 1978. 
President Joe Biden said he hoped to see Xi in several months. 
Blinken is the first secretary of state to visit China in five years, amid China's strict COVID-19 pandemic lockdowns and strains over China's claims on the self-governing island of Taiwan, Russia's war in Ukraine, Beijing's human rights record, assertive Chinese military moves in the South China Sea and technology trade.
"This visit was basically a means of re-establishing the normal process of contacts between the U.S. and China that was supposed to follow the Bali Xi-Biden meeting but then got derailed by the spy balloon," Andrew Small, a senior transatlantic fellow with the U.S. German Marshall Fund's Indo-Pacific Program told RFA.
"It is intended to pave the way for other visits to China … and ultimately an expected visit from Xi Jinping for the APEC meeting in San Francisco." 
The Asia-Pacific Economic Cooperation summit will be held in the Californian city on November 12 this year. 
Small described China-U.S. relations as essentially "frozen" prior to the trip, adding, "​​The US side anticipated that, assuming meetings with Wang Yi and Qin Gang proceeded according to plan, Blinken would see Xi Jinping, and it was understood to be important that various messages could be delivered directly to him."
'Candid, substantive, and constructive'
On Sunday Blinken began the two days of meetings with 7½  hours of direct talks and a dinner meeting with Chinese Foreign Minister Qin Gang, discussing a host of topics and agreeing to work together on increasing the number of flights between the U.S. and China, a senior state department official said.
Blinken invited Qin to continue the discussions in the U.S, and the spokesperson said the pair agreed to schedule a visit at a "mutually suitable time." 
A senior official said, under the condition of anonymity, that the meeting between Blinken and Qin was not about reading talking points to one another, describing the exchange of views as a substantive conversation.
The PRC readout on the meeting said, "China is committed to building a stable, predictable and constructive China-U.S. relationship," which Bonnie Glazer, managing director of the German Marshall Fund's Indo-Pacific program and nonresident fellow with the Lowy Institute in Sydney, Australia, described in a tweet thread as "important."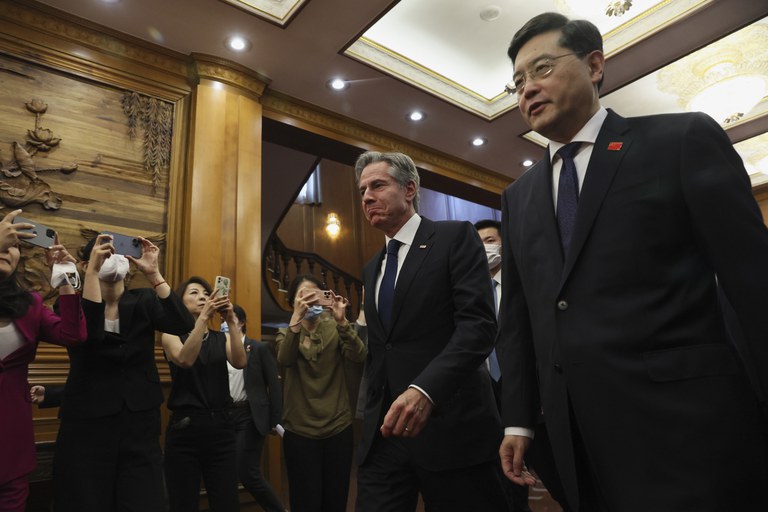 Blinken's talks with Qin were "candid, substantive, and constructive," said State department spokesperson Matthew Miller.
"The Secretary emphasized the importance of diplomacy and maintaining open channels of communication across the full range of issues to reduce the risk of misperception and miscalculation," Miller said in a written statement late Sunday.
Blinken, the spokesperson added, "raised a number of issues of concern, as well as opportunities to explore cooperation on shared transnational issues with the PRC where our interests align."
Chinese state media described the talks as "candid, in-depth and constructive communication on the overall relationship between China and the United States and related important issues."
A report by China's foreign ministry quoted Qin as saying that "Sino-US relations are at the lowest point since the establishment of diplomatic relations. This does not conform to the fundamental interests of the two peoples, nor does it meet the common expectations of the international community."
'Crucial juncture'
On Monday morning, amid much suspense as to whether Xi would agree to meet him, Blinken met with China's top foreign policy official Wang Yi to discuss re-forging diplomatic channels of communication between the powers.
Observers in Beijing described the meeting as "frosty" but free of acrimony, unlike their last meeting, in Munich in March this year, when the two traded barbs in their first meeting since the U.S. shot down a Chinese spy balloon on February 4.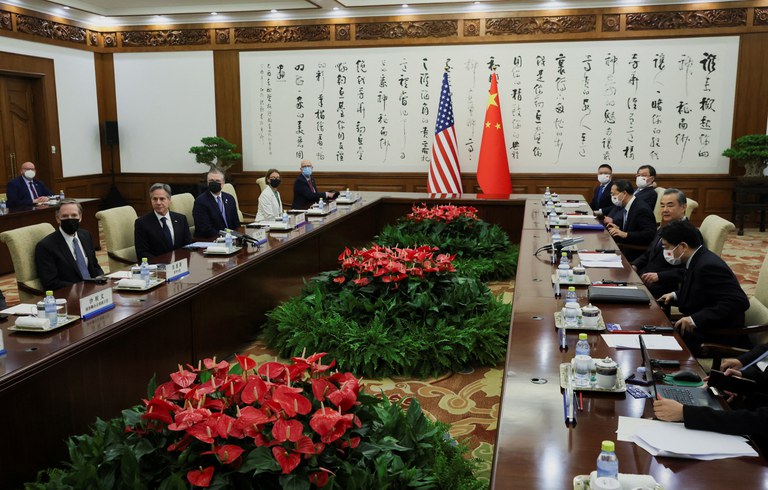 The Chinese readout described the meeting as coming at a "crucial juncture" in U.S.-China relations and that choices needed to be made between dialog or confrontation, cooperation or conflict, while blaming the downturn in relations on the "U.S. sides erroneous understanding of China."
Wang asked the U.S. to stop "hyping up the China threat," lift its "illegal sanctions," stop hindering China's technological progress and said that on the subject of Taiwan, which he described as "core of China's core interests," there was "no room for compromise."
Little progress on key issues
The two sides appeared to have made no progress on key issues such as Taiwan, trade, human rights and stemming the flow of chemicals used in the production of the synthetic opioid fentanyl.
"Despite very low expectations for any breakthroughs made during Blinken's visit to China, there is still hope that both sides can maintain their 'bottom line' in the relationship," state tabloid Global Times said in an editorial on Monday.
It added, "It is normal for any country to have low expectations after being continuously suppressed by the US."
Derek Grossman, a former daily intelligence briefer to the director of the Defense Intelligence Agency and to the assistant secretary of defense for Asian and Pacific Security Affairs, said "China's not really in the mood or prepared at all to offer any types of concessions
"What to do about the status of Taiwan? What to do about China's expansive claims over the South China Sea, threatening its neighbors throughout the Indo-Pacific, human rights violations? There's no real kind of negotiating out of those things."
'Legitimate Differences'
President Joe Biden told White House reporters Saturday he was "hoping that over the next several months, I'll be meeting with Xi again and talking about legitimate differences we have, but also how … to get along."
U.S. defense officials say Chinese officials have refused phone calls since Blinken canceled a planned trip to Beijing in February due to the Chinese spy balloon. Beijing asserts it was a weather balloon.
Chinese Defense Minister Li Shangfu also declined to meet with U.S. Secretary of Defense Lloyd Austin at the Shangri-La Dialogue in Singapore earlier at the start of the month, with Li instead using the forum to accuse the United States of "double standards."
There have been recent high-level contacts, including a trip to China by CIA chief William Burns in May, a visit to the U.S. by China's commerce minister, and a meeting in Vienna Austria between Wang and Biden's national security adviser Jake Sullivan.
Reuters news agency quoted a senior State Department official as telling reporters during a refueling stop in Tokyo that Washington and Beijing understood they needed to communicate more.
"There's a recognition on both sides that we do need to have senior-level channels of communication," the official said.
"That we are at an important point in the relationship where I think reducing the risk of miscalculation, or as our Chinese friends often say, stopping the downward spiral in the relationship, is something that's important," the official said.
"Hope this meeting can help steer China-U.S. relations back to what the two Presidents agreed upon in Bali," tweeted Chinese assistant foreign minister Hua Chunying.
Biden and Xi met face-to-face on the sidelines of a summit of the Group of 20 major economies in November and agreed to try to restore dialogue despite sharp differences.
The two leaders have opportunities to meet later this year, including at the G20 leaders' gathering in September in New Delhi and at the APEC summit in November in San Francisco.
Edited by Mike Firn.