China's major military exercise around Taiwan entered day three Saturday, with the People's Liberation Army (PLA) apparently staging a simulated attack on Taiwan's main island, Taipei's Defense Ministry said.
Multiple Chinese military aircraft and vessels operated near Taiwan on Saturday morning, some of them crossed the median line dividing the Taiwan Strait, the ministry said in a statement.
The Taiwanese military sent warnings, scrambled aircraft and deployed defense missile systems to track the Chinese military planes, the statement said.
On Friday night, four Chinese drones were spotted flying over the Kinmen islands near China's Fujian province, the defense ministry said. 
During the day on Friday, Chinese military aircraft made a record 68 incursions into Taiwan's air defense identification zone (ADIZ), many of them crossed the median line, which serves as a de facto border between Taiwan and the mainland.
This is the highest number of incursions in one day. The previous single-day record was 56, on Oct. 4, 2021.  
By "squeezing the median line," the PLA intends to make its encroachments on Taiwan's air space and waters routine, therefore changing the status quo in the Taiwan Strait and making it a Chinese inner sea," said Shen Ming-Shih, acting deputy chief executive officer at Taiwan's Institute for National Defense and Security Research, a government think-tank.
The unprecedented drills are set to continue until noon on Sunday local time and Chinese media reported that a Chinese aircraft carrier group, featuring at least one nuclear-powered submarine, would take part in the first carrier deterrence exercise.
Details however remain sketchy and the whereabouts of both Chinese carriers, Liaoning and Shandong, were unclear as of Saturday.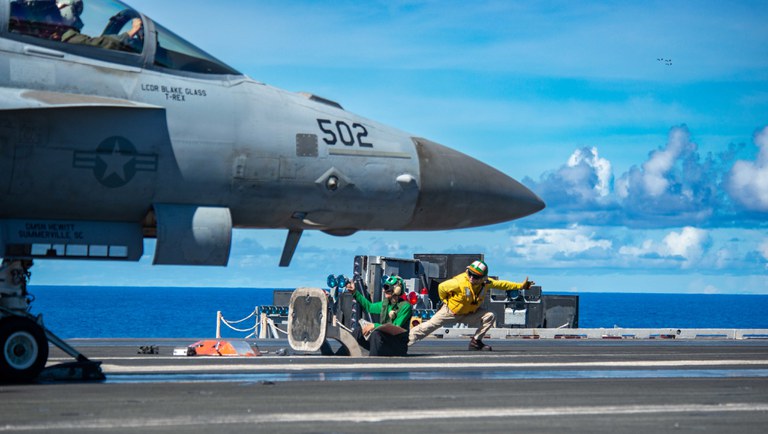 USS Ronald Reagan returns
The U.S. Navy's only forward-deployed aircraft carrier, the USS Ronald Reagan, seems to have returned to east of Taiwan from a position near its Japanese home port, several sources said.
The amphibious assault ships USS Tripoli and USS America were also heading to waters near Taiwan, the U.S. Naval Institute reported.
The carrier and other ships are expected to conduct maritime transit through the Taiwan Strait in the coming weeks, according to U.S. National Security Spokesperson John Kirby who added that the U.S. "will take further steps to demonstrate our commitment to the security of our allies in the region."
On Friday China released a set of eight "countermeasures" in response to U.S. House Speaker Nancy Pelosi's visit to Taiwan, freezing collaboration on three sets of military dialogues with the U.S., as well as from talks on the climate crisis, repatriation of illegal immigrants, counter-narcotics and legal assistance in criminal matters.
The breaking off of the wide range of bilateral talks came after Beijing announced sanctions against Pelosi and her direct family members, accusing her of "vicious and provocative actions."
Pelosi is the most senior U.S. official to visit Taiwan in 25 years.
On Thursday Japan said it had lodged a diplomatic protest after five ballistic missiles fired by China appear to have landed inside Japan's exclusive economic zone (EEZ), which stretches 200 nautical miles (370 kilometers) from the outer limits of Japan's territorial seas.
Beijing rejected the complaint saying China and Japan have not carried out maritime delimitation in the waters and China's missile test-launch in the area was "consistent with international law and practices."