The speedy deployment of renewable power worldwide is set to lead the largest annual increase in new renewable capacity ever, a report released on Thursday said.
Renewable power capacity is expected to increase by a third this year and will continue to rise next year, primarily due to a stronger push by governments amid higher fossil fuel prices and energy security concerns, the International Energy Agency (IEA) said in its latest Renewable Energy Market update.
The Paris-based group said there would be a significant surge in the global addition of renewable capacity, with a record-breaking increase of 107 gigawatts (GW) expected in 2023, resulting in total renewable capacity of over 440 GW worldwide.
That is 24% more than projected six months earlier and double what the world added in 2019.
Furthermore, projections indicate that total global renewable electricity capacity will reach 4,500 GW, equivalent to the combined power output of China and the United States, by the following year.
China is expected to account for nearly 55% of global additions of renewable power capacity in both 2023 and 2024, consolidating "its position as the undisputed leader in global deployment," the IEA said.
In 2022, China accounted for less than half of all new renewable power capacity worldwide. 
By 2024, the report projected that China will deliver almost 70% of all new offshore wind projects globally, as well as over 60% of onshore wind and 50% of solar photovoltaic (PV) projects.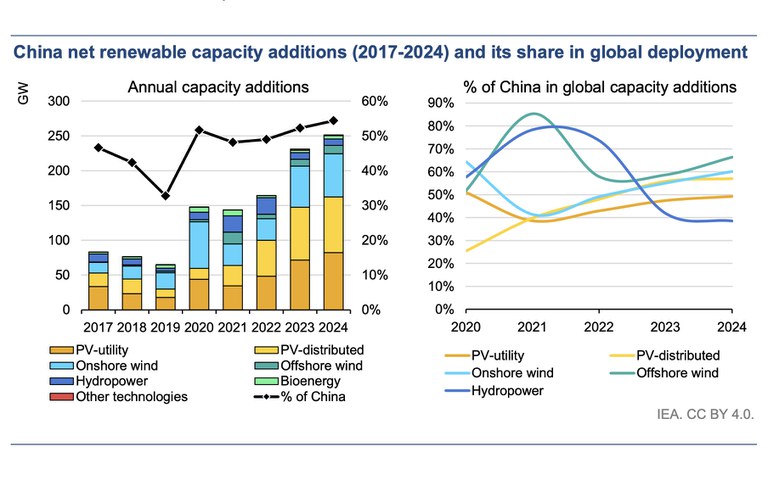 According to the IEA, the "dynamic expansion" is also occurring elsewhere in the world's major markets. 
In Europe, many countries boosted their renewables to reduce their reliance on Russian natural gas after the invasion of Ukraine and the ensuing energy crisis. 
In the United States, the wind and solar PV markets experienced a decline last year due to trade restrictions and limitations in the supply chain. However, these markets are anticipated to rebound significantly, with an estimated growth of approximately 40% expected in 2023.
In India, renewable capacity expansion in both 2023 and 2024 is attributed to the accelerated deployment of onshore wind, hydropower, and distributed solar PV systems. 
"Solar and wind are leading the rapid expansion of the new global energy economy," IEA Executive Director Fatih Birol said.
"This year, the world is set to add a record-breaking amount of renewables to electricity systems … The global energy crisis has shown renewables are critical for making energy supplies cleaner, more secure, and affordable – and governments are responding with efforts to deploy them faster."
Birol said more robust growth faces challenges, including the "need to upgrade and expand power grids to ensure we can take full advantage of solar and wind's huge potential."
According to the report, solar PV additions will account for two-thirds of this year's increase in renewable power capacity and are expected to keep growing in 2024, with high electricity prices driving faster growth of rooftop panels.
Meanwhile, wind power additions are forecast to grow by almost 70% year-on-year in 2023 after a slow couple of years. The faster growth is mainly due to the end of COVID-19 restrictions in China and recovering supply chain issues worldwide.
The IEA said that compared to solar PV, wind turbine supply chains are still not growing fast enough to match increasing demand over the medium term due to rising commodity prices and continued supply chain challenges, resulting in some reduction in profit for manufacturers.
Edited by Mike Firn.