The Chinese military carried out anti-submarine and sea assault drills in waters around Taiwan on Monday, keeping up the pressure after major four-day drills an angry Beijing staged response to the U.S. House Speaker Nancy Pelosi's visit last week, military sources said.
China also announced a series of new military drills in the South China Sea and in the Yellow Sea and Bohai Sea, waters that lie between the Chinese mainland and the Korean peninsula. 
The Eastern Theater Command of the Chinese People's Liberation Army (PLA) said on its official WeChat account that the Command's forces "continued to conduct practical joint exercises in the sea and airspace around Taiwan Island, focusing on organizing joint anti-submarine and sea assault operations" on Aug. 8.
On Sunday, the last day of the scheduled military exercise announced on Aug. 3, the PLA sent 14 warships and 66 aircraft to areas surrounding Taiwan in attack simulation drills, the Taiwanese Ministry of National Defense said, adding that 22 of the airplanes crossed the median line of the Taiwan Strait.
The ministry "monitored the situation and responded to these activities with aircraft in CAP (Combat Air Patrol), naval vessels, and land-based missile systems," it said in a statement.
Taiwan military's Fourth Combat Zone will also hold two large-scale, live-fire artillery drills in Pingtung in southern Taiwan on Tuesday and Thursday this week to test its combat readiness.
The drills will include the artillery command, infantry troops and the coastguard, the military said.
Numerous new exercises
On Saturday, China announced a new series of military drills including a month-long operation in Bohai Sea.
China's Maritime Safety Administration released navigation warnings saying live-fire exercises will be held from Aug. 6 to Aug. 15 in the southern part of the Yellow Sea between China and South Korea, and gunnery drills from Aug. 8 to Aug. 9 and Aug. 9 to Aug.11 in the South China Sea. 
A navigation warning is a public advisory notice to mariners about changes to navigational aids and current marine activities or hazards including fishing zones and military exercises.
A separate military exercise was conducted in the northern part of the Bohai Sea on Friday and Saturday.
Local Taiwanese media reported that a month-long military operation will take place in Bohai Sea starting Aug. 8 until Sept. 8.
"I think the military exercises aren't really going to stop," said Mark Harrison, a senior lecturer in Chinese studies at the University of Tasmania in Australia.
"Beijing has used Pelosi's visit as a pretext to create a "new normal" in the Taiwan Strait," Harrison added.
Nancy Pelosi became the most senior U.S. official to visit Taiwan in the last 25 years last week and Beijing repeatedly warned against the visit, threatening "strongest countermeasures."
Chinese media quoted several analysts as saying that military drills near Taiwan will become routine if "external interference" continues.
"The military exercises around Taiwan, although having been quite restrained, are meant to show that Beijing is by no means a 'paper tiger'," said Sonny Lo, a veteran political commentator in Hong Kong.
"Most importantly, Chinese military exercises near Taiwan are becoming a normal phenomenon, raising the specter of a possible military conflict or accident between the two sides," Lo said.
On Saturday and Sunday, Chinese forces staged what could be seen as simulated attacks on Taiwan.
"The focus on Sunday was set on testing the capabilities of using joint fire to strike land targets and striking long-range air targets," reported the PLA Daily.
"Supported by naval and air combat systems, the air strike forces, together with long-range multiple launch rocket systems and conventional missile troops, conducted drills of joint precision strikes on targets," the paper reported.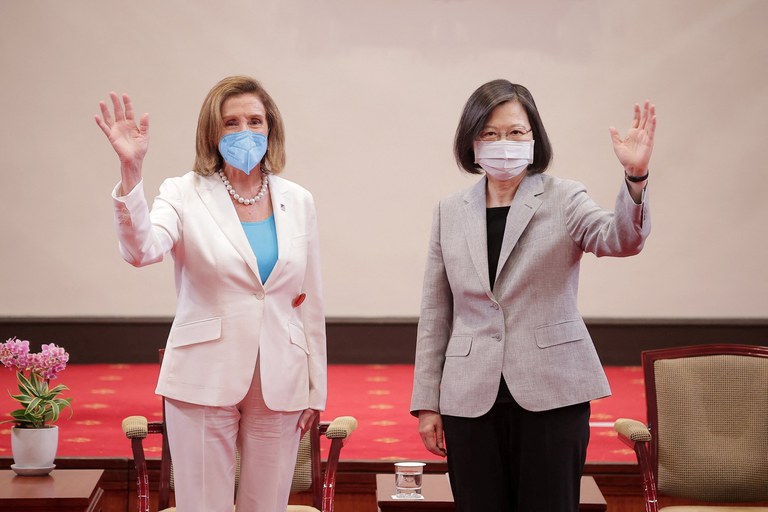 What's next?
This "largest ever PLA air-missile-maritime exercise ever conducted" has provided some insights into China's potential courses of action and
preferences in a China-Taiwan conflict, said Carl Schuster, a retired U.S. Navy captain turned military analyst.
"It suggests Beijing would first isolate Taiwan and resort to air and missile strikes in hopes of breaking Taipei's political will. A costly invasion probably is a last resort," said Schuster, who also served as a director of operations at the U.S. Pacific Command's Joint Intelligence Center.
"The exercise demonstrated that blockade in a conflict need
not require a constant naval presence offshore, but rather, shipping and air traffic can be deterred by air and missile threats in support of a maritime blockade," the analyst said, adding that it "also reflected the
PLA's improving capacity for joint operations."
During the four days of Chinese military drills, Taiwan saw up to a thousand international flights being affected and the Taiwanese aviation administration had to discuss alternative routes with Japan and the Philippines.
A full military blockade would "paralyze Taiwan's economy and seriously diminish the society's confidence," said commentator Sonny Lo in Hong Kong.
"However China usually focuses on the "core enemies" such as the leaders of Taiwan's ruling Democratic Progressive Party, rather than the whole Taiwanese population," Lo said, predicting that the cross-strait relations will stay tense until at least the next Taiwan presidential election in early 2024.
"Taiwan needs to quickly strengthen its international relations and its military capacity," said Mark Harrison from the University of Tasmania, who argued that Beijing "will wipe out a vibrant democracy if it seizes control of Taiwan."
The Taiwanese government needs to focus on expanding defense resources and to enact smart and effective defense strategies, according to Drew Thompson, a former U.S. defense official and senior visiting fellow at the Lee Kuan Yew School of Public Policy at the National University of Singapore.
"Smaller countries that have great disadvantages have had tremendous success in the last few decades against much larger, more capable militaries because they adopted asymmetric strategies," Thompson said.
"So if Taiwan adopts an asymmetric strategy, they will do quite well, comparatively."