Myanmar's military is taking out its pocketbook to try to persuade rebels to stop fighting.
The generals in Naypyidaw want to give members of the anti-junta People's Defense Force and other "terrorist groups" who surrender their weapons and renounce their loyalty to resistance forces as much as 7.5 million kyats (U.S.$3,570) – a princely sum for most people in Myanmar.
That's according to an offer made Tuesday to those willing to "return to the legal fold," as well as anyone "illegally armed for reasons of personal security" who agrees to "apply for a weapons license."
It's the latest attempt by the Burmese army to defeat resistance forces, who have reported growing success against a depleted military two years after generals took control of the country in a February 2021 coup d'etat.
Facing losses on the ground, the military has increasingly relied on airstrikes to win its battles – often at devastating cost to civilians.
Based on the announcement, the regime is prepared to provide anywhere from 200,000 to 7.5 million kyats (U.S.$95 to $3,570) to rebel fighters who throw themselves at the mercy of a military tribunal, depending on the type of weapon and ammunition they hand over to authorities when they surrender. 
Those who have committed murder, rape, and other crimes will have to face legal proceedings in court, the announcement said, but "relaxations will be made according to the law," depending on the scale of the offense.
Applicants for a license to carry firearms for the purpose of personal security "will not be questioned" about how they obtained the weapons and ammunition and can expect to be approved, provided they "comply with the principle of possession."
No thanks
Rebel fighters responded to the proposition with disdain.
"The junta inviting the PDFs to return to the 'legal fold' is just an example of how it manipulates the law as it sees fit," said a 19-year-old with the Ye-U township PDF in Sagaing region, who asked to be identified as "Nway Oo," and said he would not be accepting the offer.
"Their statement is full of false intentions. As long as [the junta generals] are in power, the country will continue to suffer, so we must fight to root them out," he said. "We'll never give up – we will fight until they are brought to justice and made to answer to the will of the people."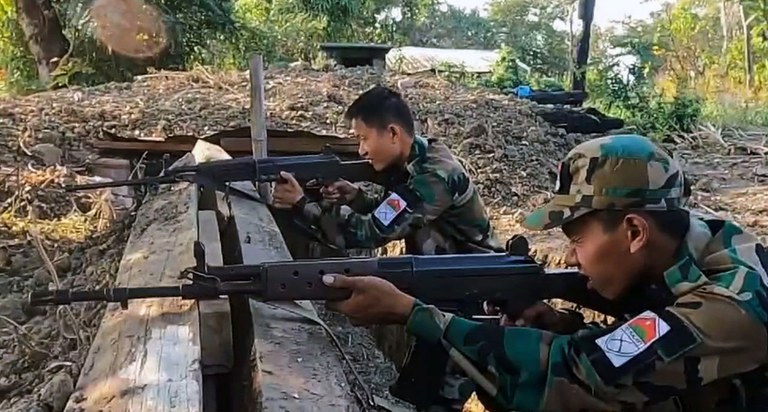 Nway Oo graduated from high school in 2020 and joined the anti-junta Civil Disobedience Movement branch of students who boycotted education under the military following the coup.
In the Sagaing region, which has offered up some of the stiffest resistance to military rule since the takeover, it's "obvious that the junta's strength on the ground is decreasing," he said, as the number of troop patrols is dwindling and airstrikes are on the uptick.
Sayar Kyaung, the leader of the anti-junta Yangon UG Association, told RFA that the military has never stopped cracking down on the PDF and called the sudden announcement "an attempt to distort the revolution."
"The junta's announcement is a bit funny – rule of law in Myanmar ceased to exist once they staged a coup," he said. "Their offer to 'relax legal procedures' indicates that they are weakening."
Sign of desperation
The junta's offer is part of a genuine bid to resolve Myanmar's armed conflict, said Thein Tun Oo, executive director of the Thayninga Institute for Strategic Studies, which is made up of former military officers.
"[Anti-junta fighters] will not find it easy to continue on a path of armed resistance," he said, adding that those directly involved in the fighting "understand the situation." 
"Some youths naively and impulsively joined the resistance groups," he said. "This is a chance for them to come back."
But Nay Phone Latt, spokesman for the shadow National Unity Government's Office of the Prime Minister, said the junta's announcement showed its desperation.
"It's pretty obvious – they have invited the PDFs to return just because they finally came to realize that they cannot beat them on the ground," he said. "That's why they appear to be forgiving with this invitation. But we all know what [junta chief Senior Gen. Min Aung Hlaing] said earlier."
Just a month ago, in a March 27 speech to mark Armed Forces Day, Min Aung Hlaing called the NUG, PDF, and armed ethnic organizations "terrorists" who seek to destroy the nation, vowing to eradicate them.
Tuesday's announcement marks the second time the military has called on members of the PDF and other anti-junta groups to surrender their weapons and "rejoin Myanmar's legal framework," following an overture in June last year.
International call for resolution
It also came as observers suggested there was no political off-ramp from Myanmar's conflict on the horizon, despite calls by state leaders, international diplomats and fellow Association of Southeast Asian Nations, or ASEAN, states in recent weeks for an immediate cessation of violence and dialogue between all stakeholders.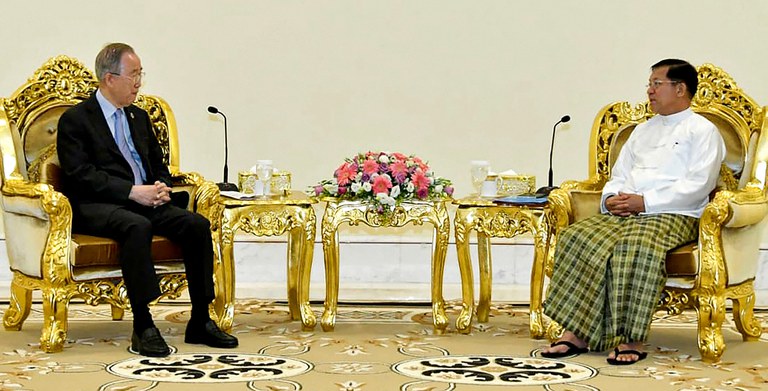 After the former U.N. Secretary-General Ban Ki-moon visited Naypyidaw at the end of April to discuss an end to violence with the junta leaders, the military bombed a hospital, said NUG spokesman Kyaw Zaw. 
And when the Chinese Foreign Minister Qin Gang was visiting in mid-April, the junta dropped bombs on a civilian population, he said.
"By looking at incidents like that, you can see whether they're complying with the international community's pleas to stop the violence," he said.
The latest call to stop hostilities came on Monday from Indonesia, the current chair of ASEAN, after an attack over the weekend on a diplomatic convoy delivering humanitarian relief to displaced people in Myanmar. The convoy included members of the ASEAN disaster management agency and diplomats from Indonesia and Singapore.
There were no reports of injuries in the shooting, which the Myanmar military blamed on anti-junta forces. The junta's opposition has denied any involvement.
Attempts by RFA to contact junta Deputy Information Minister Major Gen. Zaw Min Tun for comment on the regime's response to international calls for dialogue went unanswered Wednesday.
Inclusive dialogue 'not yet possible'
Thein Tun Oo, of the Thayninga Institute for Strategic Study, told RFA there are "still many requirements to be fulfilled before the nation's problems can be solved through dialogue," although he did not provide details.
Furthermore, he suggested that the junta would not be swayed by external pressure.
"Although the leaders meet and hold discussions with international diplomats and act agreeable, in fact, Myanmar rarely follows international guidelines as a result of pressure," he said, noting that such a tactic has never led to all-inclusive dialogue in the country.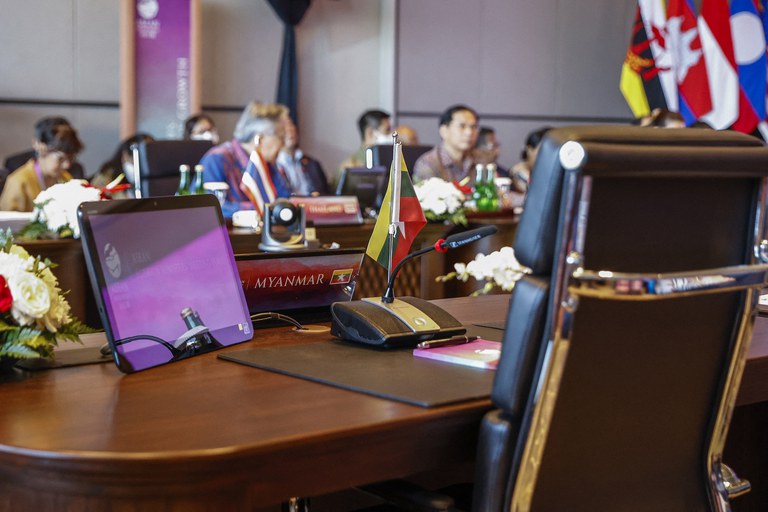 Sai Kyi Zin Soe, a political analyst, told RFA that an all-inclusive dialogue "is not yet possible," in part because of an unwillingness to engage on the part of the armed resistance.
"International leaders visiting Myanmar to discuss the crisis and, after that, all stakeholders holding an inclusive dialogue and coming to an agreement … is a scenario that the international community hopes for but is impossible," he said.
"Under the current circumstances, it may only cause controversy among revolutionary groups over whether or not to follow the advice for a dialogue, which could create tension and lead to disputes between them."
Translated by Myo Min Aung. Edited by Joshua Lipes and Malcolm Foster.