A court in Cambodia's Ratanakiri province has charged three men with incitement after they advised farmers of their constitutional rights, prompting more than 200 farmers to descend on the capital to call for their release.
On the afternoon of May 17, authorities in Kratie province arrested Coalition of Cambodian Farmer Community President Theng Savoeun and 16 of his colleagues for "inciting social unrest" and "conspiracy to commit treason."
According to local rights group ADHOC, the arrests took place after the 17 met with farmers in Ratanakiri to discuss agricultural techniques and their rights as Cambodian citizens. That same day, police set 14 of the detainees free after they agreed to thumbprint a statement pledging that they would no longer conduct training sessions.
The Ratanakkiri Provincial Court formally charged Theng Savoeun and two others – Thach Hach and Nhel Pheap – and ordered them detained at the provincial prison.
Nearly six days later, the trio remain in detention and have been refused access to lawyers or family members – visits they are guaranteed after 24 hours in custody, according to Cambodian law.
Over the weekend, some 200 farmers – mostly women – from various provinces traveled to the Ministry of Interior in Phnom Penh to demand their release, claiming that they had provided assistance and done nothing illegal.
'My son is not a dog'
Among them was Theng Savoeun's mother, Toch Satt, who vowed that she will not leave the premises until her son is freed.
"Minister of Interior Sar Kheng, I urge you to resolve this case – get it done today or I will not go home," she shouted in front of the ministry on Monday, three days after joining other farmers in the capital to protest the detentions. 
"My son is not a dog, he is a human being," she said. "I regret that you arrested my son, who did nothing wrong. My son serves the interests of the people."
Other protesters – several of whom were carrying infants – held photos of the three detainees and cardboard signs calling for their freedom.
One protester from Koh Kong province named Keut Neou told RFA Khmer that she and others had arrived in Phnom Penh to protest on May 19 and had since run out of money. She said they have been staying for free at a Buddhist temple in the suburbs, but are unable to afford rides downtown to the ministry.
"We are poor people and farmers – we have no money, so we all decided to walk," she said.
Another farmer from Koh Kong named Nhel Sreymom urged Prime Minister Hun Sen and his wife, Bun Rany, to help find justice for the three detainees.
"Please, Samdech father and mother, help find a solution for them," she said, using an honorific for the prime minister. "These three people are innocent." 
'Planning peasant revolution'
Ministry of Interior officials on Monday met with 10 farmers' representatives and accepted a petition calling for their release. The officials said Hun Sen will examine and consider their demands.
ADHOC human rights spokesperson Soeung Senkaruna urged the Ratanakiri court to reconsider the charges against Theng Savoeun, Thach Hach and Nhel Pheap.
"If the charges still have reasonable doubt, the court should hold off on the charges because, from my view, Theng Savoeun has done a lot of work to help farmers to supplement the assistance of the government," he said.
Attempts by RFA to contact Ratanakiri Provincial Police Commissioner Ung Sopheap and Interior Ministry spokesman Khieu Sopheak about the case went unanswered Monday.
However, Khieu Sopheak told local media group CamboJa on May 19 that Theng Savoeun and his associates were involved in "planning a peasant revolution."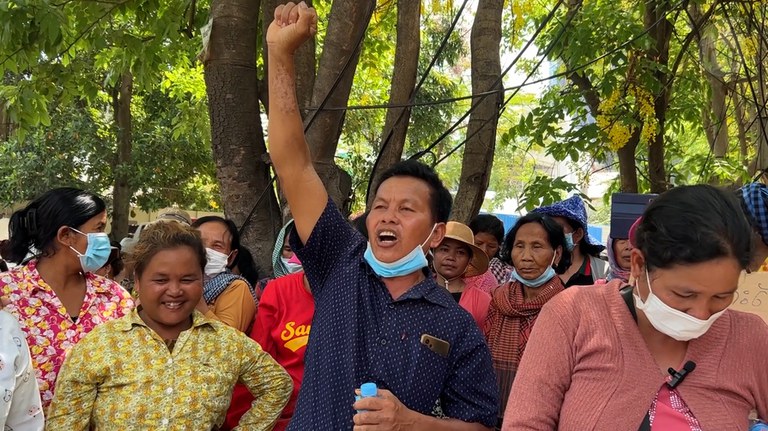 The Cambodian Farmers' Community Association has vehemently denied the allegations, saying it only instructed farmers on agricultural laws and techniques. The group, which claims to have a membership of around 20,000 people across Cambodia, was founded in 2011 to assist farmers from 10 communities who say their land was encroached on.
'Crackdown' on rights groups
Local rights groups – including LICADHO, ADHOC and the Cambodian Center for the Defense of Human Rights – are monitoring the case and told RFA that the arrests not only threaten the Cambodian Farmers' Community Association, but also undermine the work of civil society.
The case has also drawn the attention of international rights groups, including New York-based Human Rights Watch.
Deputy Asia Director Phil Robertson said his organization was "appalled" by the arrests and violation of laws that allow the three access to lawyers, calling it an example of how authorities "blatantly violate basic freedoms of association and expression, and totally disregard Cambodia's international human rights obligations."
Robertson also called authorities out for harassing supporters demanding the trio's release, noting that police in Koh Kong stopped a minivan carrying Cambodian Farmers' Community Association members and prevented them from leaving the province.
He linked the arrests to what he called a "crackdown" on NGOs and civil society groups in Cambodia ahead of the July 23 general election, "where any sort of challenge, real or perceived, to the government is met with a maximum display of intimidation and punishment."
"Cambodia should immediately and unconditionally let the CCFC 3 go free, and halt the campaign of harassment and abuse against the CCFC and other Cambodian NGOs who dare to stand up and exercise their civil and political rights," Robertson said.
Illegal land grabs by developers or individuals are not uncommon in Cambodia, where officials and bureaucrats can be bribed to provide bogus land titles. Disputes over land are one of the major causes of social disturbances throughout Southeast Asia.
Translated by Sok Ry Sum and Samean Yun. Edited by Joshua Lipes and Malcolm Foster.