In the brick-walled crypt of a church in central London hangs a painting of a many-armed, black-clad figure wearing an elastomeric mask and a yellow construction hat, evoking a figure that was once a familiar sight during the 2019 protest movement in Hong Kong.
One of its many pairs of hands – protesters were referred to in Cantonese at the time as the "hands and feet" of the movement – is clasped in apparent prayer, with other pairs clutching water bottles and a retractable baton for fending off charging cops.
In the goggles of the figure – a composite of the front-line protesters who used Molotov cocktails, bricks, bows and arrows and street barricades to engage in pitched street battles with riot police during the 2019 Hong Kong protests – is reflected the black bauhinia, symbol of the protest movement.
Other works depict a shower-head washing an exposed brain, a reference to attempts by the ruling Chinese Communist Party to brainwash its citizen, and a portrait of jailed pro-democracy Joshua Wong behind bars formed of black umbrellas, bringing to mind the 2014 "umbrella movement," when protesters used umbrellas to protect against pepper spray.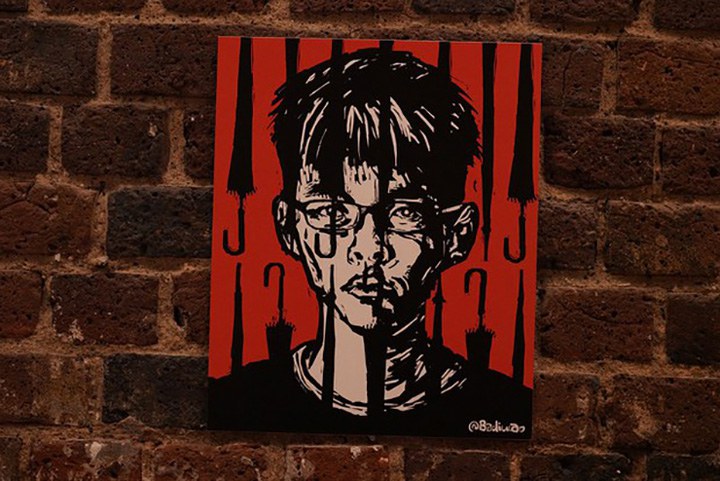 They are all works of art by Badiucao, whose latest exhibit showcases political and protest art that is deemed so incendiary by Beijing that it has made repeated attempts to have his exhibits shut down in other countries.
Transnational repression
Its theme is transnational repression. Overseas dissidents are increasingly finding that even if they leave China and settle in a democratic country, they are still targeted by agents and supporters of the Chinese state in their new home.
Chinese Communist Party agents and supporters have carried out physical attacks and smear attempts on dissidents far beyond its borders, kidnapped them and forced them to return home to face punishment using threats against their loved ones, according to rights groups and personal stories shared with Radio Free Asia.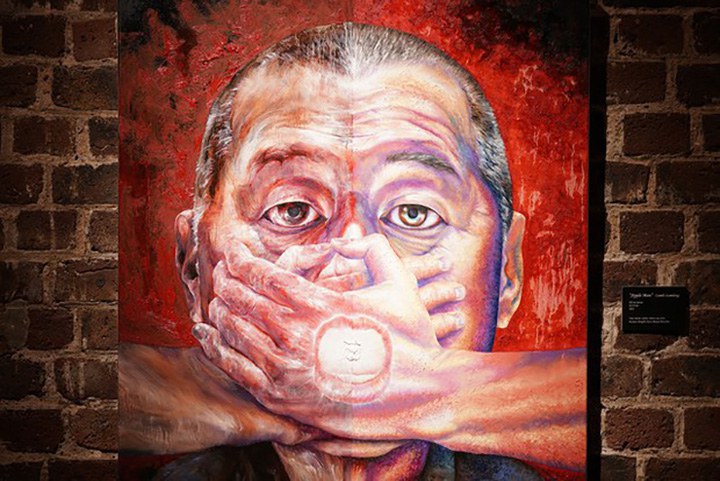 Badiucao has remained undeterred by Beijing's attempts to censor him overseas, however.
The walls of the exhibit are packed with political punches – a portrait of jailed pro-democracy media mogul Jimmy Lai has pride of place, while another work shows students at the Chinese University of Hong Kong engulfed in flames while defending their campus against a determined assault by riot police, who fired thousands of rounds of tear gas during the attack.
One image shows Chinese President Xi Jinping wearing a pair of TikTok logos for glasses, with the warning "Xi is Watching You," highlighting privacy concerns around the Chinese-owned social media platform.
Such images would quickly run afoul of a strict national security law in Hong Kong, where depictions of scenes "glorifying" the protests are banned from public display.
Some have already been shown in Poland, where the organizers kept the exhibit open despite strong displeasure from Chinese officials.
'Threats to my family and safety'
Many were inspired by the response of Hong Kong protesters, who used his artwork in response to the banning of his planned 2018 exhibit in the city, just a day before it opened.
"The Chinese Communist Party doesn't just come up with ways to get my exhibits canceled — it also threatens me with threats to my personal safety," Badiucao told Radio Free Asia as the exhibit opened.
"It also threatens the safety of the people I work with, and my family back in China," he said.
The Hong Kong theme of the exhibit is aimed at speaking out on behalf of people who haven't been allowed to speak for themselves since Beijing imposed a draconian security law on the city three years ago, criminalizing public criticism of the government.
Hong Kong artist Kacey Wong, who now lives in Taiwan, said he has faced similar attempts at censorship outside China, adding that the national security law has stifled freedom of expression both in his home city, and even far beyond China's borders.
"Don't think you'll be fine once you have left Hong Kong," Wong warned. "Last year I took part in a small exhibition in the United Kingdom, and the Hong Kong party newspapers sent their people to carry out a smear campaign."
"This is long-arm control … you're not safe in Europe, because they're not very vigilant there about preventing censorship by the Chinese Communist Party," he said. "However, it's safer in Taiwan."
For Badiucao, a Hong Kong democracy movement that carries on in exile is still valid.
"I don't think it means that Hong Kong has fallen," he said. "You can take your home with you anywhere."
"All of those Hong Kongers now in exile have taken the spirit, culture and identity of Hong Kong with them," he said.
"Wherever you have Hong Kongers still drawing breath, there is still hope," he said.
Translated by Luisetta Mudie. Edited by Malcolm Foster.