Two LGBTQ+ students from Beijing's Tsinghua University have lodged an administrative lawsuit against China's Ministry of Education after being harassed and threatened by the authorities over their sexuality.
In May 2022, Huang and Li bought 10 rainbow flags on the auction site Taobao, and left them on a small table in a campus supermarket, with a note that read: "Please take one #PRIDE."
The pair, who asked to be identified by pseudonyms for fear of further reprisals, had already given a great deal of thought to what they knew was a highly risky action.
They considered posting about the flags on social media, but they knew the authorities would be able to track them down, as they had been forced to use their real names to sign up for an account.
Then they remembered an anti-fascist poster that had mysteriously appeared on the wall of the campus supermarket, and that the lack of surveillance cameras in the area had meant the students who put it there were never found.
It wasn't until they had already put the flags in place that they realized that cameras had now been installed in the area, leaving them "terrified" over what would happen next.
But Huang told herself that 10 rainbow flags wasn't going to have a massive impact on the life of the university.
Within two hours, they were getting calls from school officials wanting to talk to them about the flags, and warning them that the incident could affect their chances of graduating, and threatening them with possible expulsion.
They refused to meet with officials, who then went and found them in their respective dorm rooms, accusing them of "distributing prohibited propaganda material."
By June 30, they had been issued with notification of punishment, and submitted a written defense to the student affairs office in accordance with school procedures. The school responded in July with disciplinary action in the form of a "severe warning," which would remain on their official file and affect their chances of pursuing scholarships, further study or jobs working for the government.
'I knew I was doing the right thing'
Huang and Li were furious, and vowed to fight back.
"I was in a state of anger every day," Li said. "But I knew I was doing the right thing, so I didn't feel scared."
"It felt more as if I was getting some good practice in how to defend my own dignity, and that of my companion, and in not backing down."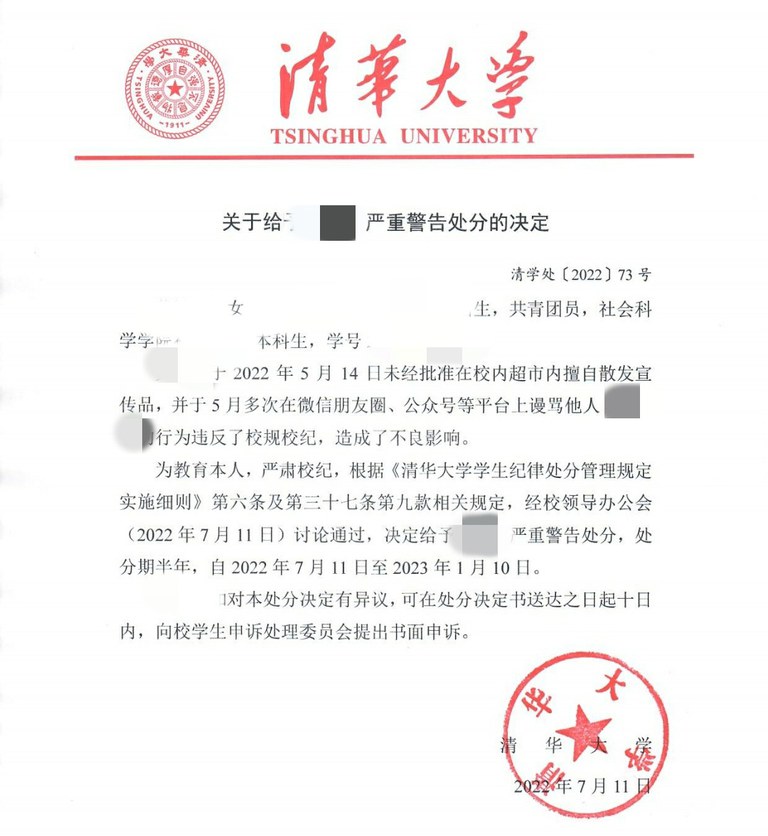 They went public with the incident on July 18, posting to WeChat that they were being punished for the rainbow flag incident, in a post that garnered more than 100,000 views and which was later deleted by government censors.
By the end of the month, they had filed an official complaint with the university, which upheld the original disciplinary action.
So they took it further, lodging a complaint with the Beijing municipal education commission, arguing that they had left the flags for people to pick up, rather than distributing them, and that rainbow flags aren't illegal in China.
But the response from the government was the same as that of the university.
Li, the child of a middle-class family, had been greatly affected by her experience of lockdown in the central city of Wuhan in the spring of 2020, in the early days of the COVID-19 pandemic.
"I knew that a lot of people in my [residential] community had died, and I was affected by knowing that my neighbors were dying," she said. "Since then, I've had no illusions about the current system at all."
The formal warnings issued to Huang and Li expired after six months, but that wasn't good enough for the two friends, who wanted to dispel the notion that it is wrong to fly a rainbow flag.
"It's a matter of our reputation," Huang said. "By punishing us, the school made a lot of people feel that we did something disgraceful."
"We also want to do some public advocacy on this matter, and start a public discussion about sexual minorities in universities," she said.
So Huang and Li took their lawsuit all the way to the top, lodging an administrative lawsuit with the Ministry of Education, and calling on its officials to review their case.
"We have to take the legal process all the way, so that this winds up in the legal archives, in the media and in online archives," Li said. "I believe that history will eventually judge us fairly."
"For me, this is a political declaration, and I have to take it all the way, or I wouldn't be able to live with myself," she said.
But both activists still feared possible retaliation from the authorities.
Huang wrote to her family coming out as a lesbian, and detailing all of her actions and the reasoning behind them since May 2022, with a view to sending it if the police came looking for her.
They submitted their case to the Beijing No. 1 Intermediate People's Court on Feb. 20, and have yet to receive a response.
Party views on LGBTQ+ activists
The ruling Chinese Communist Party currently regards LGBTQ+ rights activists as being influenced by "hostile foreign forces" seeking to undermine its rule, and openly queer public figures are gradually disappearing from mainstream media, film and television under the watchful eye of government censors.
Huang and Li, who met at a queer book club and put the flags out to mark the International Day Against Homophobia, Biphobia, Lesbophobia and Transphobia on May 17, came to a realization of their own sexuality in a piecemeal way, despite having been raised amid government propaganda that there was something wrong or shameful about it.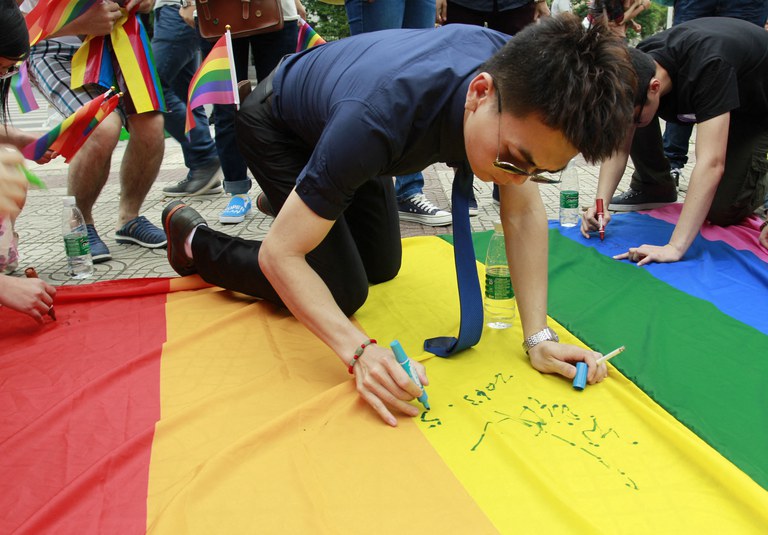 Huang used to hold similar views, recalling that she once had disapproved of a friend who kissed another woman. "Then I became gay myself," she said with a laugh. "It was while I was watching the TV show Dragon Gate Guards, which had a particularly gorgeous actress in it, that I realized I'm into girls."
Li remembers being queer from an early age, but not having a name for it. She first heard the letters "LGBT" in an English class, given as vocabulary by a foreign teacher, and remembers realizing that her attractions "had a name."
By the time Huang asked her why she had joined the queer book club, she was able to reply with confidence: "Because I'm queer."
For all Huang and Li's bravery, LGBTQ+ activists continue to be targeted by the authorities, both for activism related to their own rights, and in wider crackdowns on political opposition.
Authorities in China held feminist and LGBTQ+ activist and Tsinghua alumna Guo Yi for months after she stuck up posters repeating the protest slogans hung from a Beijing traffic overpass in October by Peng Lifa, known as the "Bridge Man" protester, a rights group has reported.
LGBTQ+ activists were also among dozens of young Chinese — many of them women — detained for taking part in November's "white paper" protests, which emerged out of frustration over zero-COVID restrictions, curbs on freedom of speech and out of solidarity with the Uyghur victims of a fatal lockdown fire in an apartment building in Xinjiang's regional capital of Urumqi.
And last September, authorities in the eastern province of Shandong sent an investigative team to an arts university to probe the suicide death of Gao Yan, a rising dance star who was also an out gay man, amid allegations that he was bullied by faculty.
And while some Chinese cities have had a flourishing, though unofficial, gay scene for many years, pride marches have been suppressed under Communist Party leader Xi Jinping, and some Chinese institutions still engage in the abusive and outdated practice of "conversion therapy."
Changing climate for LGBTQ+ culture
In 2021, the social media platform WeChat deleted dozens of accounts belonging to LGBTQ+ groups at universities, in what activists said was evidence of a "changing climate" for LGBTQ+, or "comrade", culture.
"By 2018, 2019, a lot of college LGBTQ+ associations were being targeted by school Communist Party Youth League and Communist Party committees for interviews and other kinds of pressure," activist Wu Feiming said. "They began to be closely monitored."
"By 2019, 2020, a lot of college associations had been canceled, moved underground, or were lying dormant," Wu said.
At Fudan, the Zhihe Society, which once staged The Vagina Monologues, has been forced to cut ties with the university, while a lot of groups have changed their names to avoid constant harassment.
One of its members, Li Boran, said that while there is still plenty of social tolerance, official tolerance is fast disappearing.
"There have been more and more tolerant voices emerging in society in the [past] 10 years," Li said. "I am out to most of my classmates."
"But with political pressure constantly stepping up, I don't know if that can continue."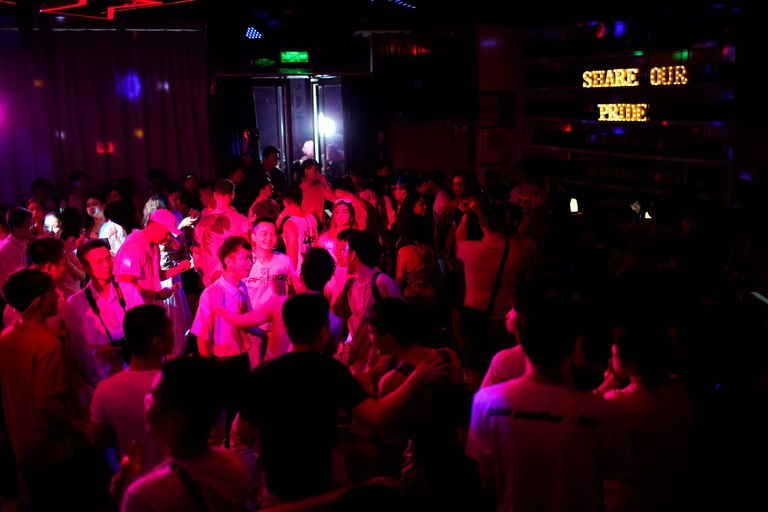 Activist Peng Yanhui said he wasn't optimistic about the outcome for Li and Huang's lawsuit.
"Maybe if it was a few years ago, you could file a lawsuit like that, but now, I'm not so sure," Peng said. "Before 2018, cases linked to LGBTQ+ rights could at least get some kind of procedural justice, and spark public debate."
"But it's still very encouraging," he added. "At least schools may not move so quickly to issue punishments when dealing with similar incidents in future."
Based on a collaborative report by RFA's Mandarin Service and The Reporter, a Taiwan-based investigative magazine. Interviewees' names have been changed at their request.
Translated by Luisetta Mudie.