Radio Free Asia interviewed 74-year-old Australian citizen and democracy activist Chau Van Kham after his release from a Vietnamese prison last week.
He was arrested in 2019, hours after he arrived in Vietnam and met with a fellow pro-democracy activist. He was sentenced to 12 years in prison for "terrorism aimed at toppling the people's administration."
Kham was a member of Viet Tan, a pro-democracy group with members inside Vietnam and abroad. It has been described by the Office of the United Nations High Commissioner for Human Rights as a moderate activist group advocating for democratic reform. Hanoi claims it is a terrorist organization that aims to topple the government.
Kham suffers from glaucoma, high blood pressure and kidney stones, according to Viet Tan.
His release came on humanitarian grounds "in a spirit of friendship" between Canberra and Hanoi, according to Australian Deputy Prime Minister Richard Marles, CNN reported. He returned home to Sydney on July 25.
RFA: You have just returned home. Please tell us your thoughts about being released?
Chau Văn Kham: My first emotion is only after leaving the Vietnam Airlines plane do I truly feel that I have freedom. My emotions were lifted when I saw my wife and my younger brother at the airport, and at the same time the reception of Mr. Chris Bowen, representative of the Australian prime minister. 
I remembered those who struggle and are still in prisons under the communist regime, especially those who fight for freedom and democracy for Vietnam.
RFA: The Vietnamese government accused you of "terrorism against the people's government." The government said that the activities of the Viet Tan Party were characteristic of "terrorism." Could you tell us what you have done in Vietnam that they would accuse you of such a severe charge?
Chau Văn Kham: When I went to Vietnam through Cambodia, I had a bag in which there were only a pair of clothes and several pairs of underwear. No documents, no leaflets, no laptops. And I used a very old mobile phone. During the time I stayed in Vietnam, I didn't do any activities that they could accuse me of being terrorism.
During the investigation process, police decided to prosecute me with "having activities to protest against the people's government." But after some months, the investigative agent told me that the government didn't see any activities of me in that purpose so the government lowered the crime down to "terrorism." 
I thought that the "terrorism" crime was heavier than "having activities to protest against the people's government," but I didn't dispute what he said.
But they still couldn't find any activities to accuse me. They told me that when I sat by the Bach Dang River, it was to investigate how to attack vessels on the river. I told them that I used to be a Navy sailor, and I went there to have coffee with my friends and to remember the past. I just laughed at such an accusation.
The investigative agents showed me online photos of the Viet Tan Front with guns. I explained to them that such photos with armed guerrillas were for propaganda purposes, not for attacking.
I myself know well that the Viet Tan Party, announced to the world its existence in 2004, had a non-violence policy that was announced in 2007. I joined the Viet Tan in 2010.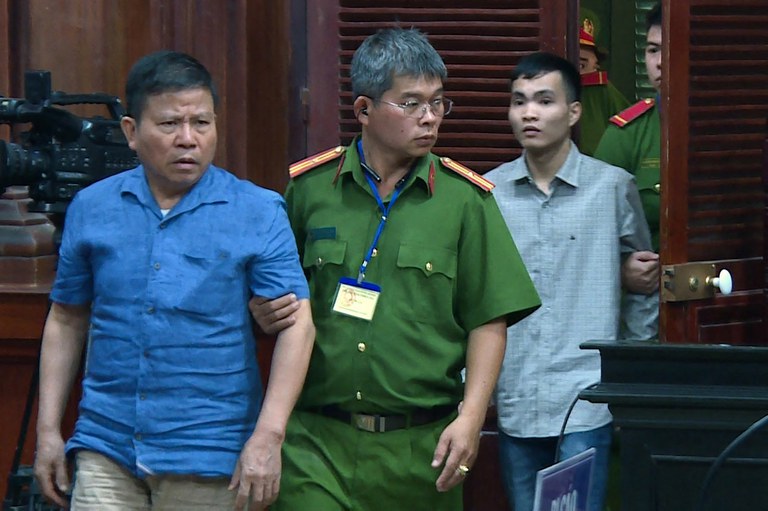 RFA: Could you tell us what you did in Vietnam, and what evidence and any grounds they used to prove that you did terrorist acts?
Chau Van Kham: In fact I didn't do anything that could be seen as terrorism. They used an announcement on the website of the Ministry of Public Securities that said Viet Tan was a terrorist organization since 2017.
They asked me if I heard about that. I replied that I had heard but I didn't care. They asked why. I replied to them with these reasons: Firstly, Viet Tan operates all over the world, even in Vietnam, and only Vietnam accuses Viet Tan a terrorist organization.
Secondly, the announcement on the website of the Ministry of Public Securities had not been adopted into law. If there had been a law naming the Viet Tan as a terrorist organization, the Australian government would have known and would have ended our operation.
But at court, when I explained this, the chief judge slammed his hand on the table saying that I came to Vietnam and Vietnamese law applied.
RFA: Why do you think Vietnam has accused Viet Tan of being a terrorist organization – a very severe accusation – while others have been accused as being "anti-people's government" organizations?
Châu Văn Kham: To many Vietnamese inside the country, "terrorism" means "death, sorrows, breaking down, back to the terrible time of war." Even me, as a war veteran, when mentioning war, I feel appalled. As a result, any organizations that would bring about such things would be avoided. 
The purpose for accusing me as a terrorist was to create the thinking of "deaths, sorrows." It was completely wrong. The evidence was aired on state television stations at least five days a week during prime time. News about terrorism and deterioration to corruption was aired, and the Viet Tan Party was always mentioned.
In the prison, other cellmates asked me what I had done to become jailed with terrorist charges. I told them, "Look at me – a small guy with a meek personality. How could I terrorize others?" It was just the Vietnamese government's propaganda. 
Now, in my opinion, the only force that can counter Vietnam's government for the time being is the Viet Tan Party. So, by all means, they try to destroy our prestige, making Vietnamese people avoid us.   
I would add the purpose of my trip to Vietnam was to do fact-finding about the real human rights situation in Vietnam. I met with activists there to show support. 
RFA: The Vietnamese government always says that most Viet Tan members are war veterans who have deep hatred for the country and want to topple the government. As a war veteran who was jailed, did you experience this attitude?
Chau Van Kham: After the Vietnam War ended in 1975, I could have left the country at any time. I thought that the war ended was a good thing, and I assumed that the North Vietnam authorities wouldn't torture a low-level army officer like me. 
So I decided to stay and hoped that the hatred between the North and the South would be minor and not a problem for me personally. But then I was put in a "re-education camp" for three years and was on probation for two years. They didn't return my citizenship so I fled the country in 1982.
When I lived overseas, I continued to hope that the Vietnamese government would change. In 1994, I returned to Vietnam for the first time when my mother got severely sick.
I didn't see any real changes from when I left in 1982. I knew there was corruption, red tape, bureaucracy within the regime, but I thought that was a common practice and any regime needs time for adjustment.
In 2008, I returned for the second time. I saw that the economy had changed a lot. But politics hadn't changed. 
In 2009, I came back one more time. I saw that the only way to bring a better future for Vietnam was to join a political organization. I believed that as long as Vietnam was under the communist authoritarian regime, the anti-corruption campaign and government reforms would fail to solve current issues.
Whenever all offices are no longer under the leadership of party members, whenever they provide a healthy playing field in all domains – from politics to economics to social issues. 
In Vietnam there are many intellectuals without party membership who aren't being put to good use. Such limitations make the country stagnant. Vietnam could get out of current situations like poverty by becoming more open. 
RFA: You just sent out a letter stating that you will continue the struggle, even after paying a high price of four years in prison. Can you tell us why? 
Chau Văn Kham: In all my replies from the time I was arrested, investigated and put in jail, I have quoted Karl Marx: "Wherever there is injustice, there is struggle." 
So whenever there is no longer injustice in Vietnam, whenever the Vietnamese people no longer face any difficulties in life, I will no longer struggle. 
The nation needs to have democracy and freedom for full development. Vietnam's development now has limitations, more or less depending on each person's perception or on the general secretary of the party.